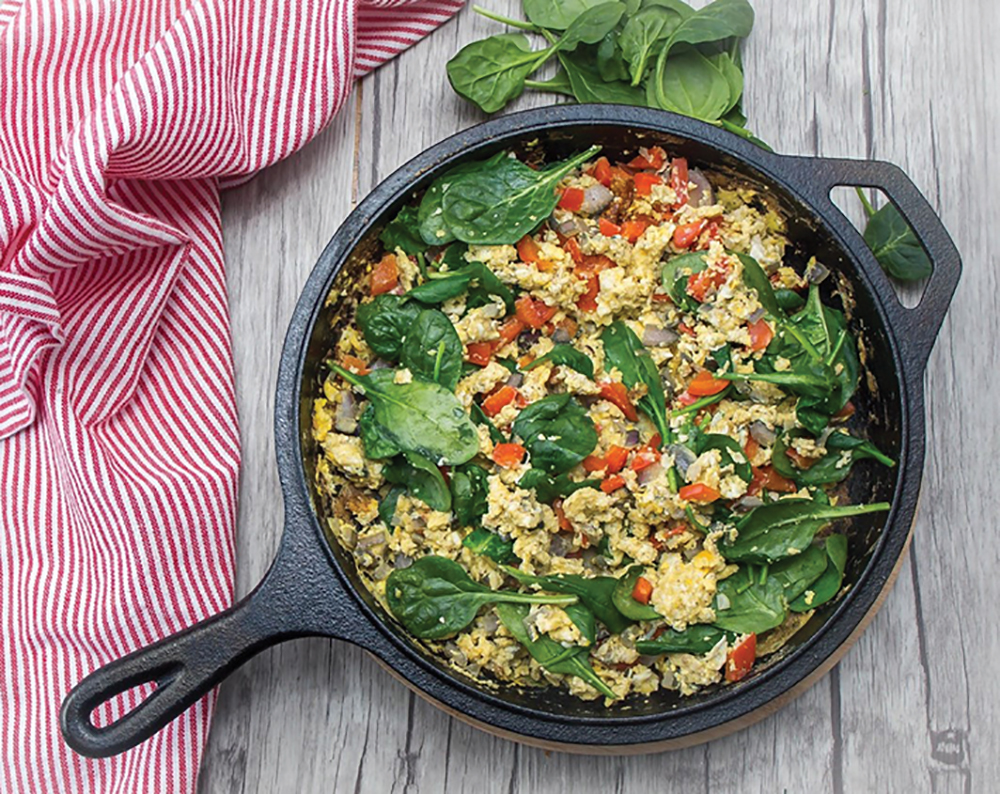 This tofu scramble recipe is a vegan and oh-so-easy swap to make for regular scrambled eggs. You can also experiment with different veggies combos like spinach, mushrooms, and green onions to make this a super-healthy meal that offers extra vitamins and minerals. This scramble uses Naagin Hot Sauce, but you can substitute with any hot sauce you have on hand.
Ingredients
1⁄2 onion, diced
1⁄2 green bell pepper, diced
1 block tofu
2 tbsp oil
1 tsp garlic powder
1 tbsp soy sauce
1⁄2 tsp turmeric (optional)
2 tbsp nutritional yeast
1 tsp onion powder
2-3 tbsp hot sauce
Directions
1. Prepare the tofu by draining it, wrapping it in a clean cloth or napkin, and placing a plate or heavy object on top to press the water out (around 30 minutes).
2. Once pressed, cut into one-inch cubes before crumbling with your hands or a fork to get the right consistency.
3. Heat oil on high in a large skillet or frying pan, and add onion, green pepper, and crumbled tofu. Saute for 3 to 5 minutes, stirring frequently.
4. Add garlic powder, onion powder and soy sauce.
5. Reduce heat to medium and allow to cook 5 to 7 more minutes, until any residual moisture from the tofu evaporates.
6. Add nutritional yeast and hot sauce, and stir well. Enjoy!
Pro tip: Try wrapping this tofu scramble recipe in a warm flour tortilla with salsa for a plant-based breakfast burrito.
Find more healthy cooking ideas in our Recipe section!