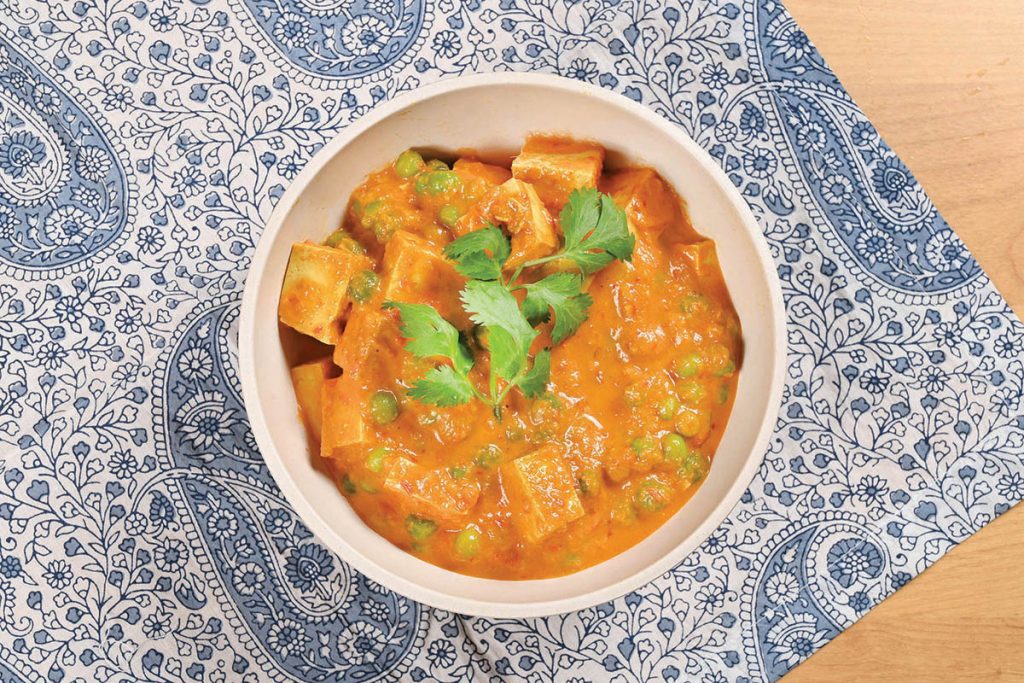 Low-fat and super easy to make, this healthy recipe for vegan curry is perfect for a weeknight dinner. It's a plant-based spin on vegan mattar paneer, a popular Indian recipe traditionally made with cottage cheese – just swap the cheese for tofu, and dig in! You can follow SpiceBox Organics for more awesome recipe ideas.
Ingredients
300g tofu
130g frozen garden peas
400g canned tomatoes
1 large onion, finely chopped
3 garlic cloves, finely chopped
1.5 tbsp peeled ginger
1 bay leaf
120 ml coconut milk (regular or reduced-fat)
1 tsp coarse sea salt plus pepper to taste
1 tsp garam masala
1⁄2 tsp cumin powder
1⁄2 tsp turmeric
4 tbsp cilantro finely chopped
5 tbsp olive oil
Instructions
Start by preparing the tofu. Drain it well, wrap it in a paper towel and squeeze gently to remove any excess water. Cube the tofu and set aside.
In a pot, heat 3 tbsps of oil, add the bay leaf, garlic, ginger and onion and fry on medium heat for a minute, stirring often.
Add garam masala, cumin and turmeric and continue frying for another minute or so, stirring often.
Add tomatoes, salt and pepper, cover and simmer for about 10 minutes, stirring occasionally. In the meantime, heat 2 tbsps of oil in a separate large pan and fry tofu over medium heat until golden brown (about 2 minutes on each side).
Remove sauce from heat, discard the bay leaf and puree the sauce.
Add coconut milk, cilantro, tofu and frozen peas. Reheat the dish and adjust the seasoning if needed, and serve!
Pro tip: Enjoy warm with naan, rice or some warm crusty bread!
Get more healthy recipe ideas from our Recipe section!