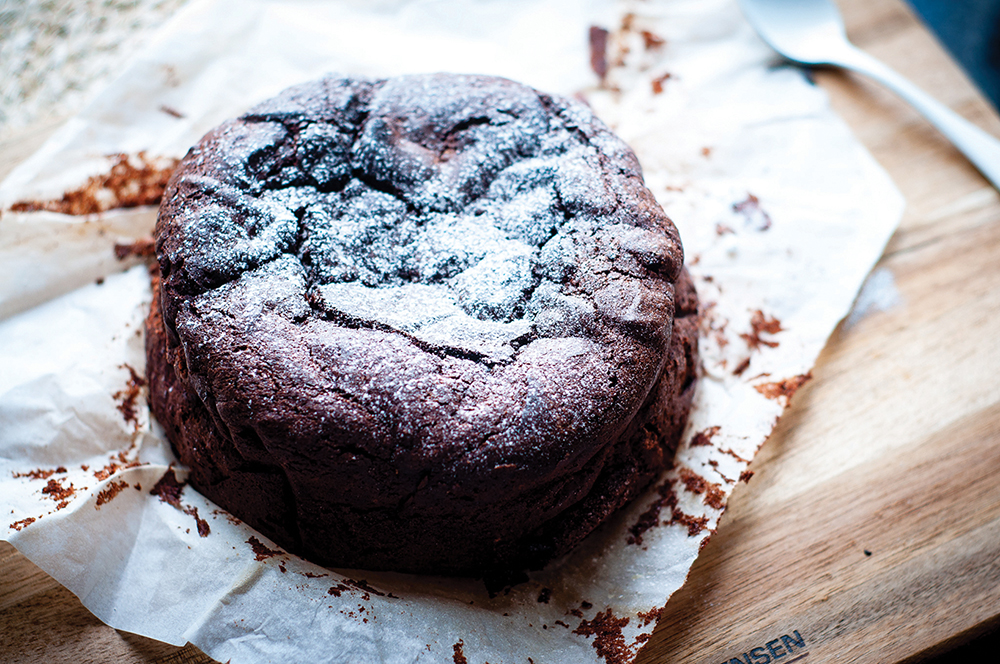 This recipe isn't overly sweet but packs a deep, rich flavour. No butter or flour is required – just dark chocolate, olive oil and sugar! The recipe is by food blogger Michelle Tang of kitchenmess.com, a healthy recipe blog designed for busy working professionals. Follow her on IG and FB @kitchenmesshk.
Ingredients
200g dark chocolate
125g strong-flavoured olive oil
100g caster sugar
2 tbsp ground almonds
5 large eggs, separated
pinch of sea salt
1 tbsp icing sugar, for dusting
Directions
1. Heat oven to 180C. Butter and line a 20cm springform pan with parchment paper.
2. Break chocolate into pieces and melt using double boiler method on a stove (i.e. heatproof pan set on top of simmering water).
3. Once completely melted, whisk oil in and two thirds of sugar. Stir until combined. Remove from heat and stir in ground nuts, pinch of sea salt and egg yolks.
4. In a separate clean bowl, whisk egg whites with the remaining sugar till you have medium stiff peaks forming (firm tips that droop slightly).
5. Using a spatula, loosen the chocolate mixture and gently fold in the egg whites. Fold thoroughly but be careful not to lose air. Transfer combined content to the springform pan. Bake for 40 minutes. Test by inserting skewer; if it comes out clean, the cake is done.
6. Remove from oven and leave to cool in the tin.
7. Carefully turn over and remove the paper. Plate then dust with icing sugar. Serve with some vanilla ice cream, creme fraiche, whipped cream or by itself!
Pro tip: The cake is meant to look cracked and deflated – don't worry if it's not perfect- looking!
Find more healthy cooking ideas in our Recipe section!