Melissa Chu, Founder, RUMI X athletic wear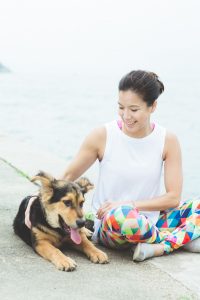 Sum up your food philosophy in a sentence.
I'm not a picky eater. I eat everything, but I listen to what nourishment my body needs in the moment.
What do you usually have for breakfast?
I have a tablespoon of apple cider vinegar in the morning before I eat anything. On days I'm not hungry, I'll have a green juice from Pressed Juices or Be-Juiced to jump-start my day, which can hold me over till lunch time. If I'm a little more hungry, I'll have two eggs, cooked kale and tomatoes with a little bit of cottage cheese for flavour.
Where do you like to shop for healthy food?
I usually shop for my groceries at the wet market, and like to look for organic produce at Wah Kee Groceries in the Central wet market. It's a gem and a lot of restaurants go there to source local ingredients as well.
What are your favourite restaurants in Hong Kong?
It really depends on  what I'm in the mood for. One of my favourite places is The Optimist in Wan Chai, and Yu for Sichuan foods.
Do you have a cheat day, and if so, what do you eat?
Yes, Cheetos are my guilty pleasure.
Have you ever done a cleanse?
Yes, I've done a lot of different cleanses over time – including the liver cleanse – and they're not fun. I do a five-day juice cleanse twice a year now. I've tried a couple of cleanses from Bless, which I would recommend.
When were you at your least healthy?
When I was a vegetarian for five years! I didn't have a balanced diet – I felt tired and was always lacking energy. I learned that I wasn't getting the proper nutrients.
When was the last time you ate McDonald's?
I can't remember. It must have been sometime before the seven years since I've been in Hong Kong.
Do you cook at home?
Yes – my go-to for a healthy meal is my own cooking. I've been trying to eat clean, and trying out some recipes from blogs like Sweat With Kayla and The Clean Blog. The meals are easy to make, packed with nutrients, delicious and very filling.