While the Hong Kong Rugby Union may be best known for organising the Rugby Sevens, it also has a lot of community initiatives, using rugby as a tool to empower disadvantaged groups, including at-risk youths and deaf athletes. Stuart Gunn, HKRU Community Inclusive Participation Manager, tells us more about the foundation and its work.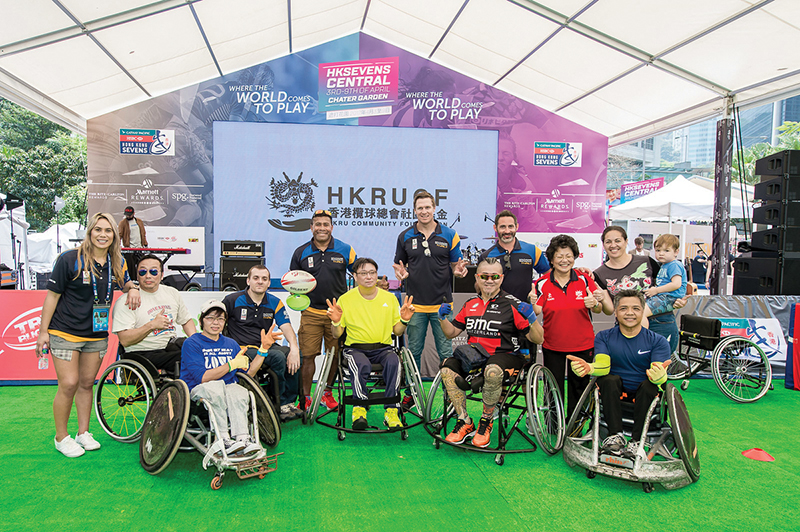 Tell us about the HKRU's Community Foundation and its mission.
The foundation was established in 2013 to provide a vehicle to manage the HKRU's various charitable activities. We work with local and international organisations, such as the Laureus Sport for Good Foundation, the Chinese University Department of Social Work, and the British Council, among others, to develop programmes focusing on health, education, disability, juvenile crime, and social inclusion. In the past four years, more than $15 million has been disbursed by the Foundation to improve the lives of Hongkongers through rugby.
How do you think sport can improve the lives of underprivileged children?
We believe not only that every youngster deserves the right to play sport, but that sport can be a powerful force for good in our society. It creates a level playing field where everyone can feel safe and confident to interact with other people outside of their normal social circles. That's why we began the HKRU Community Foundation, a multi-armed initiative to reach out to disadvantaged or at-risk youths in Hong Kong.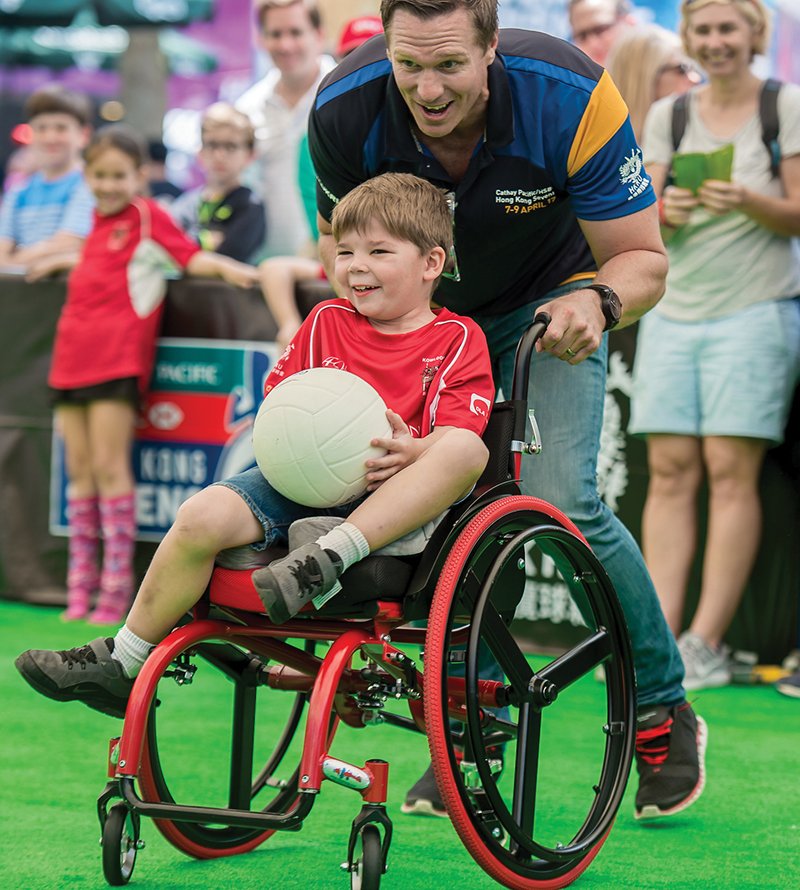 What are some of your success stories?
There are quite a few. The players that spring to mind include Ken Encarnacion. After playing for his school and with Operation Breakthrough, he was selected to represent the Hong Kong Under 20s team at the World Rugby U20s Trophy competition. He has now played in a further three World Rugby U20 tournaments in Zimbabwe, Portugal and Uruguay.
Ken's Operation Breakthrough teammate Fong Kit-fung has gone one better, winning a full international cap for Hong Kong when he played in the Asia Rugby Sevens Series last summer.
Winnie Cheung was in the first group of kids from the deaf and hearing-impaired community to get involved in rugby. She now plays for Kowloon in the Women's Premiership, works full-time for the HKRU Community Foundation and has been selected to take part in the World Deaf Sevens in Sydney later this year.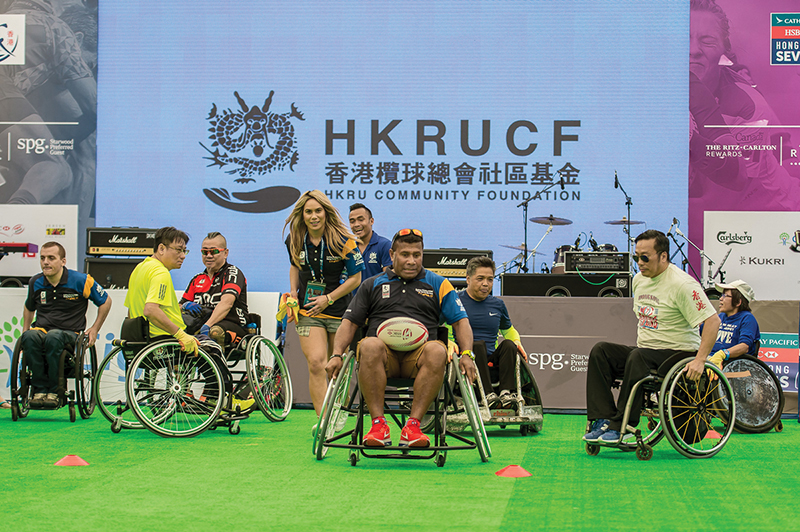 Tell us more about deaf rugby in Hong Kong.
We first started a deaf rugby tournament back in 2009 with students from the Lutheran School for the Deaf and Chun Tok School. Since then we have built a relationship with the Hong Kong Association of the Deaf and the Hong Kong Society of the Deaf, and there are around 40 boys and girls training every week. There is also now a regular exchange programme with deaf rugby players in Cambodia, and eight Hong Kong players have been selected to take part in the World Deaf Sevens competition in Sydney later this year. Many people that started learning rugby through the deaf rugby programme have gone on to join domestic rugby clubs and play regularly in the local leagues.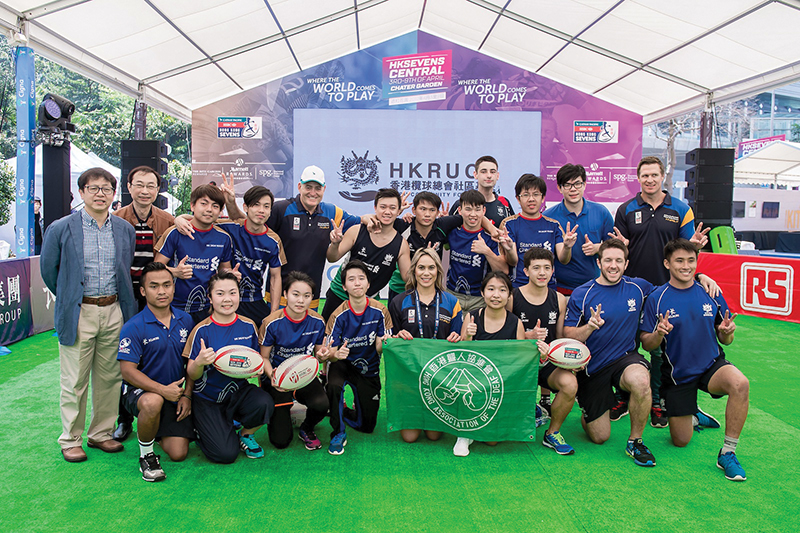 How has local outreach in underprivileged areas changed the rugby landscape in Hong Kong?
We are seeing a more diverse group of players joining local rugby clubs. Non-ethnic Chinese students, men and women from the deaf and hearing-impaired community, and youngsters from low income families are all being welcomed by rugby clubs all over Hong Kong.
Rugby For Good
Highlights of the initiatives offered by the Foundation:
A prison outreach program at the Cape Collinson Young Offenders' Institute
The "Rugby English Action Learning" programme, that uses rugby as a medium to encourage English literacy among local primary school students.
The "Don't Drop the Ball" project in the New Territories. Part of "Operation Breakthrough," partnering with the Police Crime Prevention Bureau, the Police Rugby Club and Standard Chartered to reach out to at-risk youths.
The "Hong Kong's Rugby Spirit" programme that runs in 75 local primary schools, that aims to teach children the core values of "Perseverance," "Respect for Others," "Responsibility," "National Identity," "Commitment," "Integrity" and "Care for Others," as outlined by the Education Bureau.
The Foundation also has an ongoing Apprentice program, which sees talented youngsters who have come through Operation Breakthrough, Prison Rugby and Deaf Rugby projects offered 12-month contracts with HKRU. During their apprenticeship, they receive mentoring and support as well as the opportunity to attend training courses to help equip them for a future career in the sports industry.
Learn more about the HKRU Community Foundation: hkrugby.com/pages/community.