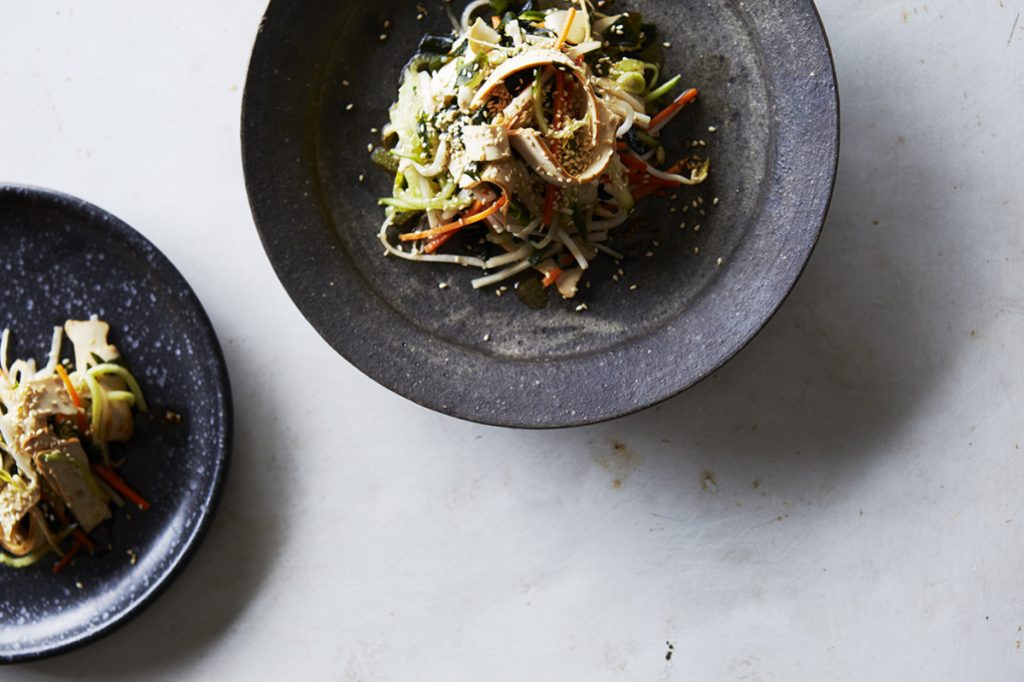 Light and fresh with the perfect balance of sweet and salty, this salad is a perfect light meal or appetiser on a hot day.
By Danielle Pieta Graham, author of "On the Table at Home." Serves four.
Ingredients:
1 small carrot, finely julienned
1/2 daikon (white radish), finely julienned
1/2 teaspoon salt
1 tsp white sugar
1 tbsp sesame seeds
1 Japanese or 1/2 telegraph cucumber, deseeded and finely julienned
2 tbsp dried wakame (seaweed), rehydrated in cold water for five minutes
200g five-spice flavoured firm tofu (or other flavoured tofu of choice), thinly sliced
Dressing:
1 tsp finely grated ginger
1 tbsp soy sauce
2 tsp apple cider vinegar
2 tsp white sugar
1/2 tsp sesame oil
1 tbsp extra-virgin olive oil
Directions:
To pickle the vegetables: put the carrot, daikon, salt and sugar in a bowl and mix well. Set aside for 10 minutes. Drain the vegetables and discard the liquid. Set aside the pickled vegetables.

To toast the sesame seeds: heat a small, dry frying pan over medium heat. Add the sesame seeds and cook for 30-60 seconds, shaking the pan regularly, until light brown. Remove from the heat and set aside.

To make the dressing: put the ginger, soy sauce, apple cider vinegar, sugar, sesame oil and extra-virgin olive oil in a small bowl and mix well. Set aside.

Add the cucumber, wakame and tofu to the pickled vegetables and toss well to combine. Add the dressing and mix well.

Divide the salad between four plates and scatter over the toasted sesame seeds.
Serve immediately.