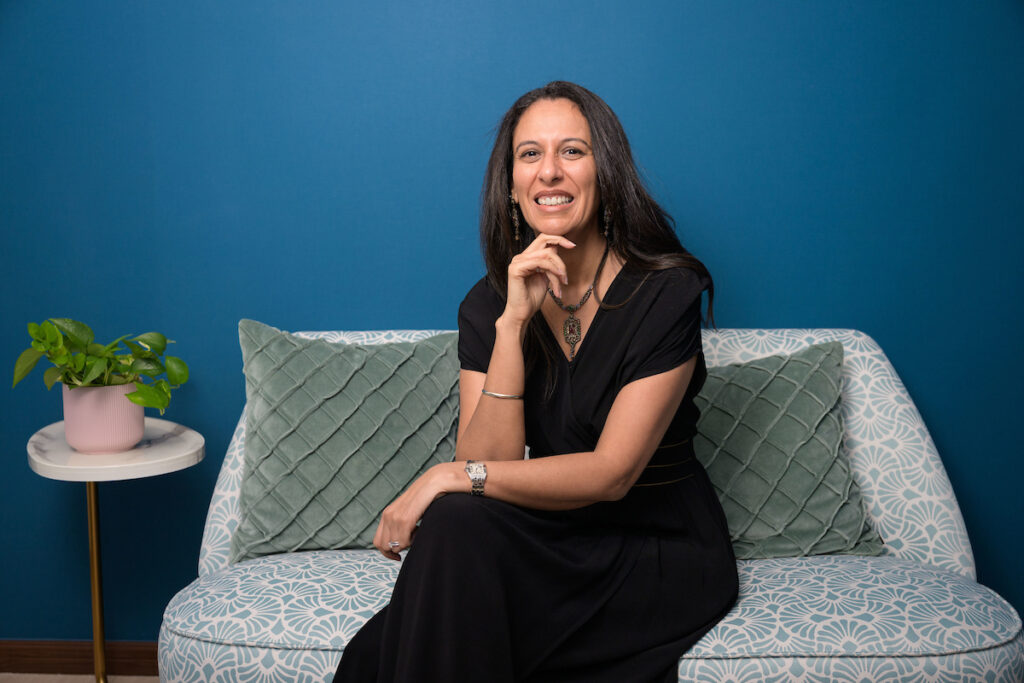 An award-winning journalist, writer and educator, Angela Kaur Baura has written for some of Hong Kong's top publications. In addition to her writing career, Angela is a Diversity List Member (2020), an Inspiring Girls role model, an adjunct university lecturer on mental health journalism, and a regular speaker on diversity, equity, and inclusion. She talks to Liv about what inspires her.
Can you tell us a little bit about how you carved out this niche in the wellness industry?
From a young age, my parents instilled in me a core value of "seva", which is to be of service. When I joined the communications industry over twenty years ago, I worked across multiple diverse areas, but it was the ones that enhanced people's wellness and wellbeing that felt most meaningful. Inkspirer began when I recognised there were obvious and hidden barriers to wellbeing that were not getting the attention needed to inspire positive awareness, acceptance and advocacy. As a writer and strategist, I am honoured to partner with the most incredible clients willing to have courageous conversations and take meaningful
action to change people's lives for the better. And as a speaker and educator, I am grateful for the opportunity to use my platform for those who don't always have a voice.
What's something most people don't understand about wellbeing?
Wellbeing is an ongoing journey. It's not a one-off destination we get to and we're set for life. When our wellbeing is in a good place, we can sometimes take it for granted or become complacent. In our daily hustle, we can let slide the things we know got us to our good place, like eating healthy, exercising regularly, being in respectful relationships, setting boundaries, engaging in meaningful work, pursuing our sense of purpose, and being our authentic selves. As we let slide what is important to our wellbeing, we become unbalanced and unwell. And so we start
again on a challenging path to wellbeing, only to get there and take it for granted again. I have interviewed many people that have had chronic or life-threatening physical- and mental- health issues – and I have been there myself – only to experience wellness and wellbeing when they've rebalanced their lives. Our wellbeing deserves our unwavering commitment and care, so our journey is smoother.
What are some of the more meaningful and impactful articles you've written,
or events you've spoken at?
Both in my capacity as a journalist and a content writer, every person willing to share their story with me, and every expert imparting their wisdom to shine a light on society's blind spots, has made a meaningful impact. I know because I often receive messages from readers who feel seen and heard, less alone, and more supported after reading stories relevant to them. From surviving child sexual abuse, self-harm, child and adult anxiety and depression, cancer, trailing spouse syndrome, homelessness, and professional burnout to unfair adoption policies,
teenage pregnancies, and living healthy and happy to 100 – these are just some of the stories people have been willing to share and I have had the honour of writing.
What do you want to achieve with your platform?
Maya Angelou said it best: "There's no greater agony than bearing an untold story inside of you". I hope my platform provides a safe space for people to release the hold their stories have on them and feel empowered by sharing to help others now walking the path they once walked. I also hope my platform serves to amplify the voices of experts and people of impact, so they can fulfil their mission to be of service and their audience can gain from their wisdom in challenging times. And finally, I hope my platform encourages people to become more aware, accepting and appreciative of their own and others' differences, similarities, challenges and achievements. And, in doing so, we all become advocates and allies, using our words and actions to make this world a better place.
Vote for Angela Kaur Baura and our other Women of Wellness finalists here!