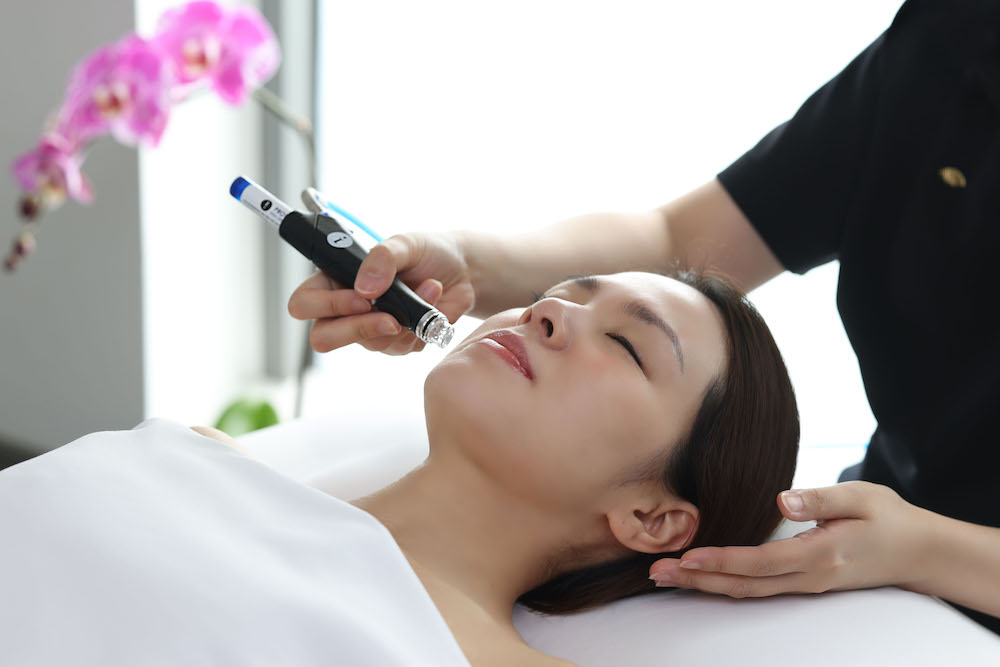 Mother's Day is around the corner, so why not show your appreciation by treating mum to a Hydrafacial at the Mandarin Oriental, targeted to her skincare needs and concerns?
Available at The Mandarin Oriental's Mandarin Salon, Hydrafacial is a cosmeceutical skincare treatment that focuses on deep cleaning and exfoliation, and is perfect for mums at every life stage. The standard three-step treatment is enhanced with a range of Boosters that treat all kinds of skin concerns, from acne and dullness to wrinkles and collagen loss. Each Booster – a serum that penetrates deep into the skin thanks to Hydrafacial's Vortex Fusion Technology – takes approximately 15 minutes to apply.
Genesis Day Lagasca, Director of Spa & Wellness at the Mandarin Oriental, believes that Hydrafacial is the perfect treatment for mums of all ages. "Stress is the biggest contributor to ageing. For young mums – particularly working mums – we recommend the ReGen GF booster. It gives you an extra oomph for plumping your skin."
If lack of sleep is causing skin dullness, Lagasca recommends the Britenol booster, which combines a serum and LED light treatment. "A lot of our guests have dull skin from a lack of sleep or sunshine, or exposure to pollution. The Britenol booster contains has Vitamin C to brighten the skin," she says.
Circadia, meanwhile, is ideal for anyone dealing with redness, sensitivity or acne – a condition that often appears post-delivery when hormonal changes can wreak havoc on your complexion. "It also helps to improve hydration levels and, when combines with Hydrafacial's antibacterial deep clean, can really help with breakouts," Lagasca adds.
For more mature mums contenting with deeper wrinkles and collagen loss, Lagasca recommend the 75-minute Platinum Hydrafacial treatment, which comes with an additional lymphatic drainage treatment that tackles the neck and jawline. "Once you hit your late forties, you may start to notice sagging and wrinkles around your chin and neck area. We tend to look after our face, but your chin and neck needs attention too," she says. "You can opt for the lymphatic drainage plus the ReGen GF Booster for collagen boosting, or the Dermabuilder, which helps to strengthen your skin barrier and tackle deeper, dynamic wrinkles," Lagasca suggests.
Not sure which Booster suits you best? Feel free to share your skincare concerns with your therapist and they'll advise on the best course of treatment.
Mother's Day at the Mandarin Oriental with Hydrafacial
Get a 20 percent discount on Deluxe and Platinum Hydrafacial treatments at The Mandarin Salon throughout the month of May. Also, purchase their "Gift of Glow" four-session Deluxe Hydrafacial package and receive a fifth for free. What's more, all guests at The Mandarin Salon will be treated to flowers and other goodies on Mother's Day itself, May 14.
In partnership with Hydrafacial
Read more: we review the Deluxe Hydrafacial at the Mandarin Oriental