Reformer Pilates for Beginners at Anhao Wellness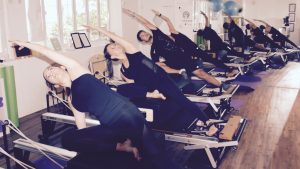 The Buzz: Founded by Estelle Bertin, a French national gymnast, certified personal trainer and Pilates instructor, Anhao is a sports and wellness coaching studio just off Caine Road. The sun-drenched studio offers lots of different classes, including Pilates, yoga and personal training. We tried the reformer class for beginners.
The Class:  The 55-minute class was run by Estelle herself. After some simple warm-ups on the floor, we moved onto the reformer. Estelle started with some simple exercises so we could get used to the positions and resistance from the machine. However we quickly progressed and did between five and eight reps of each move – most of which were designed to improve our core strength and mobility. A lot of focus was placed on technique rather than tempo, and Estelle was always on hand to provide feedback and support.  
The Verdict: With a maximum of four people per reformer session you will always receive lots of attention at Anhao. While it's not a class to get the heart racing, it is a great option if you're coming back from injury and need to build strength, or you want to add some more toning and core work to your regular exercise routine. Anhao also specialises in pre- and post-pregnancy classes.
The Cost: If you haven't been before a trial session is $250. After that, a one-off class is $350 but you can also buy 10 classes for $3,200 or 20 classes for $5,800.
4F, Sunny Sky Centre, 5 Ladder St., Sheung Wan, 6397-8284,
www.anhao-wellness.com.