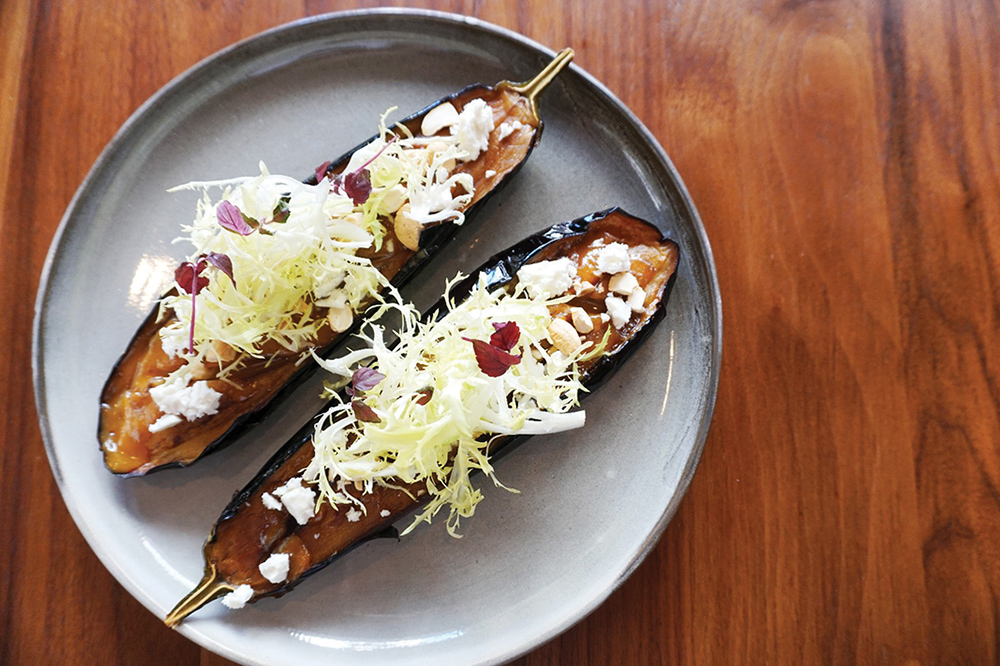 The humble eggplant is a super versatile veg to cook with. Try frying one whole and topping with cashews, feta and greens, like this beloved berinjela recipe from Japanese-Brazilian restaurant UMA NOTA.
Ingredients
1 whole globe eggplant (the larger, teardrop-shaped variety)
vegetable oil
2½ tsp brown sugar
2 tbsp yellow miso
1½ tbsp mirin (a rice wine similar to sake)
1½ tbsp water
feta cheese
whole cashew nuts
frisee
baby shisho
Instructions
Preheat your oven to 180°C.
Heat a generous amount of vegetable oil in a heavy-based pan on medium-high heat.
Cut the eggplant in half lengthways and cross-cut the flesh to create a diamond pattern.
Fry the eggplant around 5 minutes each side. Set aside on a paper towel to absorb excess oil once it's done.
Add brown sugar to a saucepan with mirin and cook over low-medium heat until sugar dissolves.
Add miso and water. Mix well and cook for 5 minutes.
Spread miso sauce onto the open-facing eggplant halves.
Roast in the oven for 3 minutes, then top with chopped cashews, crumbled feta cheese, frisee and baby shiso. Bom apetite!
Love this berinjela recipe? Try these…
Rainbow rice paper rolls with gado-gado sauce