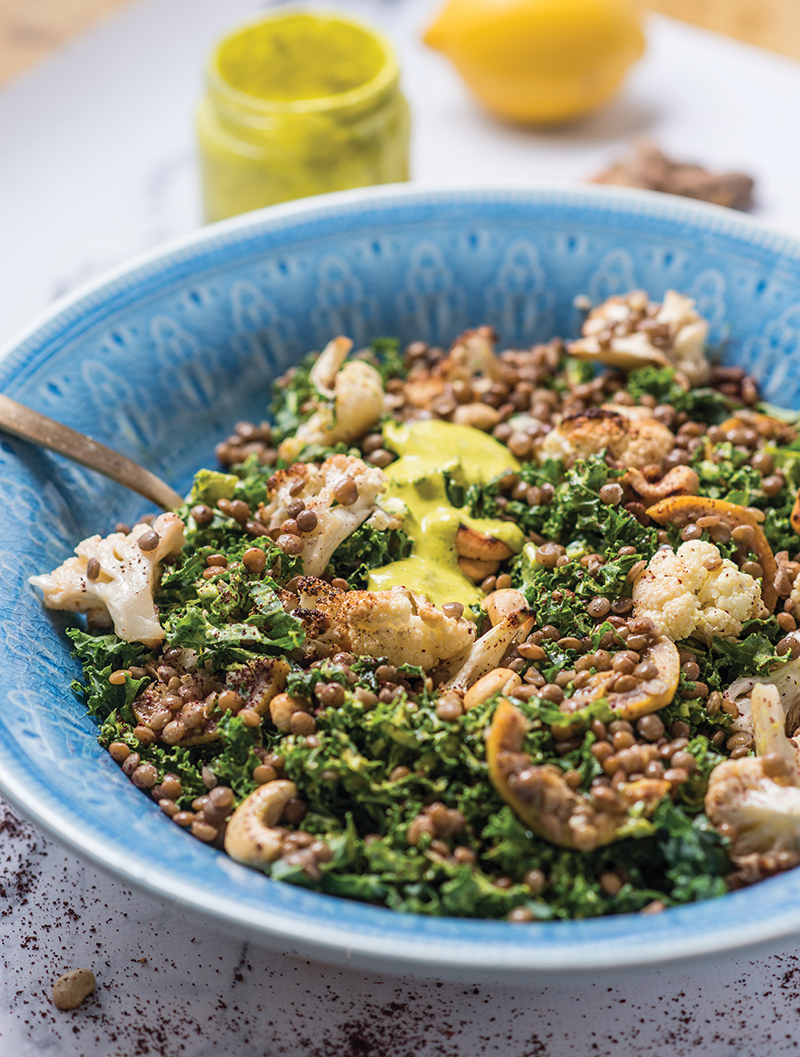 Packed with plant-based protein and brimming with flavour, this hearty salad will keep you full and happy. Serves two as a main, or four as a side. By Your Outsourced Kitchen.
For the salad:
1/2 cauliflower, broken into small pieces

1/2 cup cooked brown lentils, soaked overnight

1/2 lemon, peeled (for charring)

1/2 cup roasted unsalted cashews

6 cups curly kale, washed and chopped

1 tsp sunflower oil

Juice from 1/2 lemon

2 tsps ground sumac
For the dressing: 
1/3 cup coriander leaves

1/3 cup mint leaves

1 tbsp raw turmeric, peeled and minced

Thumb-sized piece ginger

1 tsp turmeric spice

4 tbsps tahini paste

Juice from 1/2 lemon

1 tsp rice vinegar

2 tsps apple cider vinegar

1 clove garlic

1 tbsp olive oil

1 tsp honey

1/2 cup water

1/4 tsp Himalayan salt

Black pepper to tast

e

Directions: 
Prep the cauliflower by mixing with sunflower oil, a pinch of salt and the juice from half a lemon. Place on a lined baking sheet and bake for about 25 minutes at 180 degrees, until browned, but not too soft. Set aside.

Cut the half lemon into 18 small chunks and deseed. Heat a pan until very hot and then drop the lemons in, allowing them to caramelise. After one minute, turn the flame down and continue to stir until sticky and slightly browned. Set aside

Toss all the dressing ingredients into a food processor and blend really well. Set aside.

Assemble the salad. Place the kale in a bowl, and top with cauliflower, cashew nuts, lentils and charred lemon. Sprinkle the sumac and pour over the dressing. Toss well and leave for 15-20 minutes before serving to let the flavours mingle.