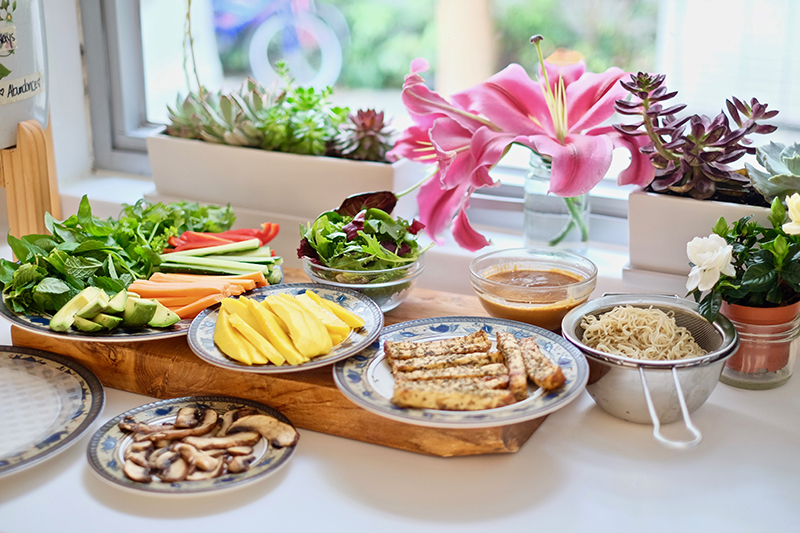 By Nutritionist & Chef Priscilla Soligo, Founder of www.fitfoodfastfeel.com
For the rolls: 
1 350g pack extra firm tofu, rinsed, sliced into strips
and baked
2 medium mangos, skin and stone removed, thinly sliced
100g dried brown rice noodles (or rice vermicelli), cooked 
2 medium portobello mushrooms, sliced, sautéed with salt and pepper, cooled
1 large carrot, peeled, julienned
1 large cucumber, julienned
1 medium red bell pepper, seeds removed, julienned
2 cups salad leaves, packed
½ cup fresh coriander, stems and leaves left whole
¼ cup fresh basil leaves
¼ cup fresh mint leaves
1 pack rice paper sheets
For the sauce: 
½ cup organic peanut butter (no added sugar)
4 tbsps tamari
2 tbsps maple syrup
2 fresh limes, juiced
2 cloves fresh garlic, peeled
1½ small red hot chilli,
seeded (or to preferred taste)
6 tbsps filtered water
For the sauce: 
In a high speed blender, blend all the sauce ingredients until creamy, smooth and well integrated. Set aside.
Assembly:
In a prepared large bowl of filtered water, dip a rice paper sheet in and out (one or two seconds) and lay onto a plate.
2. Build your rolls with prepared fillings (don't overfill, or the rice paper will break). Roll up the fillings inside the
rice paper wrap and place onto a separate plate or tray, with the rice paper seal facing down. Be sure the
rolls do not touch each other, or they will stick together.
3. Repeat until all of the rolls are done, or you have no more filling left.
4. Serve with the gado-gado peanut dipping sauce.