Recipe: Slow-roasted heirloom carrot salad
By Relish Kitchen
(serves 6-8)
This flavourful salad is vegan, filling and oh-so pretty to look at.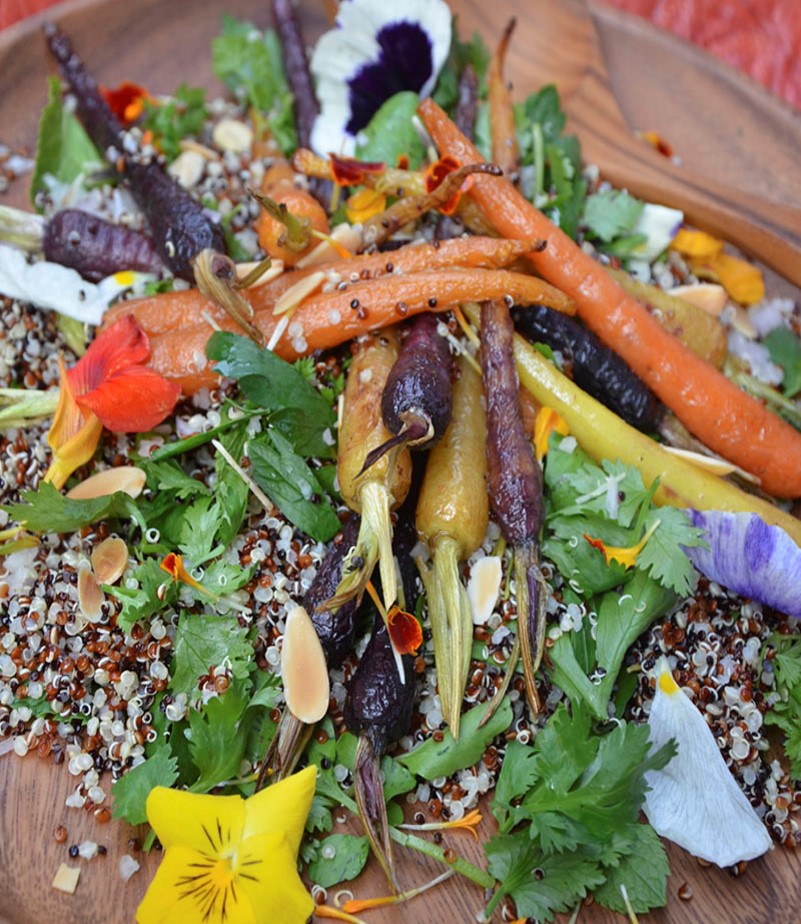 Ingredients:
300g baby heritage carrots, plus one extra carrot set aside
50g olive oil
2 pieces star anise
Peel from 1 orange
100g organic red quinoa
100g organic black quinoa
1 onion, cut in half
2 bay leaves
400g vegetable stock
100g coriander, chopped
100g parsley, chopped
40g edible flowers
5 tbsp rapeseed oil
2 Thai red chills
4 Thai limes
Method:
Place washed carrots into pan and cover with water. Add olive oil, star anise and orange peel, season the water with salt, and then cover pan with baking paper.
Bring the carrots to a simmer and cook
until tender. Remove carrots and allow to steam dry – don't rinse them.
Sweat the onion, carrot, bay leaves and red chili for 8 minutes on a low heat.
Turn up heat. Add quinoa and toast it with the vegetables for 2 minutes.
Add stock, and bring to a simmer. Cover with baking paper and set timer for 14 minutes. Stir the mix every 3 minutes.
Remove the quinoa and veggies from the pan and turn out on a flat baking tray in an even layer. Season with salt and pepper.
Once cold, toss in some mixed chopped nuts. Season to taste with lime juice and garnish with edible flowers and nuts.
COOKING TIME:
1 hour including
prep time
STORAGE:
Keeps for 2 days in the fridge.