Halloumi and Quinoa Salad Recipe by Catch (serves 1)
This salad is a satisfying mix of hearty superfoods, including quinoa and barley, which complements the rich flavours of the halloumi cheese.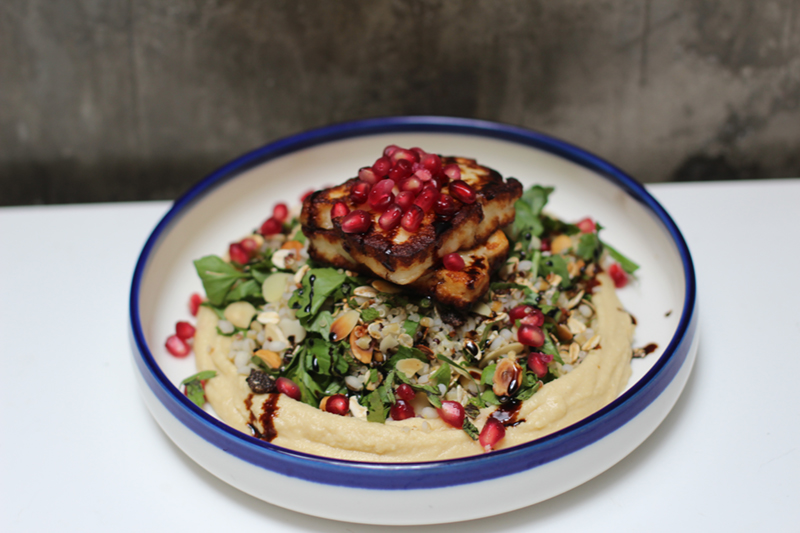 Ingredients
2 garlic cloves, finely chopped
Juice from 1/2 lemon
100ml red wine vinegar
300ml extra virgin olive oil
25g barley (dry)
25g quinoa (dry)
50g hummus
1/2 tbsp raw hazelnuts
1/2 tbsp raw shaved almonds
1/2 tbsp dried currants
25g pomegranate seeds
50g halloumi (sliced into two pieces)
Directions
Make your dressing by combining the garlic, lemon juice, vinegar and oil. Whisk, add salt and pepper to taste, and set aside.
Prepare the barley and quinoa according to the cooking instructions on the packet. Allow to cool to room temperature.
Meanwhile, lightly toast the shaved almonds and hazelnuts in a dry pan. Set to one side.
Next, pan-fry the halloumi until golden.
Toss the barley, quinoa, currants and watercress together with the prepared dressing.
Spoon the hummus onto the base of the plate, creating a crater in which to arrange the salad ingredients.
Top the salad with the halloumi before garnishing with the toasted nuts and pomegranate seeds.