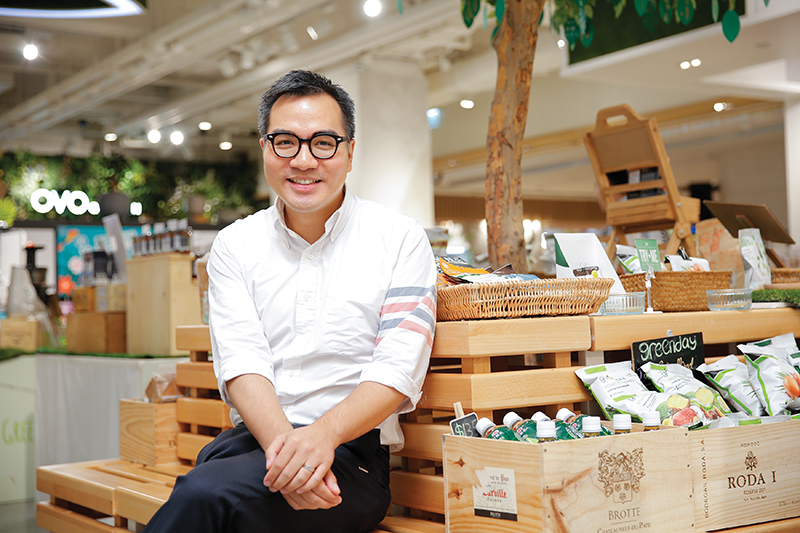 David's Impact
Animal lives saved:
300,000,000 per year
Carbon emissions saved:
1 million tonnes per year
Water saved:
1 trillion tonnes per year
Hongkongers adopting
a flexitarian diet: 23%
Green Monday founder David Yeung has dramatically shaped how people eat. By bringing innovative meat alternatives to Hong Kong and engaging individuals and corporates alike to adopt a lower-meat diet, David has helped to revolutionise Hong Kong's food scene.
Tell us how you became one of Hong Kong's best-known eco ambassadors.
Turning to a plant-based diet was a personal choice, until I found out more than a decade ago about the environmental impact the livestock industry has on our planet, and the urgency of the climate crisis we are facing. The latest UN IPCC report tells us we have a 12-year window remaining before the world suffers an irreversible climate catastrophe.
What do you want to achieve with Green Monday, and its sister brand, Green Common?
Our motto is to "make change happen, make green common." We want the Green Monday movement and our Green Common stores to work hand-in-hand to catalyze the world towards a healthier and more sustainable future.
What do you think the future holds for green innovation?
I am a big believer that sustainability requires innovation; I am also deeply passionate about all social or technological innovations that can create better, greener alternatives in our lives. We are at a critical juncture of humanity's evolution.  This test will either break us, or it will lead us to a major breakthrough. I am still hopeful that the world's creative, scientific and logical minds can get us through this crisis.    
What are some ways you've encouraged people to take up a plant-based diet in Asia?
The majority of people choose their food based on taste, affordability, convenience and trend.  So there is no better way to change perceptions and behaviours than by simply innovating better food and food experiences.  That's where emerging plant-based brands such as Beyond Burger, Impossible Foods, JUST, Oatly and Omnipork come in. These foods aren't just for vegans; they are great products for all. Green Common and our partner restaurants and supermarkets are making these plant-based options super accessible.
What kind of trends are you seeing in the Hong Kong F&B industry when it comes to vegetarian and
vegan food?
2018 has been a tipping point.  We are witnessing a sharp increase in plant-based offerings in almost all cuisines, and the awareness is growing exponentially.  The most encouraging sign is that more local chains are joining the green movement, evidenced by the recent collaboration between Omnipork and local chains "Food Expression," "King of Sheng Jian" and "Meat Pie Gor" – these are inexpensive restaurants frequented by everyday people, and it's an encouraging sign that the meat-free movement is entering every sector of society. Non-dairy is another segment that is seeing dramatic growth; From artisanal coffee shops to mass market chains, consumers can find many non-dairy options on the menu.