Here are some of the hottest places in town to get healthy, veg-forward Chinese food.
Let's Get Social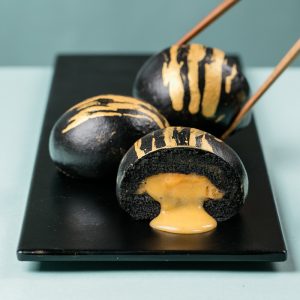 Promising a healthier (read: MSG-free, less greasy) alternative to mainstream dim sum restaurants, Social Place off ers chic interiors, snappy service and a casual-modern vibe. While not a vegetarian restaurant, there's a lot to choose from on its menu; in fact, its signature dish is the fluff y steamed truffle and shiitake filled bao with a cracked brown surface that looks exactly like a mushroom. Elsewhere on the menu, look for pickled cucumber rolls, sesame romaine heart salad, scallion pancakes, noodles and seasonal veggies.
2/F, The L. Place, 139 Queen's Road Central, Sheung Wan, 3568-9666, www.socialplace.hk.
Vegan Eatin'
Meatless munchers from all walks of life make the pilgrimage to the Mid-Levels to dine at Pure Veggie House, a vegan Chinese restaurant that serves organic cuisine, much of which is sourced straight from organic farms in China. One thing's for sure – meat-free doesn't mean flavour-free here, and you'll find creative dishes such as sauteed mushrooms served in a mini pumpkin; mushroom pouches in black truffle sauce, and deep-fried enoki mushrooms in spiced salt. Craving spice? You'll find a dedicated menu of Sichuan dishes loaded with numbing "ma laa" Sichuan peppercorns; or else huddle around a steaming pot of broth for vegetarian hotpot during winter months. For daytime diners, there's a comprehensive dim sum menu, too.
3/F, Coda Plaza, 51 Garden Road, Mid-Levels, 2525-0552, topstandard.com.hk
Tak Tak Boom
Love Shanghainese food? So do we, and the vegetarian fare served up at famed vegetarian restaurant Kung Tak Lam is as tasty as it comes. Many Shanghainese dishes are naturally vegetarian – think fried beancurd sheet rolls, stewed wheat gluten or braised spicy tofu – and for the rest you'll find Chinese-style mock meats, such as shredded "chicken" with mung bean noodles and sesame sauce, or the vegetarian "fish" with pine nuts and sweet and sour sauce. Don't forget to order a few rounds of pan-fried porcini and spinach buns, veggie dumplings or pancakes, too. Bonus: the views of the harbour from the Tsim Sha Tsui outlet are crazy impressive.
7/F, 1 Peking Rd., Tsim Sha Tsui, 2312-7800
Yummy Yum Cha
Hone your insta-skills and fill your belly at Yum Cha, a gem of a restaurant that makes its delicate dumplings look as good as they taste. Herbivores should flip straight to the dedicated vegetarian menu, which features tasty morsels such as curly kale and pomegranate, black truffle vegetarian dumplings, spicy wok-fried rice rolls, beetroot fried rice, mushroom lettuce wraps and whole poached pears for dessert. Don't miss the bird-shaped buns filled with pineapple jam, presented in a traditional bamboo bird cage (a touch sure to wow visitors), and rest assured that everything here is made without MSG, and with zero artificial colourings.
2/F, Nan Fung Place, 173 Des Voeux Road Central, 3708-8081, yumchahk.com. Also has an outlet in Tsim Sha Tsui
Bao Down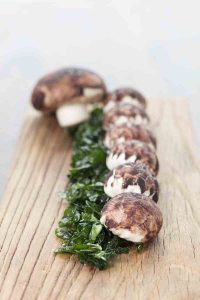 For innovative dim sum with a modern twist, Dim Sum Library in Pacific Place offers creative dumplings and nibbles in a sleek, art deco space. Its dedicated vegetarian menu offers a host of healthier bites, including their signature mushroom bao (pictured), wild mushroom beetroot dumplings, crispy aubergine tossed with spring onion, la mian noodles with porcini and tianjin cabbage, and braised e-fu noodles with termite mushrooms, to name just a few. Don't miss the tea-inspired cocktail menu, which features drinks infused with ginger, yuzu and dried lime.
Shop 124, Level 1, Pacific Place, 88 Queensway, Admiralty, 3643-0088, dimsumlibrary.com.hk
Park Life
A favourite on the tourist trail, Lock Cha Teahouse is nestled within the Museum of Teaware in Hong Kong Park, and is a tranquil, elegantly decorated spot to learn more about the art of Chinese tea while nibbling on refined vegetarian dumplings, cold appetisers and soups. The restaurant also regularly hosts traditional Chinese music performances.
G/F, K.S. Lo Gallery, Hong Kong Park, Admiralty, 2801-7177, www.lockcha.com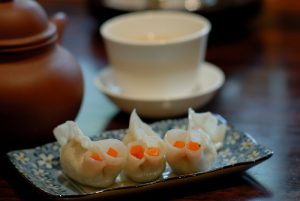 All You Can Eat
On the more casual side of things, Ahimsa Buffet has been crushing it with an extremely simple vegetarian buff et concept: for $68 at lunch and $108 at dinner, you can eat as much vegetarian fare as you like. You'll predominantly find Buddhist-style Chinese dishes, including stir-fry veg, rolls, mock meats, soups and dumplings, as well as a few Western dishes such as mini pizzas and desserts thrown in for good measure. Its first North Point outlet has been so successful that it's recently launched a second branch in Jordan.
Shop B, G/F, Wah Hai Mansion, 10-16 Fort St., North Point, 2528-2368, facebook.com/ahimsabuffet