Veganism is growing at a fast rate, but can it ever truly become part of Hong Kong culture? Sarah Kwong finds out.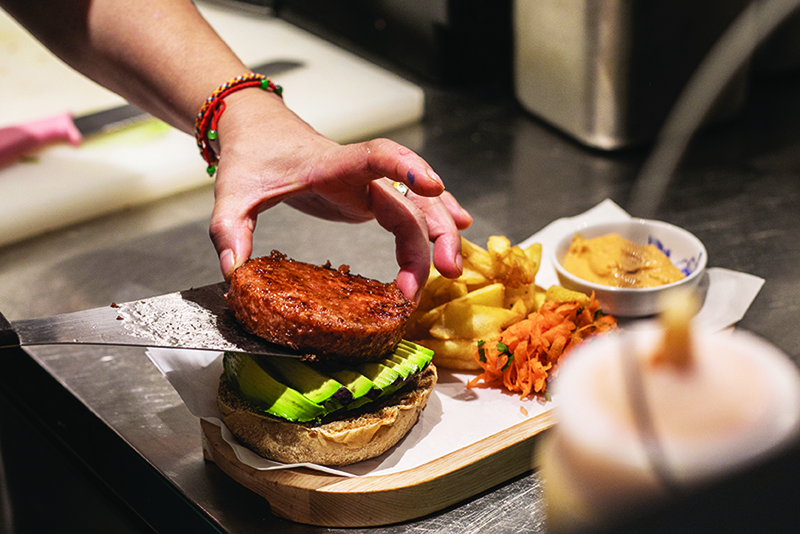 From fast food chains in Italy to schools in America, cities everywhere are trying on veganism for size. Hong Kong counts among them, but it's not as simple as just swapping fish balls for fennel. Food is synonymous with culture, history, socioeconomic status, and it's been a hard sell for many here used to a meat- forward diet.
Times are changing though. The divide between the city's meat-loving traditionalists and its plant-based proponents is growing narrower every day, and there's a number of reasons why many Hongkongers are now waking up to the lure of the leaf.
WHAT HONG KONG EATS
"In Hong Kong, veganism isn't just about food – it's tied up in identity politics. Hongkongers love their cuisine, and there are still many traditional attitudes towards food and the culture surrounding it, so new diets are considered to be a very particular lifestyle choice," says Paul O'Connor, Research Assistant Professor in Sociology at Lingnan University.
Indeed, for much of Hong Kong's food culture, meat and dairy is at the heart of it, from egg tarts to dim sum, cha siu (barbecue pork) to condensed milk tea – the latter of which we consume a whopping 900 million cups of every year. A 2018 study by the European Commission's Joint Research Centre found that the average Hongkonger also devours over 100kg of meat annually, while another survey showed that residents consume over double the recommended limits of meat, fish and eggs as set by the Department of Health.
O'Connor, who has studied diets in Hong Kong, says, "There are people who embrace new diets, but veganism is still seen as unusual among locals."
"A new diet sends status signals that carry considerable weight and show us where we rank. Veganism signals a class position, education, and a degree of cosmopolitanism. As it has a bigger following in Western countries, a vegan is signalling that they have Western values, to a degree."
GRADUALLY GOING GREENER
But things are changing. According to Green Monday, the social vegan movement founded by Hongkonger David Yeung, a December 2018 survey showed that 24 percent of the city's citizens are "flexitarian," choosing to eat vegetarian or vegan at least some of the time. Another 2016 survey found 22 percent of Hongkongers are adopting the practice of Green Mondays, or going meatless on Mondays. It all adds up to an undeniable pattern of people becoming more open-minded about their diet and conscious consumerism.
Going beyond the consumer are businesses getting in on the action, too. Major American plant-based players like Beyond Meat and Impossible chose Hong Kong as their launchpad into the Asian market, to no small success. Meanwhile, Green Monday's Yeung recently launched his own mock meat product, Omnipork, that's been widely adopted into the city's more traditional Asian eating establishments.
"We're based in Asia and it has the largest population in the world, so we channelled our understanding of Asian meat consumption into a product that could be a game-changer," says Yeung, also the owner of local vegan eatery Kind Kitchen. "Pork is the most consumed meat in Asia, so we found a way to cater to those who eat it, while reducing Asia's dependence on pork itself."
Broadening the appeal of plant-based proteins to regular meateaters is crucial to changing minds, according to Yeung, who says curiosity is what often attracts diners new to the vegan diet.
"Kind Kitchen has become a regular go-to restaurant for vegans, but also a showcase for food innovations that attract and often convert non-vegans. Many of our customers are impressed by the new-age plant-based offerings."
A HISTORY OF VEGANISM
Plant-based alternatives are nothing new in Hong Kong, thanks to a sizeable Buddhist community that has existed here for centuries.
But today's vegan menu is more extensive than the fare of China's Buddhist roots, resulting in an increasing interest among non-vegans to try vegan food. Restaurants across the city are starting to o er innovative alternatives that mimic non-vegan ingredients, broadening the scope of vegan cuisine to incorporate ramen, fish dishes, pizza, scrambled eggs, cheesecakes – the list goes on.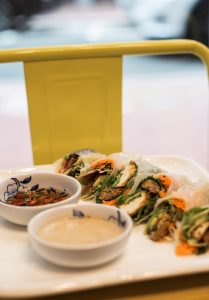 Lisa Terauchi, chef and co-owner at Confusion Plant Based Kitchen in Sheung Wan, believes the expanding scope of vegan options is winning over critics. "The people dining at Confusion are predominantly omnivores who, when asked if they are vegan, tend to answer, 'No, but I'm working towards eating mostly plant-based.'"
"What I hope they're able to gain from eating the food we create is to be inspired. I want them to know what's possible, that it's not all salads and fries, it's not all beans and broccoli. It's so much more."
Zoe Tang, barista at vegan cafe LN Fortunate Coffee in Sai Ying Pun, also believes that culinary ingenuity is what attracts many non-vegans. "Many of our local customers are keen to try vegan food because they're curious. They come for a cup of coffee and a piece of cake, and are amazed by what they're given since it's hard to imagine a cake without eggs."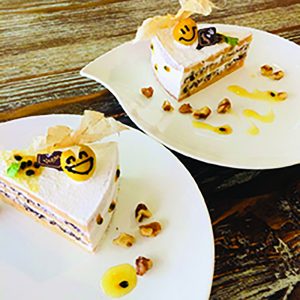 A HEALTHY SOLUTION?
The vegan diet has also garnered a reputation as being healthy, which could help it catch on. The World Cancer Research Fund suggests eating less than 750g of fresh meat per week because of its possible links to colorectal cancer – the most common cancer in Hong Kong. The world-famous China Study, a comprehensive look at Chinese nutrition, found a strong correlation between plant-based foods and low cases of cancers, heart disease and diabetes. And it's not just meat – in a 2018 study of Hong Kong bakery goods, like sesame and cocktail buns, most items were shown to have high trans-fat and sodium content.
Over the years, Hongkongers have also had to think about food origins. "Safety in food has become a concern," O'Connor says. "We've seen a number of shocking food scandals, such as Sanlu milk and tainted meat. The industrialisation of food production has become increasingly problematic." Yeung echoes this, citing the outbreak of African Swine Fever as one of the reasons that "change is no longer optional, but a must."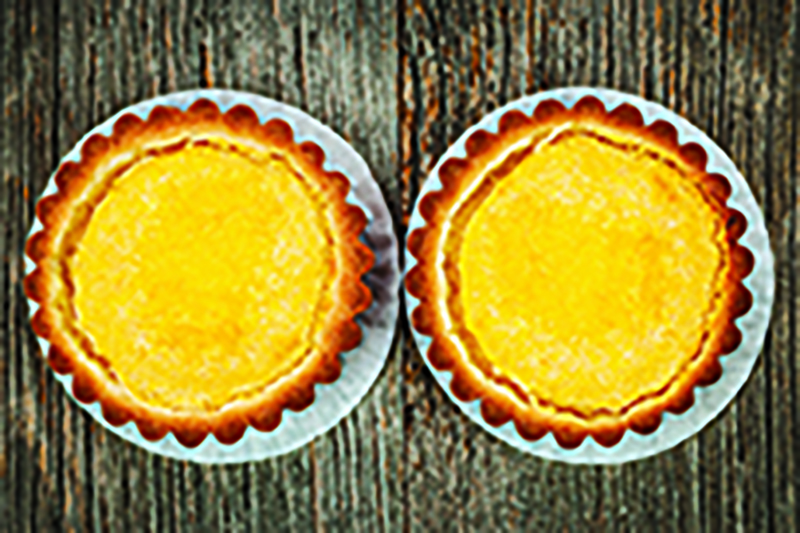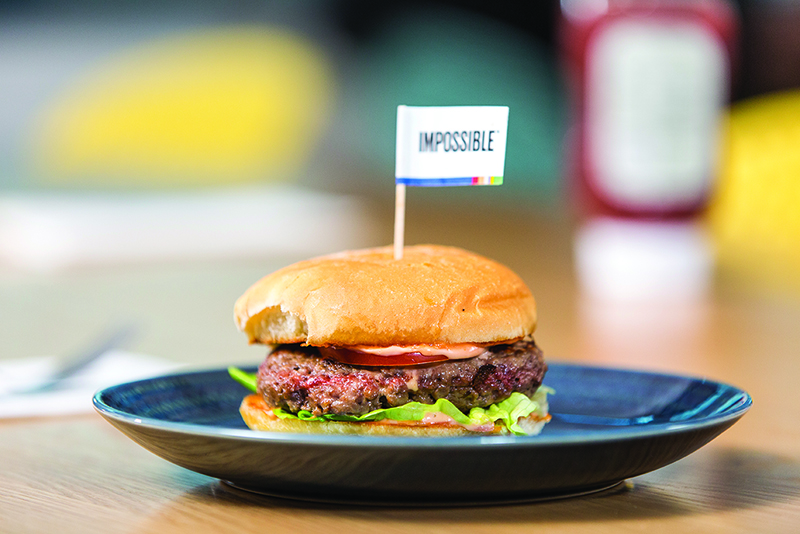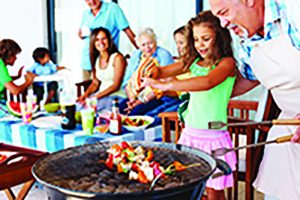 ONE STEP AT A TIME
Still, change can't be forced. Yeung believes that for Hong Kong to fully embrace veganism, we should go easy on the labels. "It shouldn't be a binary choice. Once the door is open and people experience the 'green' side of the culinary universe, they might adopt a plant-based routine at their own pace. If we make it an all-or-nothing situation, they might decide to pass due to their own inertia or an unaccommodating family environment."
Local food tour operator and Hong Kong culture and culinary expert Daisann McLane agrees. "I'd say, everything in moderation. The concept of eliminating certain types of food entirely and permanently from the diet doesn't fit with our culinary philosophy," she says.
There's also the issue of cost. In one of the world's most expensive cities to live in, a vegan diet can be expensive to maintain. "Food price is important for the average person, and diets like halal and veganism are challenging and o en expensive. Convenience and cost are big factors for many Hongkongers," O'Connor says. Unlike in major cities such as London or New York, the cost of eating local food in Hong Kong – often meat-based – is so cheap, it's hard to beat.
"For veganism and local culture to fit together, we need to reach communities in all districts and provide low-cost cooking classes and options," says Shara Ng, Chairman of the Hong Kong Vegan Association.
As with many new relationships, the one between our fair city and the vegan diet is complicated, and is unlikely to find
a one-size-fits all solution anytime soon. The merging of local culture and tradition with the emergence of insight into health, ethics, and environmental impact, was never going to be seamless. But it's obvious that veganism is at the forefront of people's minds here more than ever before. Regardless of how it looks, the vegan boom has hit Hong Kong.
EASY STEPS INTO VEGANISM
Thanks to the wide range of vegan-based products and services now available in Hong Kong, there are many easy ways to start dabbling in veganism without going cold turkey. Here are a few ways to get started…
→ Try out local Buddhist restaurants
There are a ton of Buddhist-friendly haunts in the city, from the famous Chi Lin Vegetarian to hidden spots such as Green Veggie in Sheung Wan.
→ Switch to soy or nut-based milks
Local soy milk brands can be found in most supermarkets, and some also stock affordable nut milks. International oat milk brand, Oatly, is another great, accessible alternative.
→ Try out Green Monday
A wide range of restaurants, from Pizza Express to Café De Coral, are in on the initiative and offer meatless options on Mondays.
→ Sign up for veggie delivery boxes
Companies such as Magic Season Organics (who also have a zero-waste policy) and Vegetable Marketing Association (backed by the government) offer affordable vegetable deliveries across the city.
→ Check out bulk health stores
From LiveZero to the new Slowood in Kennedy Town, bulk food stores o er a wide range of plant-based options, all priced by weight.