We chat to Lahra Tatriele from Fivelements to find out what she really Can't Liv Without…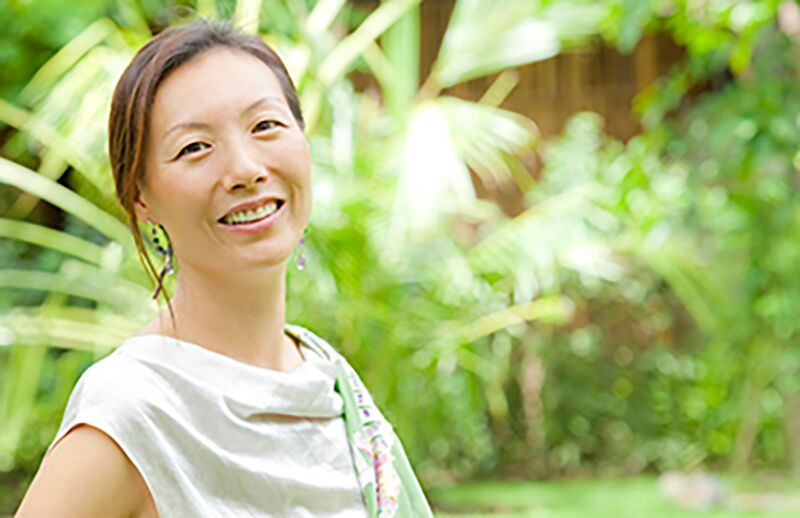 One Top Tip for busy Hong Kongers to stay healthy 
Hike the hills of Hong Kong every week or at least once a month. "Bathing in nature" is so healing – make it a hobby to check out the latest art and food scenes for new inspiration and community connection.
The one thing I always have in my gym bag
I always have a photo of my guru.
Where I work out
I love the hills of Hong Kong – I live in Sai Kung, which is full of trails. I'm also a recent member of Fitness First.
Where I go for a healthy lunch
I like to eat at home when I'm in Hong Kong, and at Fivelements Sakti Dining Room when I'm in Bali.
What I'm watching on TV
TV? Who watches TV anymore!
My favourite app 
Spotify – my husband and I are hooked on all sorts of playlists for the brain, deep sleep, gong baths, alpha waves, etc. Vibrational medicine really works, and it's nice for couples to sync up to.
My favourite workout song
Om Namo Narayani – by Edo & Jo, my sacred sound healers and angels!
Last plane trip I took, and why
I'm on it now – I'm attending design and curator meetings in Bali. We're expanding our wellness retreat with more rooms and a culinary training kitchen. Plus, I'm looking to source some unique handmade fabrics made from Balinese women in East Bali.
Number-one item on my bucket list
I've always dreamed of living on the Amalfi Coast in Italy with my family.
My guilty pleasure
I go for Twizzlers – always strawberry – because it reminds me of my childhood with my mum and my love of the cinema.
What I always have in my fridge
I need my green juice fixings: leafy greens and green apples. Gotta keep that alkaline balance!
My workout of choice
Meditation, meditation, meditation!!
What I'm reading right now
"Peace: For Ourselves, Our Families, Our Communities & Our World," by Pujya Swami Chidanand Saraswatiji.
I was at my least healthy when
As an infant, before I was adopted. I nearly died from poor health conditions before my angel American parents got me at 3.5 months. Since then, I've grown to 170cm, alive and vital and have lived in Tokyo, Paris, NY, San Francisco, Seattle, Shanghai, Singapore, Bali and Hong Kong, twice. I am one lucky soul!