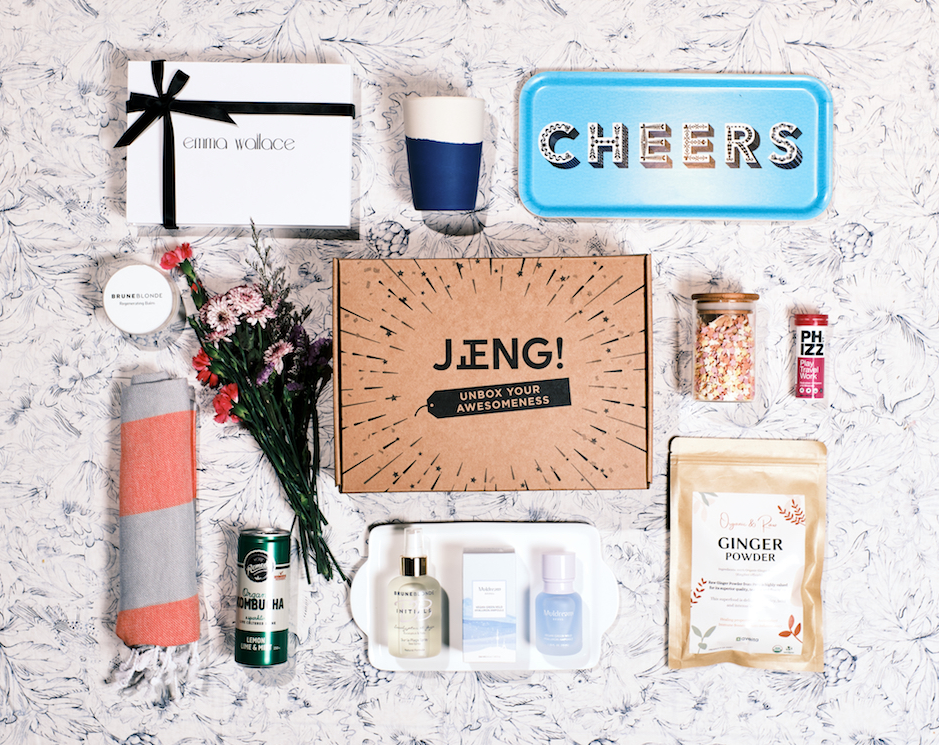 Summer's here and boy it is HOT! To help you keep your cool, we've put together a fabulous JENG! Box stuffed with treats for your best summer ever!
A birch wood tray from Tribe by Indigo
We love Indigo Living for stylish homewares, and we LURVE their new brand, Tribe by Indigo. These birch wood trays add a pop of colour to your next picnic or barbecue.
A Sur la Plage sea salt hair spray from BruneBlonde
Beachy waves can be yours with this texturising spray, which gives hair a hint of hold without feeling crunchy. Simply spray through damp or dry hair for relaxed volume and tousled waves.
Yasamen Royal Regenerating Balm from BruneBlonde
Made with mando seed butter, shea btter and prickly pear extract, this wonder balm can be used just about anywhere! On hair, it protects and moisturises as a leave-in balm, but it also nourishes rough skin, cuticles and lips. Don't leave home without it!
Looking for platewear that's strong, light, eco-friendly and stylish to boot? TaKe Lifestyle offers plates, cups and bowls made from bamboo. We love these Zen-inspired cups that are chic as they are practical.
A luxurious silk scrunchie or head scarf from Emma Wallace
We just can't get enough of these silk hair accessories by British designer Emma Wallace. In your JENG! Box, you'll either get a scrunchie or a chic headscarf that'll pair perfectly with your summer dress.
A can of lemon, lime and mint kombucha from Remedy Drinks
We all love kombucha for helping to build our gut health, and this lemon, lime and mint recipe from Remedy Drinks is perfect for the summer months.
A vegan hyaluron serum from Muldream
Whether excess aircon is causing your skin to dry out, or your complexion is stressing from all that sun, this vegan hyaluron serum from Muldream is the perfect soothing and moisturising remedy for your skin.
Made of 100 percent cotton, flat-woven Turkish towels are perfect for Hong Kong – they're light, easily packed and dry in minutes. Every JENG! box contains a miniature towel, perfect for the gym or as a cover-up.
A pack of organic, raw ginger powder from Aveita
One of the original superfoods, ginger is a fantastic addition to many dishes. Add to hot water for a healthy drink, or use in baking for an energizing kick.
A tube of PHIZZ effervescent tablets
Add a boost of vitamins and hydrate on the go with these yummy effervescent tablets. Available in two flavours: apple & blackcurrant or orange.
Made from borosilicate glass, these handy storage jars are perfect for decluttering your kitchen or bathroom. Available in a huge range of sizes, you'll find a mini jar in every JENG! Box.