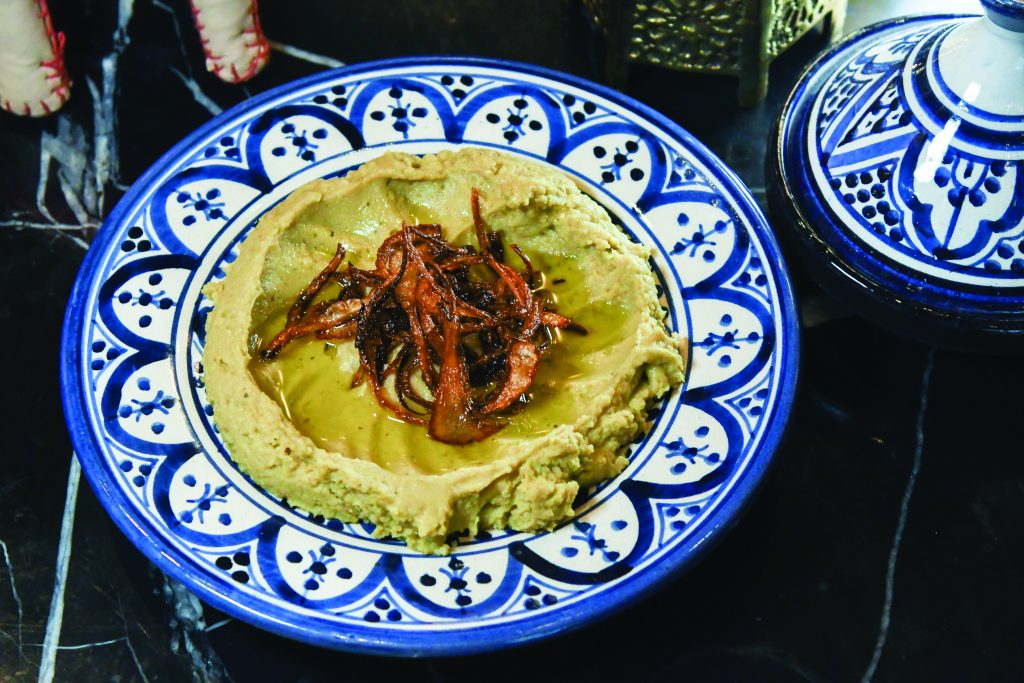 Enriched with herbs and spices, this healthy and easy broad bean dip from Chef Mohsen at Kennedy Town eatery Aziza is great for fighting off toxins. Pair with warm pita bread, or veggie sticks if you're eating light. 
Ingredients
200 g dried broad beans
2 cloves garlic
1 onion, chopped
1/3 cup olive oil
1/4 cup lemon juice
2 tbsp (or more) reserved cooking liquid
1 1/2 tsp sea salt
1 tsp ground coriander
1/2 tsp sweet paprika
1/2 tsp hot paprika (or cayenne pepper)
Chopped dill to garnish
1 tbsp Chinese chives to garnish
Instructions
Ahead of time, place dried broad beans in a large bowl and cover with a generous amount of cold water. Set aside and soak overnight or all day.
2. Drain beans and peel using your hands.
3. Transfer peeled broad beans to a medium-sized pot and cover with a generous amount of water. Bring to a boil over high heat, then reduce to medium and simmer until beans are tender, about one hour or longer.
4. Drain beans, reserving the liquid.
5. Transfer drained beans to a food processor or blender, and add garlic, olive oil, lemon juice, two tablespoons reserved cooking liquid, and spices. Process until smooth, adding additional liquid if necessary. Should be just thin enough to pour slowly.
6. Taste and season according to taste, then reheat until warm.
7. Garnish with salt, olive oil, chopped chives and fresh dill.