Dec 2-3
ELECTRIC AVENUE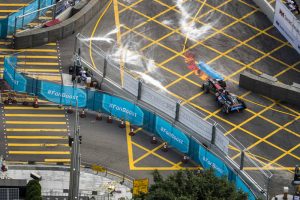 Move over gas-guzzling Formula 1 – electric racing is back! Taking place along the Hong Kong harbourfront, Hong Kong marks the first stop of the 2017/18 Formula E Championship circuit, the highlight of which is the FIA Formula E Hong Kong ePrix. For prime views of the circuit, pick up grandstand tickets, or if you're a lucky ballot ticket winner, soak up the atmosphere in the E-Village.
Central Harbourfront. Tickets $1,190 (single-day Lung Wo Road grandstand pass) to $4,780 for the full weekend Tamar Park grandstand pass. www.hkformulae.com.
Nov 4
BEACH FUN

Growing in scale every year, Lamma Fun Day raises much-needed funds for Child Welfare Scheme (CWS) projects in Nepal. Head over to Tai Wan beach with friends or family to enjoy live music, local food and drink stalls, children's games, arts and crafts and more.
11am-10pm, Tai Wan Beach. Free entry. facebook.com/LammaFunDay.
Nov 4
YOU ARE WHAT YOU EAT
Worried that you're sabotaging your hard work at the gym by eating the wrong way for your body? Join Fit Green Lean Nutrition and Wellness for a 60-minute nutrition workshop to discover your body type, and also get some nutrition tips and biohacks that you can easily incorporate into everyday life.
11am-noon, Barre 2 Barre, 37 Cochrane St., Central.
Tickets $295 from  www.eventbrite.hk.
Nov 25-26
Go Girls
Festival du Feminin is a two-day women's summit that explores issues related to health, wellbeing, entrepreneurship, mental health, mindfulness, love, family and more.
Silvermine Beach Hotel, Mui Wo. Tickets $790 (one-day pass) to $2,490 (two-day VIP pass) from goodin.hk.
Nov 17-19
If you love live music, Clockenflap, Hong Kong's biggest music festival, will already be on your radar. Back for its 10th anniversary, the festival boasts an impressive line up of international and local acts including Massive Attack, The Prodigy, Kaiser Chiefs and The Dandy Warhols, to name just a few of the big acts set to grace the stage.
Central Harbourfront. Tickets start at $930 from ticketflap.com.
Nov 3-Dec 10
Riding on the success of sellout shows in London and New York, the Secret Theatre Project is back with another immersive dramatic experience, this time entitled "Project Mayhem." Expect the unexpected as the audience delves into a dystopian world, interacting with performers and the carefully-created surroundings. The location is kept a secret until you purchase your ticket, and you can even choose to have a themed dinner beforehand to get you in the mood.
Tickets start at $850 from ticketflap.com.  
Nov 18
Scandi Canes
Do you know your æbleskiver from your smørrebrød? Get ready for Christmas in true Nordic style at the Scandinavian Christmas Bazaar. Shop for decorations, nibble on traditional Danish and Swedish food and drinks, and enjoy live music at this all-day festive extravaganza in Tsim Sha Tsui.
$50 on the door. The Mariners' Club, 11 Middle Rd., Tsim Sha Tsui.
Nov 3-12
Calling all BOOKWORMS
Love literature? The annual Hong Kong International Literary Festival features established and emerging writers from around the world. The busy programme will take place at venues across the city and includes discussions, literary lunches and dinners, workshops, and book signings that celebrate English-language creative writing with an Asian connection.
Price varies according to the event; some admissions are free.
Details at www.festival.org.hk.