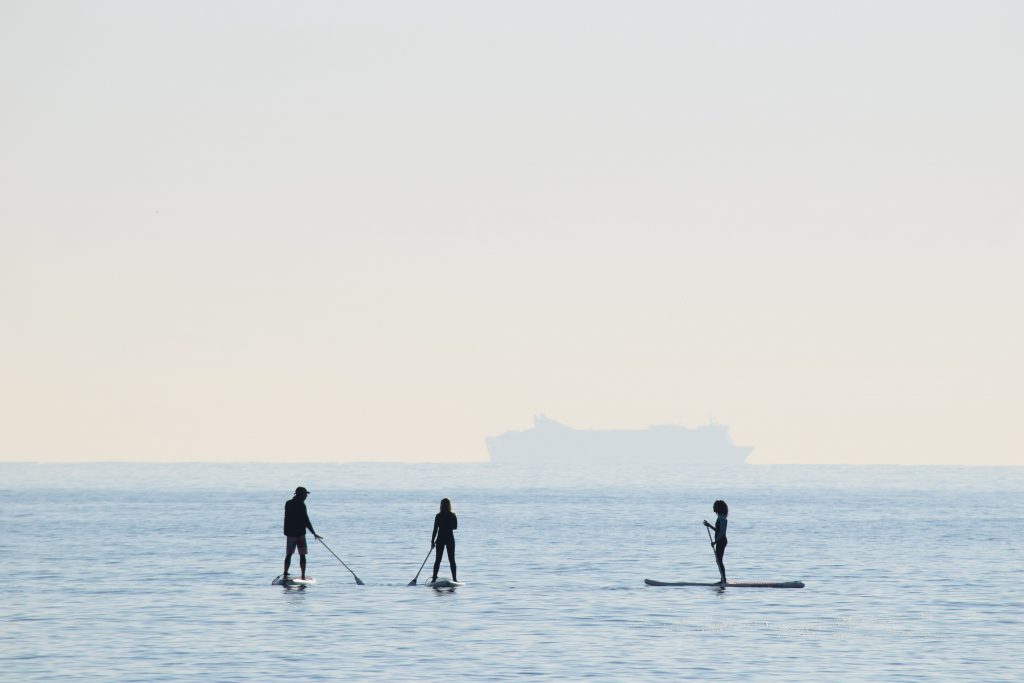 We did it. We went and bought an inflatable stand-up paddleboard.
Stand-up paddleboarding is the perfect new hobby for these pandemic-stricken times. A solitary activity, stand-up paddleboarding combines core fitness, nature immersion, watersports and mindfulness for a practice that's nourishing for the mind, body and spirit. But what to do if you're at a beach where a rental option isn't readily available?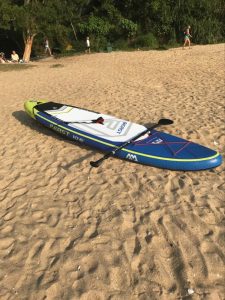 Thanks to technological advances, inflatable stand-up paddleboards are now much smaller, easier to store, convenient to carry and surprisingly quick to inflate. I should know. After weeks of hemming and hawing, my husband finally took the plunge and bought one online. At first I was deeply skeptical (and already resentful about a bulky piece of kit taking up precious space inside my tiny Hong Kong apartment). But after receiving "The Beast" (as we've named it) and taking it out for a maiden paddle around South Bay, I've grudgingly admitted it's actually great. Here's why:

It inflates in seconds 
How long do you think it'd take to manually inflate a 10-foot-6 inflatable stand-up paddleboard? If you guessed anything more than three minutes, you'd be wrong. Our paddleboard comes with a high-end hand pump with a built-in pressure gauge, and we were both amazed at how quickly it pumped up and, crucially, deflated.

It's surprisingly small
Inflatable stand-up paddleboards are designed to roll up into a backpack, about the size of a standard camping bag. The paddle collapses and neatly slots into the side of the bag, meaning it's easy to sling on your back or throw into the back of a taxi.

It handles well 
My main concern was that an inflatable stand-up paddleboard would be less stable than a solid SUP. And while yes, I started off a little wobblier on my feet, I was used to the new feeling within a few minutes, and before too long I was as happy on it as I am on a hard board. You're also less likely to damage an inflatable stand-up paddleboard as the inflatable rubber bounces off rocks, so you won't suffer dents or nicks.
Thinking about buying an inflatable stand-up paddleboard? Here's what to look out for.

What size paddleboard should I get? 
If your inflatable stand-up paddleboard will only be carrying one person at a time, a 10-foot-6 board will be plenty large enough. If you want to be able to stand and paddle with another person onboard, say kids or a dog, then a longer board will give you more stability.

Stability or speed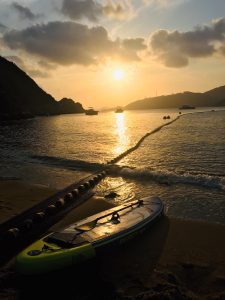 A wider board is more stable. Boards for touring or racing are thinner (under 30 inches wide) which means they are faster and glide further with each stroke. However, this comes at the expense of stability. Most "all rounder" boards are 32-33 inches and some boards are designed for doing SUP yoga and will be even wider. The stiffness of the board is also an essential part of being stable on the water. This is most dependent on the pressure to which it can be pumped up to (look for at least 15psi) and the thickness of the board (5-6 inches). Anything less than this and you'll feel like the drunk guy at a junk party trying to stand on a lilo.

Hard to handle? 
A smaller board is easier to turn and better if you want to surf waves. It is also of course lighter and easier to carry. Keep in mind it won't be suitable for a heavier rider or for longer distances.

Where to Buy 

Whatzsup
A specialist stand-up paddleboard shop, Whatzsup sells both hard and inflatable stand-up paddleboards, as well as accessories and secondhand items.

Decathlon
Massive sporting supplies store Decathlon offers one model of inflatable stand-up paddleboard that's good for beginners.

APA Outdoor Shop
APA Outdoor Shop offers a comprehensive range of gear, including Red Paddle brand inflatable stand-up paddleboards and other accessories.

Wind Shop
A windsurfing specialist store that also offers a selection of hard and inflatable SUPs, plus accessories such as bags.