DIGGING DEEP INTO HONG KONG'S URBAN GARDENS
Once a pastime considered primarily for retirees, gardening has gone through a revival of late. More of us are donning gloves and making the most of what little urban space we have available to grow our own produce and get back to food basics. By Zoe Belhomme.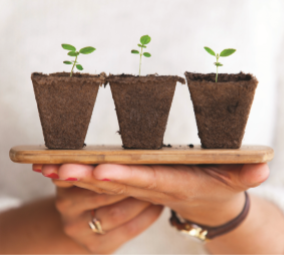 When you live in one of the most densely populated cities in the world, finding the space to grow your own flowers, fruits or vegetables seems like an unnecessary burden. Aft er all, in Hong Kong homes, who has room for their own wardrobe let alone a pile of dirt and some seeds? But look closely at the city's rooftops and balconies, and a different story emerges. Green-fingered city-dwellers are literally taking matters into their own hands, growing organic produce and reaping unforeseen benefits along the way.
IT TAKES A VILLAGE
Central to the trend are organisations and groups that guide and inspire budding gardeners. These include social enterprises such as Rooft op Republic, which supports the rise of urban farming in Hong Kong. Launched in 2015, Rooft op Republic has seen its projects and membership steadily grow over the past four years – something staff attribute to mounting consumer consciousness. "As urbanities, many of us have no idea about where our food comes from or how it is grown," explains Angelica Klein, Assistant Project Manager.
"People are drawn to growing their own produce to connect with nature but it is also empowering to grow your own food and to gain the wisdom that comes with it. It's incredible seeing the faces of kids – and adults – that pull up their very first carrot they grew from the ground." Surprisingly for a city so urban, there is a strong community here invested in cultivating the land for permaculture. Regular events and workshops are run by organisations such as the Hong Kong Gardening Society, Kadoorie Farm or the Produce Green Foundation, which launched its first organic farm and elderly community garden project in Hong Kong way back in 1988. Community gardening groups also abound, all eager to share their know-how and love of the pastime.
There are a number of official, as well as community-led, allotment-style initiatives in areas like Lamma, Lantau and the New Territories. The Permaclub in Clearwater Bay runs workshops and team-building activities with a focus on organic farming and composting, while The Hive's CoFarm in Yuen Long has its own community garden, which runs alongside startups operating in hydroponics, aquaponics and agritech. The Leisure and Cultural Services Department also manages more than 20 community gardens where you can rent a 1.5 square metre plot for $400 for 18 weeks, with an educational course on gardening included in the fee.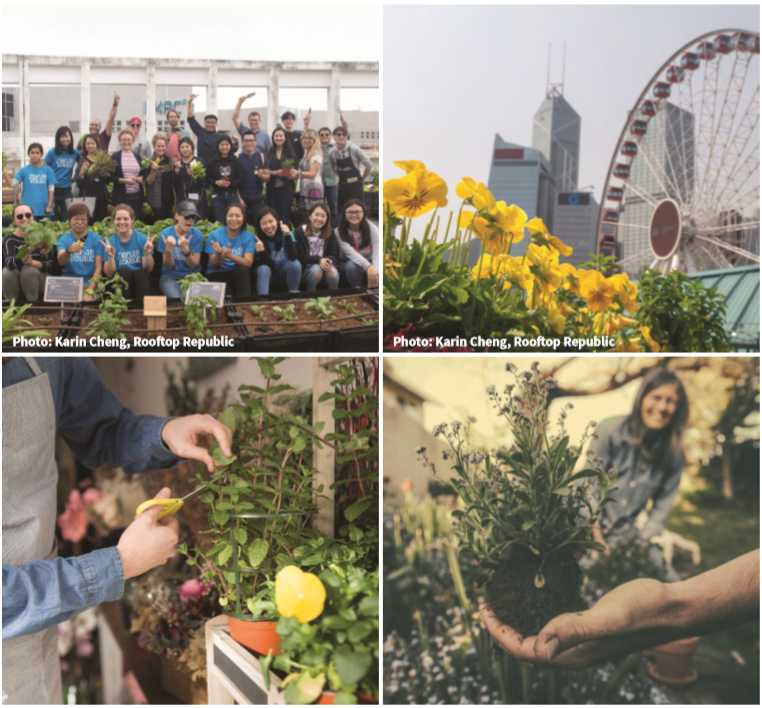 PLANET ORGANIC
It makes sense why Hongkongers would take more interest in their food sources. Year-on-year, organic food and beverage consumption in Hong Kong continues to rise. According to research conducted by Global Organic Trade Guide, the organic industry in Hong Kong rose from US$14.1 million in 2014 to over US$17 million in 2017, largely believed to be driven by people's skepticism of food production and the use of chemicals, pesticides and preservatives. Growing your own produce for consumption not only takes organic to the next level, but generates other benefits like reduction of packaging and reducing carbon emissions from transportation. And the potential of urban farming in our city is huge, for anyone willing to try. According to a research study by HKU Professor Matthew Pryor, there are at least 6 million square metres of farmable rooft op spaces in Hong Kong – with just less than 0.25% of it being used at present.
IS GARDENING FOR YOU?
From a balcony or rooftop, it's possible to grow most foods, from lemons and tomatoes, cucumbers, radishes and beetroot. Even ginger, turmeric, chilli peppers and curry plants are relatively straightforward. Herbs such as coriander, basil, chives, rosemary, mint, oregano, thyme and fennel can all be grown inside from seeds or cuttings. Veggies like corn, okra, aubergines and sweet potatoes require minimal attention, if you have a balcony or window ledge that gets enough sunlight. As a rough guide, most fruits, vegetables and herbs can be grown from a seed while fruit trees, such as avocado plants, are oft en easier to propagate through cuttings. Plants grown from cuttings will mature faster than those started from seeds but be warned – if the original plant has any traces of pests or disease, these will be passed over to the new crop. Gareth Storey, a teacher and avid gardener based in Sai Kung, grows sweet potatoes in troughs on his rooftop. "You can source them from wet markets, plant them in the ground or a pot and they go crazy all year round," he says. "I recently harvested more than 5kg of them in one go. The amazing thing about them is, unlike traditional white potato varieties, the leaves are edible too." Once you've got the seeds or cuttings, you'll need some top notch compost. You can always buy it, but with some time and know-how it's also easy to make your own and add another layer to this ecofriendly value chain. "Composting your food scraps and kitchen waste is easier than you think," says Karen Ball, a DIY composter based in Sai Kung who started gardening when she moved to her current home which has a small garden. "All you need is a small DIY worm farm and you are on your way to helping reduce waste that would otherwise go to landfill." Even the city's culinary pros have their own tricks of the trade. Moises Mehl, otherwise known as Chey Moy, Raw Food Chef at nood food, has an urban garden where he grows fresh organic veggies not easily found in Hong Kong, like habanero and lacinato kale. "Organic fertilizers and compost [are] essential as well as good drainage because of Hong Kong's frequent heavy rain. It's also worth researching 'partner plants' that like each other, such as tomatoes and carrots."
GREENTECH
A wave of innovative greentech is also making urban farming accessible in ways previously unimagined. Potti by Superfarm is a super cute portable aquaponics system that sits on your desk or by your bed. Add in a few small fish and the system uses their faeces as a nutrient source for the plants – a complete, sustainable cycle. You can grow anything from strawberries to basil with this handy device, with a better yield and faster growth from aquaponics. Taking it one step further is the O Garden, a French company currently raising funds for its first consumer product through a Kickstarter campaign. This automatic and intelligent indoor garden allows you to grow up to 90 vegetables and herbs at the same time in a wall-affixed hoop. A little computer inside helps regulate the environment and ensure plants are thriving.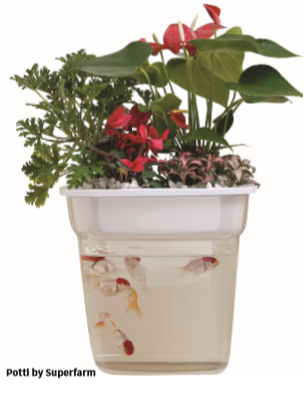 AFTER THE HARVEST
At the end of the day, it's about more than just gardening and eating the fruits of your labour. Sustainability and reconnecting to what nourishes us are issues that are attracting more and more people into the garden patch, with some pretty appetizing benefits for the mind and soul. "I think there is something a bit primal about getting your hands dirty and creating the correct environment for something to grow successfully," explains lifelong gardener Gareth. "There are a lot of mistakes to be made but when something grows well, the feeling is one of accomplishment and happiness – with the added bonus of having something tasty to eat at the end of it all.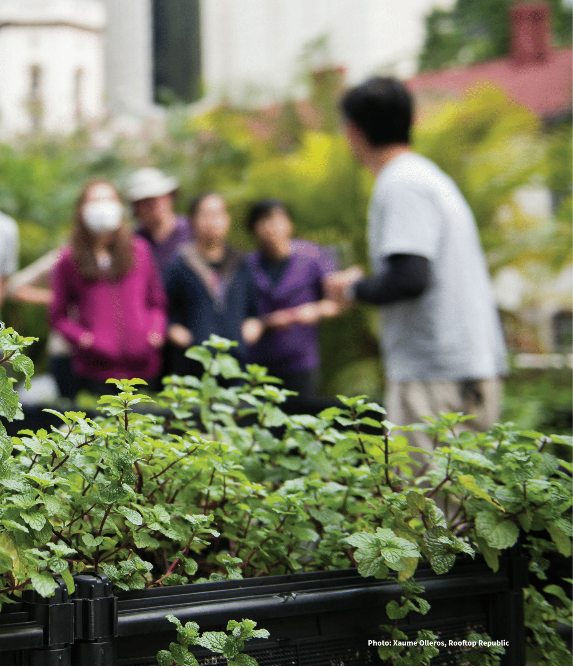 TOP TIPS
1. Grow in season. Do some research to find out what should be grown when for best results.
2. Not all plants need the same amount of light. Play around with the space you have to off er plants optimum light levels.
3. Don't over-water. Some plants require small amounts of water daily while others prefer a good dousing once or twice a week.
4. Don't limit yourself to boring plastic containers for potting. You can repurpose anything from guttering and old cooking containers to gorgeous vintage porcelain to give your garden some personality. Just make sure your pot is the right size for what you're trying to grow.
5. Join a community garden. Learning from other more experienced gardeners is one of the best ways to increase your skills and knowledge.
6. Be patient. Growing your own produce from scratch takes some time and dedication.