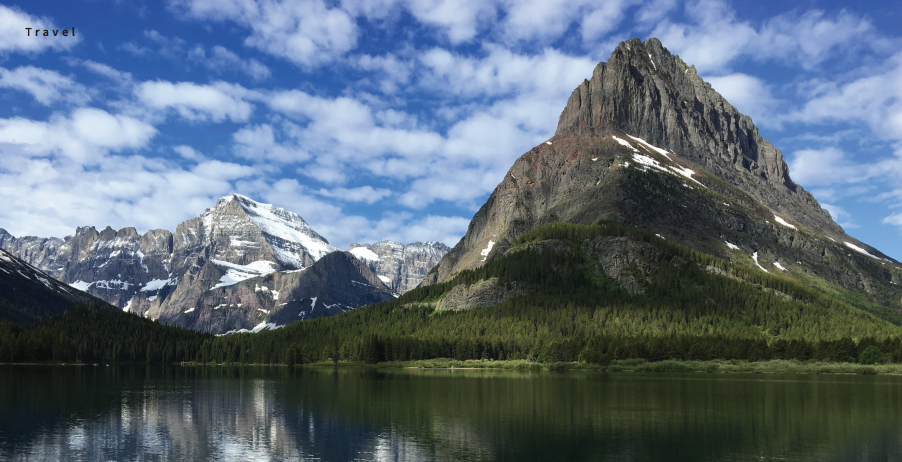 Jaw-dropping national parks, geothermal springs and the occasional grizzly bear… Chaanah Crichton drives, hikes and rides through the rugged landscapes of Montana and Wyoming.
While the Pacific Coast Highway along California's western coast may be America's most famous road trip, travelers looking to get up close and personal to the country's impressive national parks will be richly rewarded with a journey through Montana and Wyoming. Known for its diverse topography – from the Rocky Mountains to the Great Plains – the raw natural scenery of these two northwestern states have remained almost unchanged for thousands of years, and are perfect for exploring by car, on foot and on horseback, with plenty of kayaking, rock-climbing and white water rafting thrown in for good measure. If you have two weeks (or more!), this itinerary will allow you to see the best these spectacular parks have to offer.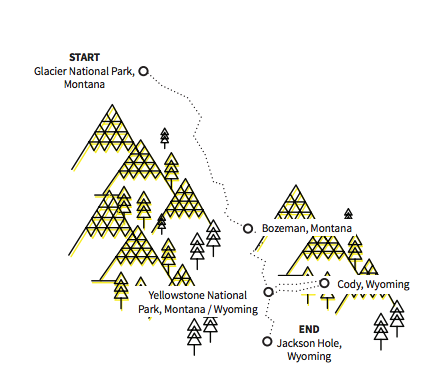 GLACIER NATIONAL PARK, MONTANA
With its pristine lakes and streams, dense forests and glacier-scoured mountains, Glacier National Park, part of the Rocky Mountain region, is the perfect starting point for your trip. Start your adventure by booking a flight to Glacier's access point, Kalispell Airport, pick up a car and begin. Glacier National Park is divided between the East and the West, but I would recommend spending more time in the East, which has more hikes and better weather. Spend one day in the West to see Lake McDonald with its beautiful coloured pebbles and crystal water, before driving the "Going to the Sun Road" – the park's most famous road – to spend three to four days in the East. Glacier National Park is a hikers' paradise, either for backcountry hiking and camping trips, or for easier day hikes. If you want to go into the backcountry, be aware that Glacier has one of the largest bear populations in the USA, so you have to take a lot of precautions. At the very least, carry bear spray, be prepared to chat (or sing) loudly, and hike in a group. We were lucky enough to see four bears during our trip (including two cubs), but thankfully both sightings were from the safety of our car. If you're tired of hiking, Glacier National Park and the surrounding area also offers great kayaking, biking and white water ra ing. Or just pick up a book, order a locally brewed Glacier Golden Ale and sit on the deck of the Many Glacier Hotel (www.usparklodging.com) for an a afternoon in the sunshine.
BOZEMAN, MONTANA
Bozeman is primarily a university town, but its location between Glacier National Park and Yellowstone makes it the perfect stop-off point during your trip. If you want to stretch your legs while in Bozeman, hike the landmark 1.9-mile "M" trail, created by Montana State University students in 1915. Fill your bellies at Montana Ale Works (www.montanaaleworks.com), the town's best-known watering hole, and sample the delicious Huckleberry beer. One night is all you need in Bozeman, but if you have the time, consider doing a day stop at Wade Lake on the way to Yellowstone National Park. With crystal clear water, this is one of America's best canoeing spots.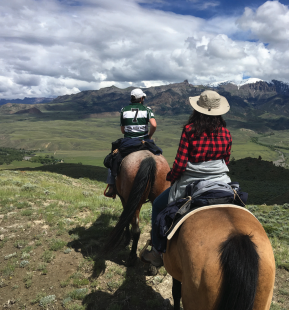 YELLOWSTONE NATIONAL PARK
Yellowstone is one of America's most famous monuments, and the amazing geothermal features – including geysers, hot springs, mud pots and steam vents – highlight why it was designated as the world's first national park in 1872. Yellowstone is truly vast and so you will need time to explore it, get away from the crowds and find a quiet spot to enjoy the spectacular scenery. The best way to see the park is to break it up into areas and explore a different area each day so that you aren't doing too much driving. Yellowstone has more than 1,000 miles of hiking trails, and as most people don't leave their car on a trip to Yellowstone, this can be the perfect way to see the park without the crowds. Most of the park's famous features are found between the West and North entrances, so staying in these areas is recommended if you only have a short amount of time.
CODY, WYOMING
Cody, just outside of Yellowstone's East Entrance, is the quintessential "cowboy" town, with its pioneer and Cowboy and Western history obvious in the cultural events and activities in the area. Even if cowboys (and girls) aren't your thing, it's worth visiting Cody to stay at a "Dude ranch" – a cattle ranch converted to a resort for tourists – to do a full-day horse trek through the Shoshone National Forest and surrounding area. Aside from horse riding, the Shoshone River runs through town offering Class I-V kayaking and whitewater rafting, and there are also more than 300 rock climbing routes in the area. We did our horse trek through Double Diamond X Ranch (www.ddxranchwyoming.com) and stayed at River Bend Cabins (www.riverbendcabinscody.com), about 20 minutes outside of Cody.
JACKSON HOLE, WYOMING
If you are a keen skier, you might have heard of the town of Jackson and Jackson Hole, the valley that incorporates Jackson as well as the neighbouring towns of Moose, Teton Village and Wilson. While the area is famous for its world-class skiing, in my opinion, Jackson Hole in the summer months is just as lovely – if not more so – than in the winter. The hikes in Jackson, set against the mountainous backdrop of Grand Teton National Park, are breathtaking, particularly in Spring when the wildflowers are blooming and covering the hillsides.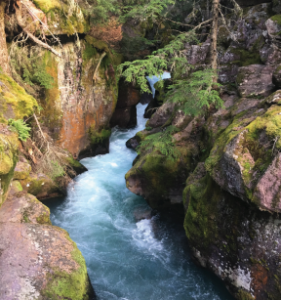 The diversity of the landscape was evident in one of our hikes, which started in bright sun-lit flower fields – a dramatic contrast to the summit of the mountain, where we found ourselves in the middle of a snow storm, beside a frozen lake! The Snake River threads through the entire valley from its headwater in Yellowstone in the north to the mouth of the Snake River Canyon at the southern tip of the valley, meaning there's also great white water rafting and kayaking available. A popular activity in Jackson is biking, with more than 56 miles of paved pathways that link the town of Jackson to Teton Village and Grand Teton National Park, and over 115 miles of mountain bike trails. On top of this, there are great restaurants throughout the Valley. Check out Teton Thai, Lotus Organic or Pearl Street Bagels, just to name a few. As Jackson Hole is a popular holiday destination, the airport has non-stop flights from 13 destinations throughout the United States including New York, Chicago, and Los Angeles, making it the perfect end to your Northwest road trip.
TIPS
Most national parks in Montana and Wyoming retain snow until late May or early June, and some (especially mountain passes) are snow-covered until late July. Take this into consideration when deciding when to travel.
Book early. Accommodation in and around national parks fill up in summer.
Avoid USA holidays as parks get very crowded.
Buy car insurance online or through your credit card company to avoid expensive rates charged by rental companies.
For hikes and camping, look on the national parks website (www.parktrust.org), where there is a wealth of information on what you need to do to prepare for hiking and camping in bear country.
Begin your hikes by stopping at a ranger station or visitor centre for information or updates on trail conditions and area closures.
Buy an "America the Beautiful" annual national park pass on your first park entry. This can be used throughout all of the national parks along the way.
Bring a portable phone charger or solar charger – you will want to take a lot of photos and videos!