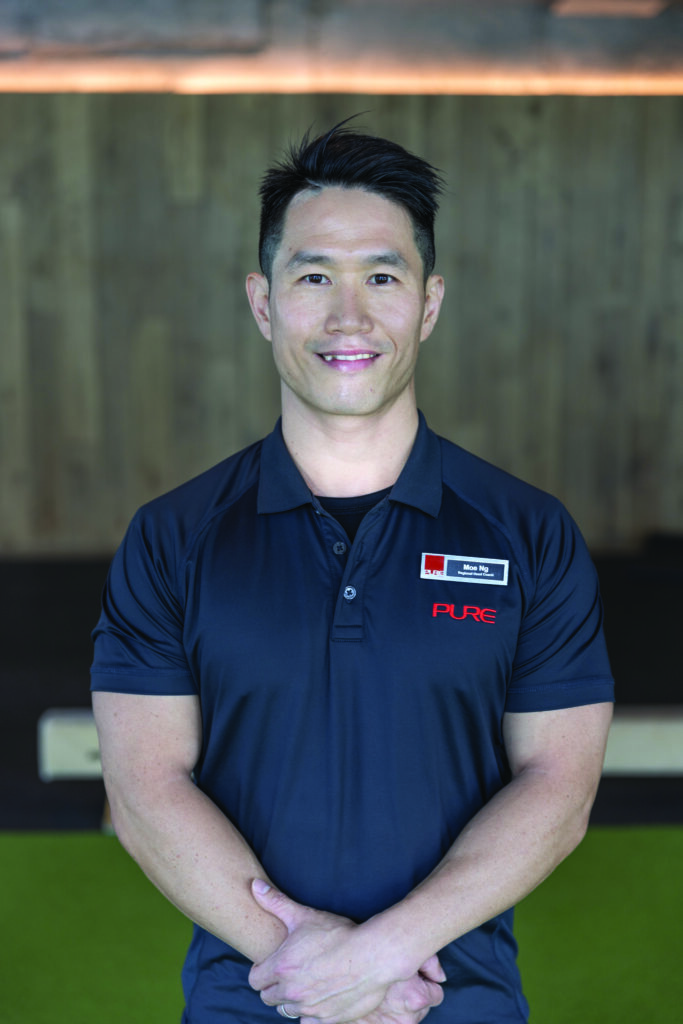 As we deepen our yoga practice, it's natural to want to achieve certain challenging asanas. But all too often we hit our physical limits, and certain balancing postures, inversions, or poses requiring more flexibility remain frustratingly out of reach. Moe Ng, Regional Head Coach at PURE Fitness, explains how a targeted personal training programme can complement your yoga practice and help you nail those tricky asanas.
What are some common areas of the body where yogis might experience muscle weakness?
It really depends on the individual, but common weaknesses we see are core stability, and wrist and shoulder strength. If you find that you wobble during single-leg balancing poses, you may need to strengthen your core. A lack of core stability and strength will lead to challenges when trying to hold a handstand. Without a strong core your other joints will be under too much stress, which will in turn lead to pain or injuries. For wrists, a lack of mobility or strength will lead to wrist pain when performing high planks or push ups. Mobility and strength in the shoulder are also important for yogis. Impingement is very common when practising overhead positions or push-ups, and stiff shoulders can lead to overcompensation elsewhere in the body. Overuse and chronic pain that isn't treated properly will cause injuries and derail your progression.
Why is it important to have a strong core?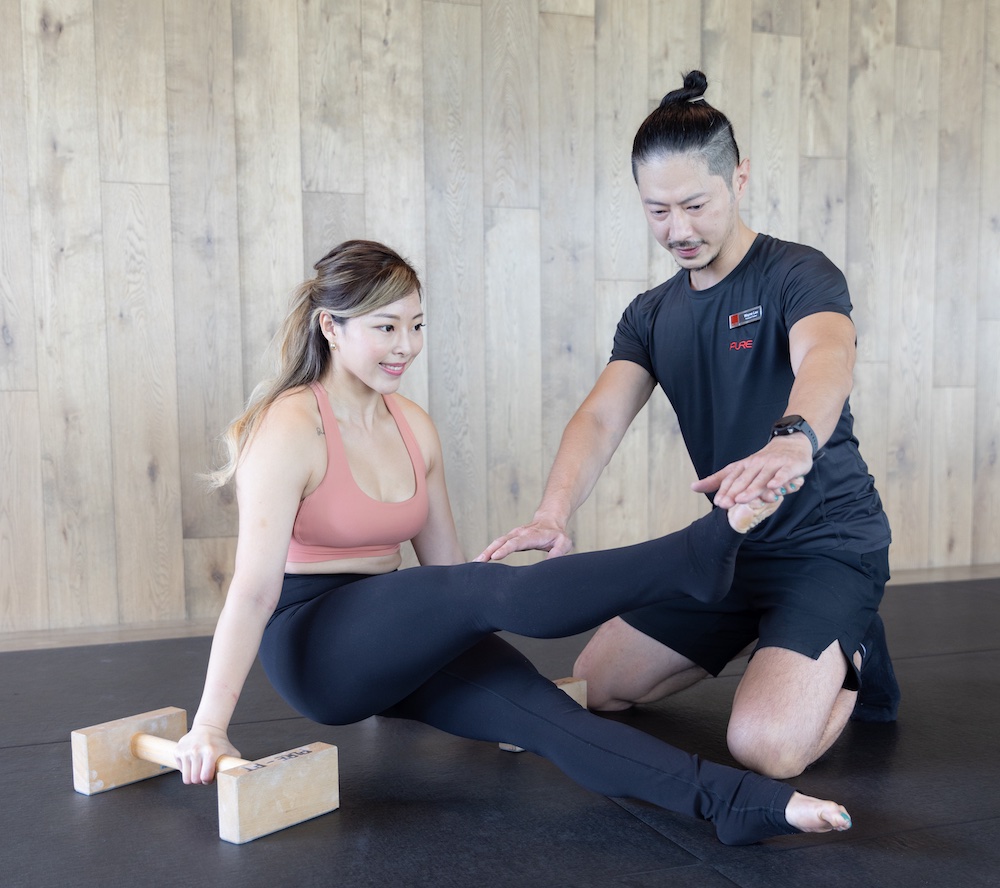 A stable and strong core helps promote good, upright body posture. As you move through poses, force and muscle tension will be in correct alignment, which will in turn help you avoid muscle imbalances and joint instability which eventually leads to chronic pain. Maintaining a strong core with stable joint and muscle control will help you prevent injury and enhance your overall performance, which means you can continue to practise yoga and improve year after year.
Let's say we have a specific goal that we want to achieve in yoga – to master an arm balance or an inversion, for example. How can a PURE Fitness PT help with this?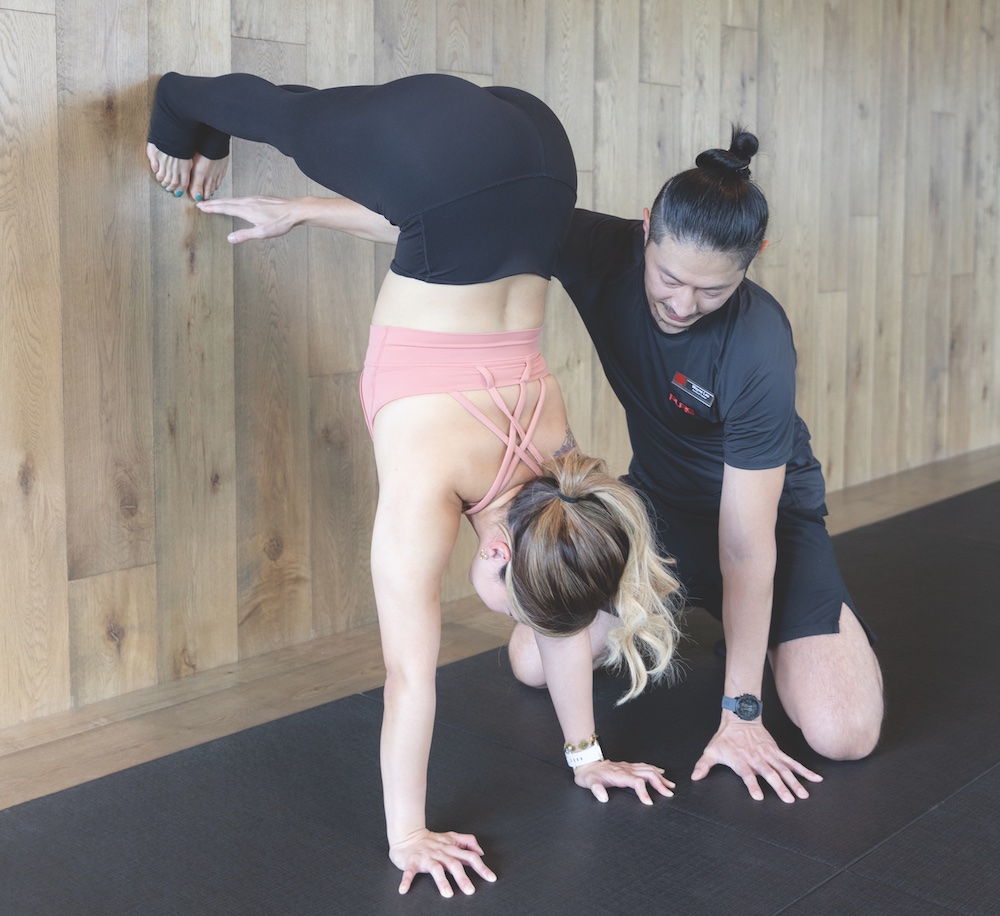 First, we would identify our goal and set a time frame. Improving one's overall strength and stability forms the backbone of training. Simultaneously, we identify areas of weakness and prescribe exercises to help strengthen these areas. In general, arm balances and inversions require flexibility in your shoulder, thoracic spine and wrist, and stability, strength and neuromuscular control in your core, shoulder, wrist, hip and leg. Endurance is also key to performing these exercises successfully, so we will work on all these elements together. We will design a program and assess the progress regularly to make sure they are on track.
Besides muscle strength, can PTs also help develop other physical skills such as balance, stamina and flexibility?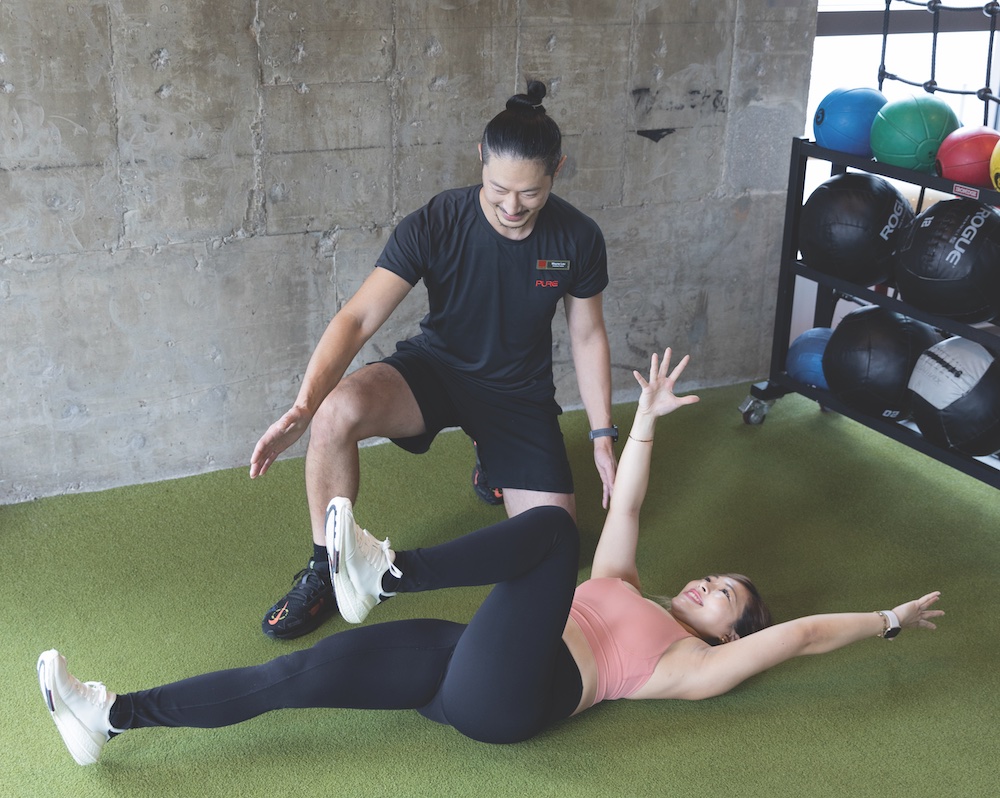 As PTs, we believe that all humans should exercise regularly and develop a regular fitness routine for lifelong wellbeing. Our goal is to provide a healthy foundation so that you can continue to do the things that you love safely while enhancing your skills. Our PTs regularly go on courses and gain qualifications for all manner of exercises protocols, and apply our knowledge to help you achieve your goals. Methodologies are varied, and can include Tabata, HIIT, plyometric and single-leg exercises, which can improve muscle control and stability while addressing imbalances. We also provide personalised stretching and massage sessions pre- and post-training to promote recovery.
Read more: Seven heart-opening yoga poses
Supercharge Your Summer at PURE!
From now until August 28, everyone is welcome to visit any of PURE's 22 outlets free of charge on up to three consecutive Fridays, Saturdays and Sundays. You can also sign up for a complimentary PT trial class. Plus, redeem exclusive joining privileges if you decide to sign up as a member. Enquire at any PURE Fitness reception to learn how to redeem your free PT trial. Bring a friend and sweat together!
In partnership with PURE Fitness