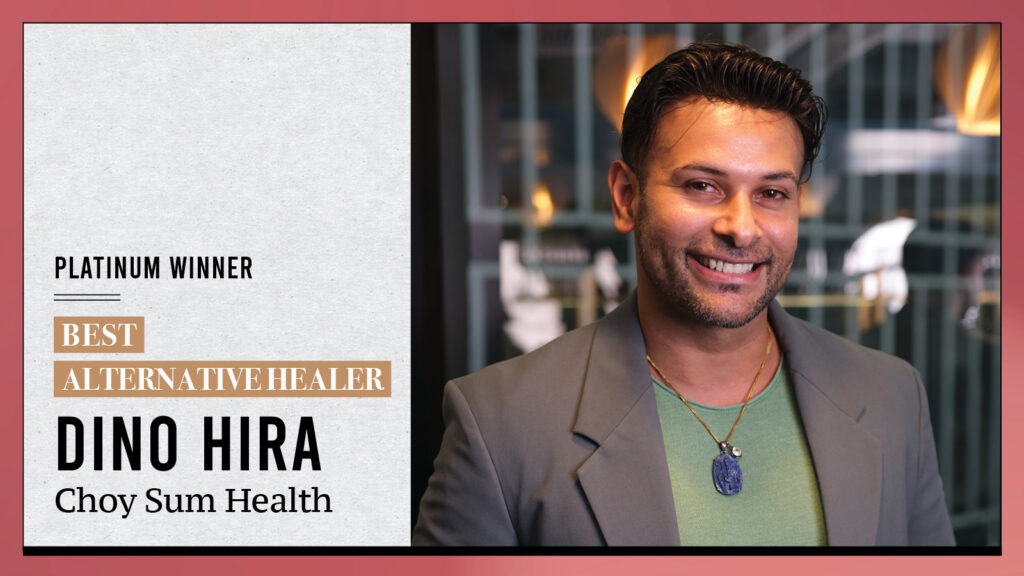 Following a period of burnout and depression from his job as a mining engineer in Australia, Dino Hira embarked on a journey of healing and self-discovery in India, where he practised various healing modalities. He recently co-founded Choy Sum Health, a medical and holistic clinic in Central.
Congratulations on winning best alternative healer! Tell us about your wellness journey.
Firstly, a big thank you to all our supporters who took the time and energy to vote for us. After working in Australia for 15 years as a mining engineer, this highly demanding role took its toll on me through depression in 2014. I travelled to Rishikesh, India, and experienced a personal transformation by staying at various monasteries, ashrams and temples alongside sages and monks. It is then that I learned 112 various meditation and healing techniques. I'd never felt better and at that point, I decided to share this gift with the world. My approach with those I guide is to respect their background and their own goals. I customise my therapy to suit the patient. With our holistic clinic practice, Choy Sum Health, I am given the freedom to apply a mix of hypnotherapy, along with reiki, past life regression and pranayama (breath work), depending on what the patient requires in their wellness journey.
Tell us more about the modalities you work in, and what ailments people come to see you for.
At Choy Sum Health, there is a great union between medical science and spirituality. Our functional medicine approach combines lab work, to identify inflammation, nutrient levels, food allergies, hormones and gut health, with a clinical evaluation to identify the root cause of symptoms and conditions. On the alternative healing side, we have patients visiting us who are experiencing post-traumatic stress disorder (PTSD) as a result of the impact from Covid-19; patients who may have lost a loved one in recent times; clients going through sleep issues; or going through anxiety, stress and depression. As each person is different, we try to determine the root cause and coach them through the various therapies we have available. It's a collaborative effort where certified health coaches work with doctors and practitioners to provide clients with support and accountability throughout this process.
What's your relationship with conventional medicine?
Conventional medicine has many benefits in life. Doctors and specialists are very good at diagnosing disease. However, with the growing burden of lifestyle-related chronic illnesses that take up 80 percent of the healthcare burden, most solutions are not readily found in a pill, machine or procedure. We're faced with many challenges from modern living, such as heavily refined or processed foods, environmental toxins, physical inactivity and chronic stress. Rather than a disease focus, Choy Sum Health aims to transform health through six pillars of lifestyle medicine, which are: healthy sustainable eating patterns, movement, stress management, restorative sleep, addressing toxic or addictive substances, and providing a supportive community.
What's one thing that you wish people knew about their own wellness?
Think of wellness in terms of your unique biology and ways in which you can prioritise and invest into your health, just like you would with a bank. When it comes to health, there is no one-size-fits-all solution. All of our foods, exercise, meditation or stress-coping mechanisms are unique to each of us. Don't be afraid to ask for help when it comes to figuring out what works best for you!