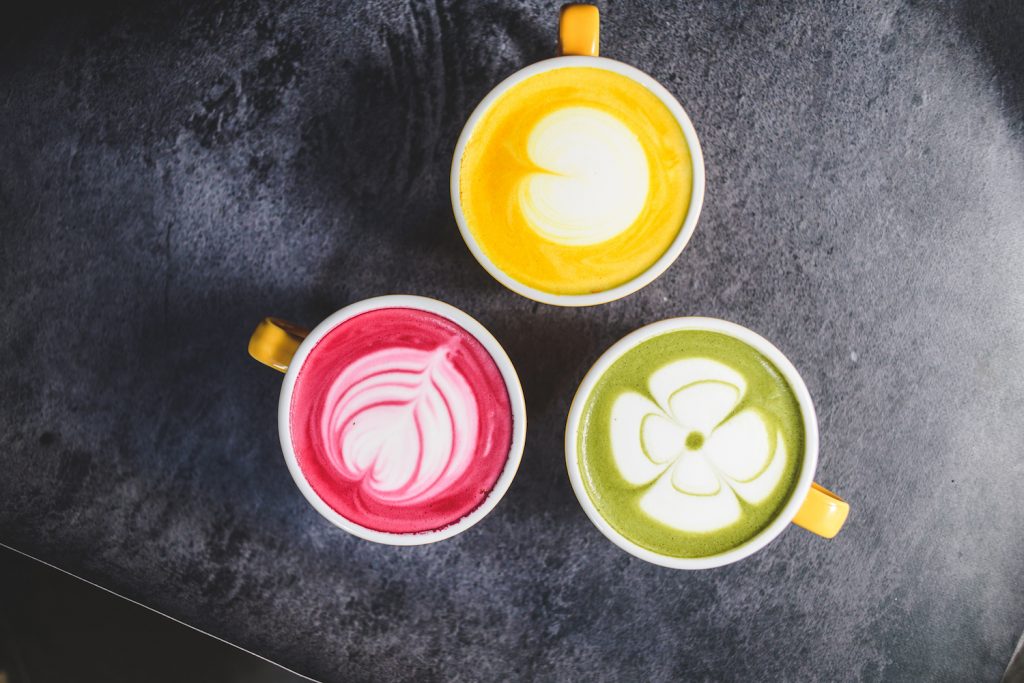 The mercury's dropped and it's time to cozy up with a warming drink. But whether you're going plant-based, want to swerve the rich, heavy festive drinks that pop up this time of year, or are simply looking to nourish your body with a health-boosting beverage, nood food's brightly-coloured lattes are absolutely delicious and bursting with good-for-you ingredients too. All the lattes are made with creamy oat milk, and can be easily replaced with soy, almond or even dairy at no additional cost.
Go for Gold with a Turmeric Latte
Spiced up with a hint of ginger, this mellow yellow turmeric latte packs a nutritional punch, Turmeric serves as an anti-inflammatory and immune-booster, while ginger warms you up and boosts your circulation s. Topped with a dusting of cinnamon, it's the perfect creamy, comforting drink. The turmeric latte is made with honey, which can be swapped with an alternative sweetener for a fully vegan drink.
Tickled Pink with a Beetroot Latte
New to nood's menu this year, the bright pink beetroot latte is loaded with vitamins, fibre and antioxidants. While we love beetroot's sweet, earthy flavour, plenty don't, which is why a latte is an easy way to get more of this wonder root into your system. It certainly helps that the jewel-toned drink is just begging to be photographed too!
See Green with a Matcha Latte
The OG of superfoods, matcha – or green tea – is packed with antioxidants. It super-charges your metabolism, protects your liver and keeps your mind sharp. While matcha has caffeine in it, it also contains L-theanine, a compound that helps to stave off the highs and crashes associated with coffee consumption, leading to increased alertness without the slump. The version served at nood food is lightly sweetened, making it a comforting and healthy drink for the winter months.
All the lattes are priced at $48 and are available at nood food cafes and juice bars.