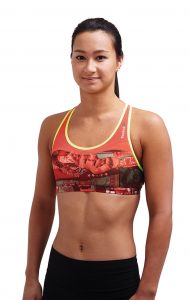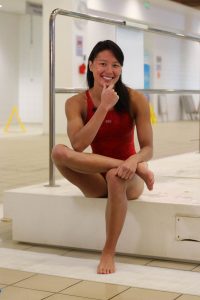 Have you always been swimmers? How did you get into swimming?
C: When I was growing up, I would go to the swimming pool in our apartment complex after school and loved being in the water. One of my friends taught me how to swim and ever since then I've kept swimming. When I moved to Beijing at nine years old, the school swimming coach (who was a Greek Olympian) came up to me and said I needed to try out for the swimming team and that's when I started swimming competitively.
Y: I started learning swimming at 3 and became competitive at around 10 or 11. I've always loved swimming and was eager to join my elder brother and cousins in the pool.
What was your childhood like?
C: I would say I had a very happy childhood. I'm the oldest of three  sisters and always loved spending time with them. I grew up speaking French with my mom (she's French) and English at home. One of my favorite traditions we did as a family when I was in Hong Kong was that every Sunday we would hike up to the Peak and our reward was always a scoop of ice cream! When I moved to Beijing, and as I got older and started swimming competitively, I wanted to set a good example for my sisters. Doing well in both swimming and at school was always extremely important to me.
Y: My childhood was filled with laughter, schoolwork and friends. I grew up in Hong Kong and attended local schools (Good Hope School and Diocesan Girls' School). I had fond memories from both schools and built invaluable friendships that have become the pillars of my strength now.
What does your family think of your swimming?
C: My family has been very supportive of my swimming. My parents have always encouraged my sisters and I to find something we are passionate about. Whenever they push me or are strict with me I know it's because they care and want me to get better. Swimming, like any other sport, has its ups and downs and no matter what the outcome, at the end of the day they know I've tried my best and they say that's all that matters.
Y: My mom was very supportive of my swimming career, which I have been grateful for. When I was at school, my family experienced a financial crisis. My mom started a swim business single-handedly from scratch so that she could take care of me and profit a little simultaneously. She would sell swimsuits while watching me at swim practice on the spectator stand. The home business eventually became a swim shop named KCK Aquatics. My family always saw swimming as secondary to my academics until I turned professional. They gave me tremendous support and encouragement in realising my Olympic dream.
What training do you do outside of the pool?
C: We try to incorporate different sorts of training along with swimming – I lift weights, do Pilates and yoga, dance and spin. One of my favorite things we also do is swim in the ocean.
Y: I do weight training three times a week and 1-2 session of cross training, which includes boxing, Pilates, yoga and spinning.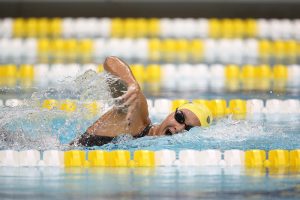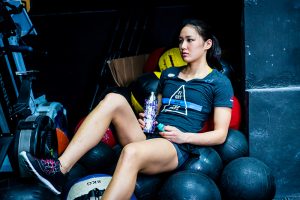 What do you think about when you swim?
C: When I train, I think of it as an opportunity not only to improve myself but also to help my teammates around me get better. I would say swimming is a sport where you "race individually but train as a team." When I get up on the blocks to race, I'm the one racing but I know that my team is there supporting me like they do every day during training. I don't think I'd ever say it's boring but my mind does wander sometimes.
Y: Swimming becomes meditative to me the majority of the time – I go with the flow, become hyper-aware of bodily sensations and my relationship with the water, and forget about the outer world. When it gets boring and repetitive, I think about a rhythm or a beat, sometimes even a song to keep it going. And sometimes – I daydream and absolutely space out – that's when I miscount laps!
What are your hopes for the Rio Olympics?
C: My personal goal for the Olympics is to swim  my best time and to hopefully get another swim at night. I'd really like to make it to at least the top 16. Our relay teams are currently ranked to qualify for the Olympics but we won't know for sure until after July, and this would be the first time Hong Kong would have a relay at the Olympics. To be part of making history would be really exciting!
Y: I have already exceeded my expectations going into this year with an automatic ticket to the Rio Olympics and am super happy with it. I'm open-mind about what I can achieve in Rio. My coach Chris Jones and I are looking to get into the semi-finals. Getting into the finals will be a reach but it is on our radar, too.
Can you tell us about setbacks you had on your path to the Olympics?
C: I struggled with confidence and believing that I was good enough to make an Olympic team – a lot of self-doubt. I didn't really get recruited to swim in college in the US, I was considered a "walk-on" but I improved a lot after my first year swimming at UC Berkeley. Ever since then I've been working on trusting all the hard work I've put in, taking better care of myself, surrounding myself with people who care and make me better and slowly I've gained more confidence and it's paid off.
Y: I recently came out of a six-year plateau to make the Olympics. I narrowly missed Beijing Olympics in 2008 and London Olympics in 2012, since then I developed fear around qualification meets and unresolved feelings around swimming. With all of these anxieties I was led into a black hole. I eventually "exploded" in 2013 and quit swimming for a few months. That was when I realised that I still had love for the sport and sought help from professionals to clear my mental blocks. I had a major shift in mentality since then and things have become brighter. I learnt to value process over outcome, to value the intangible things of my career and to have deeper gratitude over even the simplest things in life.
Any plans for the future after your swimming career?
C: I'd like to go back for a Masters degree – I'm not sure in what field yet. And I'd love to travel.
Y: I am likely to pursue a Masters degree at the University of Edinburgh whilst going for another year of professional swimming. I majored in cognitive science at UC Berkeley and am fascinated by the subject of brain and mind. I dream to be in the neuro-technology industry or doing psychological work. Giving back is on my agenda and I would be happy to do so in any way.
After all these years of swimming, do you still find it enjoyable?
C: I still love swimming. For me, it's my teammates that I'm surrounded by everyday that keep me in this sport. To be surrounded and coached by women is very empowering and whatever lessons I've learned from swimming across the years I've been able to translate them into other areas of my life.
Y: I find it immensely enjoyable. I still love the flickering of water and the competitiveness of it, just as I did when I was a little girl. I am the happiest I have ever been as both a swimmer and a person. The long journey made me very appreciative of what the sport has to give me – life lessons, relationships, memories and skills. I am so grateful for the sport.