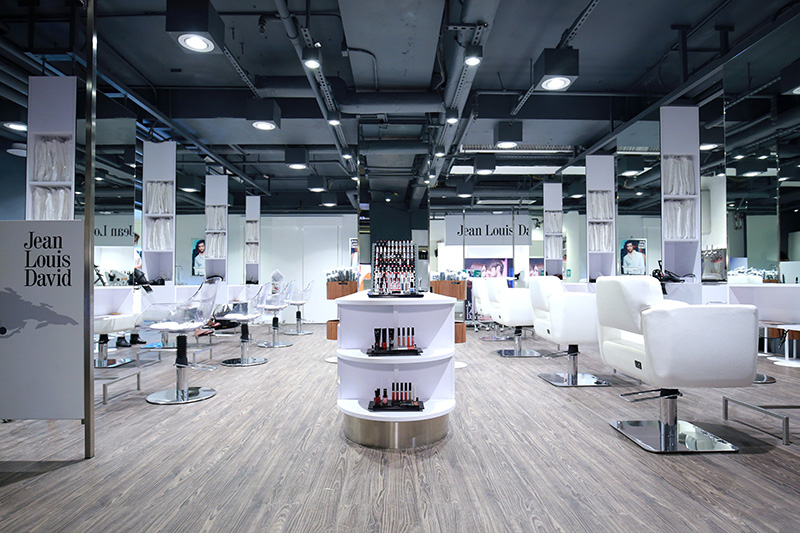 The Buzz: Worried about the effect hair dye has on your chemical load? Jean Louis David's new Organic 23 hair colouring formula is free from ammonia and peroxide. Instead, the formula is a blend of yogurt, fruits and other natural ingredients to colour your hair. It's also perfect for those with sensitive and irritable scalps.
The Salon: With more than 1,200 salons worldwide, Jean Louis David is Europe's number one hairdressing brand. JLD launched its flagship salon in Hong Kong last year and recently relocated to Manning House, Queen's Road Central. The salon has a modern, sleek feel and offers hair and nail services, specialising in techniques such as Balayage and Maches highlighting. However the real stars of the show are JLD's highly talented, multicultural team who speak seven languages between them and offer friendly, attentive service.
The Treatment: I was asked to send a photo of myself before my appointment so that head stylist, Alfio Faro, could prep the ingredients. The treatment starts with Alfio pouring plain yogurt, a bottle of his signature Organic 23 formula and shaved dark chocolate into a blender. I'm brunette so dark chocolate was used. Key ingredients for blondes and redheads are banana and cherries respectively. After a good blend, he got to work adding the colour to my hair, section by section. Next was a 20 minute wait while the colour set.
The Best Bit: The massage chairs added that extra bit of relaxation during a very luxurious shampoo and deep conditioning session. We felt very pampered!
The Verdict: Once my hair was blow dried I could instantly see my hair was in much better condition. There was a real shine and softness that wasn't there before. The treatment managed to strip my hair of the coppery tone from too much chemical dying in the past and I was left with a soft medium brown colour that suited my skin tone better. However, it was not able to completely cover white hairs in the first treatment. I was told an additional session was needed.
Cost: Organic 23 colour treatment starts at $1,500.
Jean Louis David, Shop 2, Manning House, 48 Queen's Rd. Central, 2997-9828, www.jeanlouisdavid.com.hk.