Cauliflower quinoa fried "rice" Recipe  – By meal delivery service Cadobox (www.eatcadobox.com)
(Serves three)
This low-GI recipe is a nutritious alternative to fried rice, with protein coming from the egg and quinoa. It's also contains a hearty serving of vegetables.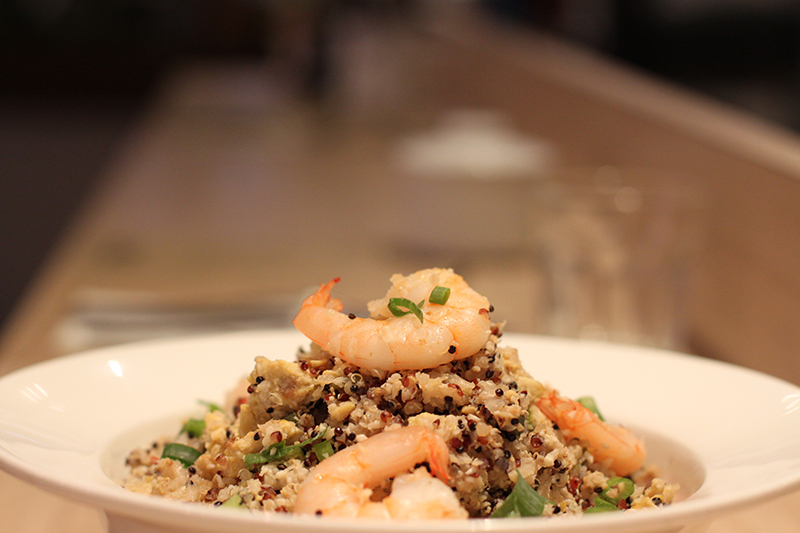 Ingredients
3 heads cauliflower
150g raw quinoa
3 eggs
300g prawns
Yellow and red bell peppers (one of each), diced
75g green beans, about a handful
¼ green cabbage
½ diced onion
2 cloves garlic, finely chopped
1 tbs ginger, finely chopped
Spring onion to taste
2 tbs soy sauce
1 tbs rice wine
1 tsp sesame oil
Method
Remove the cauliflower stems and use a food processor to blend the florets into fine grains. If you don't have a food processor, you can grate the cauliflower heads instead.
Cook the quinoa in a large pan of water for 15 minutes. Drain and discard excess water.
Add 1 tbsp oil to a pan on medium high heat. Add onion, ginger and garlic and pan-fry for five minutes.
Add the prawns, green beans, cabbage and bell peppers to the frying pan for about 10 minutes, until cooked thoroughly. Then add the rice wine and soy sauce and cook for another 30 seconds. Remove from heat and set aside.
Heat the quinoa and cauliflower together in a frying pan for around five minutes.
Add prawns and vegetable mix to the cauliflower rice. Mix well.
Add soy sauce and sesame oil to taste and plate it up. Garnish with spring onion.