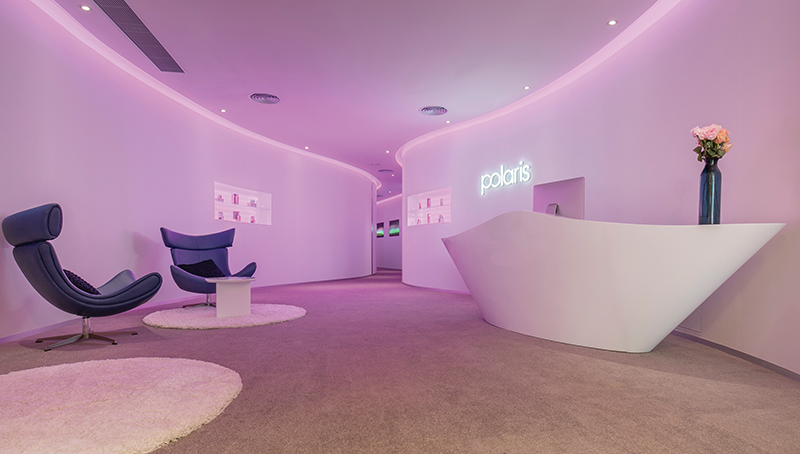 THE BUZZ: What the heck is cryotherapy? Well, essentially, you walk into a chamber and get blasted from the neck down with air that hits  minus 130 degrees celsius. Proponents of the practice claim that just three minutes spent in freezing cold temperatures can aid muscle recovery, boost the metabolism and kick-start collagen production, to name just a few benefits. The cold temperature also gives you an adrenaline rush and gets endorphins racing around your body.
THE SPACE: Located in Lee Theatre Plaza, this large space is all futuristic whites and blues, curved lines and long corridors. There are spacious and comfortable changing areas for you to get ready in, and the cryotherapy sauna itself looks a bit like a tardis.
THE TREATMENT: First you take off all your clothes and metal jewelry and pull on a pair of thick socks and gloves. Then you walk up a ramp into the sauna, disrobe and peek out over the top of the machine at the therapist, who guides and encourages you as the machine rapidly cools down to  minus 130 degrees. It started off pretty manageable, but we started shivering pretty quickly. By the end we were yelping and cursing, but our therapist managed to keep things fun and lighthearted. We definitely felt tingly afterwards and after a few nights of insomnia, slept like a dream that evening. We're interested to learn more about the other health benefits, but more sessions are needed to experience long-term effects.
Best bit: While we are definitely on the cold-phobic side, the experience was far more pleasant than we had expected. We also got to experience a cryofacial, which uses cold air to tone up the muscles around the jaw and boost collagen production. This was actually quite relaxing and we felt fresh afterwards.
What Else: Cryotherapy not your thing? Polaris also offers Omnilux LED light therapy that targets skin problems such as acne and premature aging.
THE COST: $900 for a single session, but can go as low as $550, depending on the package you buy. Cryofacials are $600 per session, or $450 per session if you buy a package of 12.
Shop B, 10/F, Lee Theatre, Plaza, 99 Percival St., Causeway Bay, 2446-6163, www.polaris-wellness.com.
Readers' Deal!
For the month of June, all Liv Magazine readers can get a two-for-one on whole-body cryotherapy treatments, as well as an extra five percent off any packages purchased. Just mention Liv Magazine when making your booking!