HK Cleanup kicks of this month. From now until November, hundreds of groups from the local community will spend a day picking up litter from the city's beaches, hiking trails and urban areas. The campaign's founders, environmentalists Lisa Christensen (below right) and Nissa Marion (left), speak to Liv Magazine about Hong Kong's need for better eco-awareness.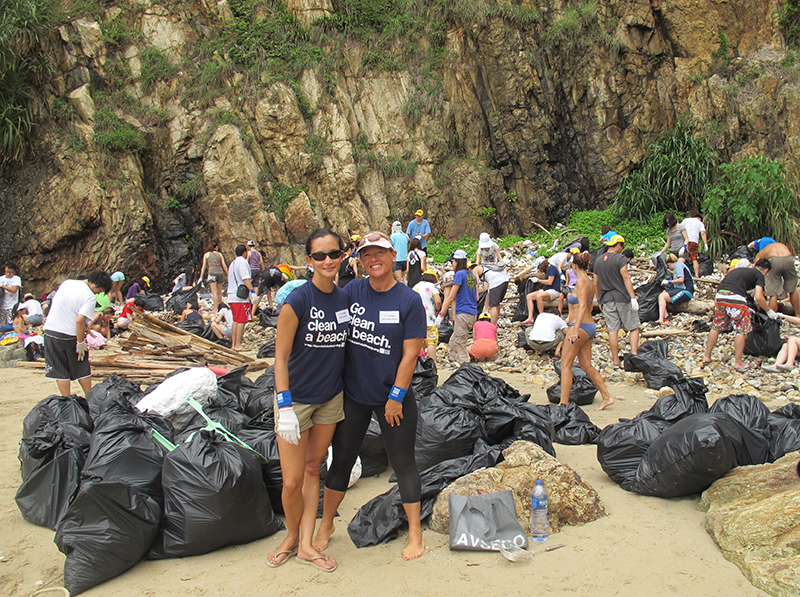 Have you always been environmentalists?
LC: I've been a nature baby, and especially an ocean baby, from the day I was born. I love being outdoors, and swimming in the sea. As for being an environmentalist, I grew up in a place where recycling was just the norm, so it was hard for me to comprehend when I came to Hong Kong and saw how much stuff just goes into the trash here.
NM: Camping and communing with nature made me happy as a kid, and I went to a progressive high school where, as a core member of the environment club, I got to work on things like tree plantings, vegetarian lunches, cafeteria composting, eco art exhibits… it's no mistake that I've ended up where I am.
Do you think Hong Kong's attitude towards trash and waste has changed since you started HK Cleanup?
LC: Yes – we do see progress in mindsets and awareness, but there's still so far to go. The government does a pretty good job of removing and cleaning up the garbage in places we can see. Unfortunately this means a lot of people still perceive our city, beaches and sea as "clean." One of the main reasons we conduct beach cleanups is to allow people to see and understand the issue with their own eyes!
NM: Awareness is growing, and a general desire to see change happen, but we're now at a point where action needs to follow – and awareness doesn't always automatically turn into action. Humans have a tendency to wait for someone else to take a lead.
What do you think the government should do to minimise waste and water pollution?
LC: Many cities are passing bans and fines on disposable products like plastic bags, plastic bottles, polystyrene and microbeads. It would be amazing to see the government make bolder moves in these areas. Just look at the ban on fishing trawlers that was passed in 2012; it was a bold and necessary move, and its positive effects are already being seen. Why can't we take charge on the waste issue in the same way?
NM: We've already missed our chance to take the lead globally or even regionally, but we really can't be the last ones to arrive at the dance. Things like bottle deposits have been repeatedly proven effective, and could be implemented here. But companies aren't going to introduce them voluntarily. Stronger legislation would level the playing field and accelerate things in the right direction.
Does it ever become disheartening when after the efforts of so many volunteers, trash continues to arrive?
LC: We pretty much decided long ago that getting disheartened wasn't going to do anyone any good, and the only way forward is to approach every day with optimism. Sometimes that can be hard, but there are lots of moments that make it worthwhile.
What can you tell us about this tidal wave of trash that has been turning up in Hong Kong? Is it really from the mainland or is it a homegrown problem?
LC: While there was a large volume of mainland trash that washed up over the summer due to the heavy rain, there also was – and ALWAYS is – an enormous amount of local trash too.  It's great that recent media has drawn attention to the waste problem on our shores, but it's incredibly important that we don't get caught up in the finger-pointing game and release ourselves from responsibility. We need to clean up our own mess first and foremost.
NM: We are 7 million people living on top of one another in a small territory, and we're producing more trash per capita than any other major city in Asia. There is so much garbage entering our waste system every single day, of course it's going to burst at the seams now and then.
What is the weirdest item you've ever found during a cleanup?
LC: A vast array of undergarments in all shapes, colours and sizes…
NM: A prosthetic leg. Who loses a leg?
HK Cleanup in Numbers
Last year, 75,623 citizens collected over

5.5 million pieces of trash

during the Challenge period.

Since HK Cleanup began, more than 270,000 participants have collected almost

23 million pieces of trash

.

We estimate that Hongkongers 

throw away an average of

1,368,000 plastic bottles

every single day.

Over

1,000 tonnes

of plastic bags and more than

3,200 tonnes

of food waste go to landfill every day in Hong Kong.

The three forms of litter most commonly found along Hong Kong's coasts are

plastic bags, plastic bottles, and food containers.

These types of trash make up 42 percent of all the debris on our coastlines.  

83 percent of all the trash comes from land-based sources. And the debris found on the shores and at the surface represents only a fraction of the problem: a study reports that

70 percent of marine debris sinks to the sea floor,

where it can last for hundreds of years, suffocating ecosystems, damaging coral reefs and harming wildlife.

Last year, HK Cleanup volunteers picked up

49,331 plastic straws and caps.

If laid end to end, they would span over twenty kilometres.