Have you ever noticed how hypnotic fish tanks are? There's a reason for that. Studies have found that watching aquariums actually helps to reduce stress and anxiety, lowering physiological responses in our bodies like blood pressure, heart rate and muscle tension. This produces an overall feeling of calm and relaxation, something you might have experienced on your last trip to an aquarium.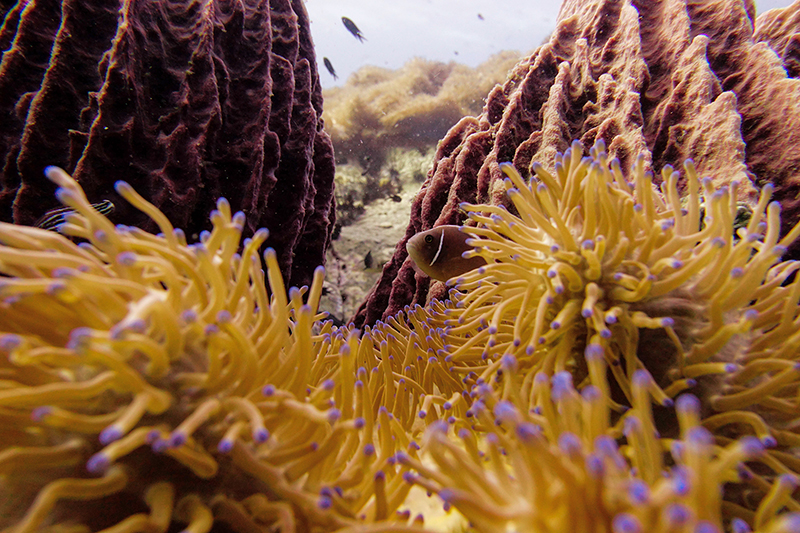 Now imagine that on a much, much, much bigger (dare we say, oceanic?) scale, and maybe you'll understand what all the fuss is about scuba diving. Scuba diving has come leaps and bounds since its earliest origins back in the late 19th century; it's never been easier, safer or cheaper to explore the world below sea level. And lucky for us Hongkongers, one of the best places in the world to learn is just a hop, skip and ferry ride away on the balmy Thai island of Koh Tao. 
Sitting pretty in the Gulf of Thailand, the topmost in an island chain of tourism darlings like Koh Samui and Koh Phangan, Koh Tao is widely regarded as one of the best destinations in the world to get scuba certified. An abundance of coral and other marine life, paired with shallow, warm waters that never deviate more than a degree or two make it both comfortable and interesting to explore, while a lack of strong current makes it safer for inexperienced divers.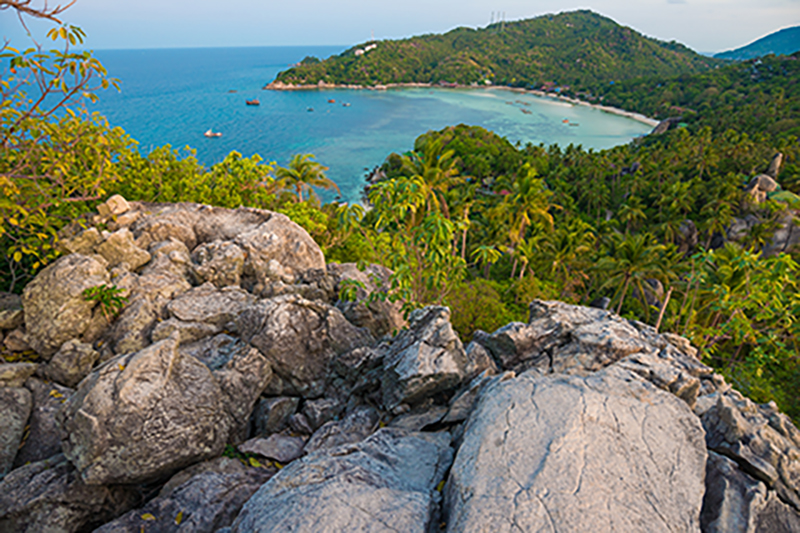 Because of such ideal conditions, dive schools here proliferate, and it's led to Koh Tao being one of the cheapest places in the world to learn how to scuba dive – around 11,000 baht or HK$2,788 for a beginner's course. Don't assume the low price is proportional to quality, though; the industry is highly regulated, and it's common for dive instructors here to have decades of experience.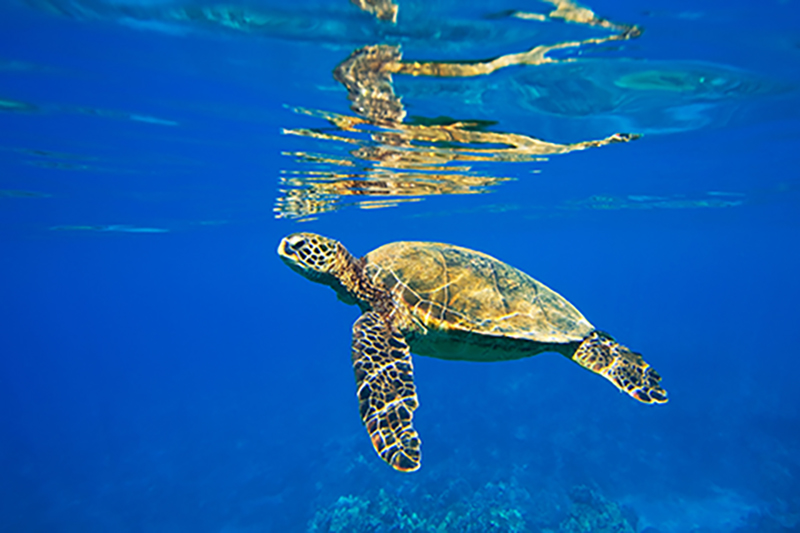 Total beginners will be looking for an Open Water 20 certification, which teaches you over four days how to dive to a depth of 20 metres in open water (ocean, sea, lake). Different dive schools offer different certification agencies – for example, PADI, RAID or SSI – but they're all internationally recognised, and one is just as safe as the next.
Diving for dummies
Once you've decided on a centre, it's time to hit the classroom! Not as exciting as the high seas, but all diving courses start here so you can learn about things like physics, physiology and the underwater environment, before you find yourself quite literally in over your head.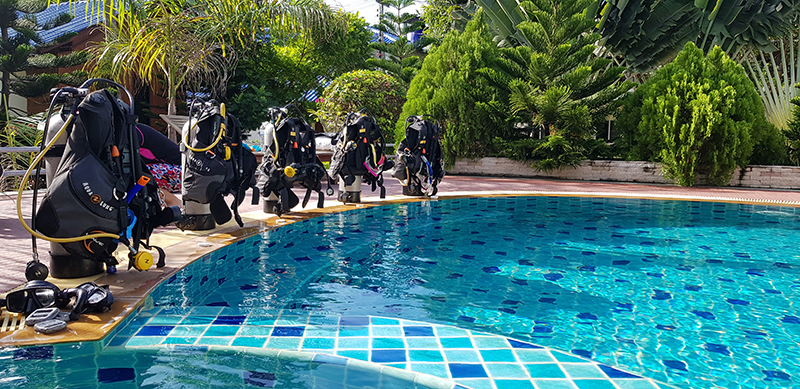 You'll spend about the first and second day, about five hours in total, learning about scuba diving before you even get your feet wet. Then you'll spend anywhere from four to six hours in a confined water setting (i.e. a swimming pool, for anyone not versed in scuba slang) learning very basic skills like breathing with a regulator in your mouth and checking your air supply. You'll also spend considerable time on rescue procedures, as well as how to set up and dismantle your diving kit.
Small fish in a big pond
Once you've mastered the pool, it's time to hit the open water and practice what you've learned. On the third and fourth day, you'll go on four dives at different locations offshore of Koh Tao that are easily reached by boat.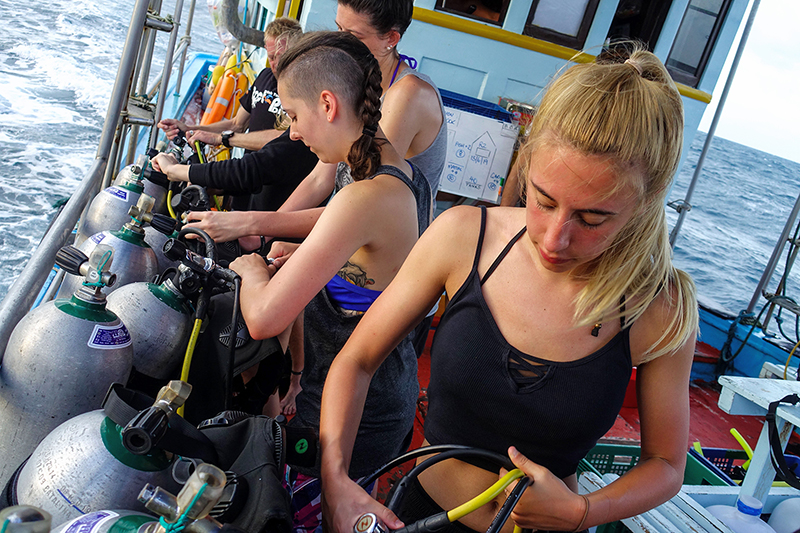 This is the fun part, and while it's overwhelming at first, the strangeness of being underwater quickly wears off so you can start to enjoy the show. Slow, calm breathing helps relax you as well as controlling your buoyancy. The whole thing feels quite meditative, with rhythmic breathwork followed by a reliable release of bubbles. The swathes of coral around Koh Tao are rife with fish and other aquatic critters, like stingrays, moray eels and even the occasional whale shark, so there's plenty to take in.
Scubez-vous avec moi?
Beyond the proven stress reduction on our bodies, there's a number of other useful health benefits that scuba diving has to offer. The natural pressure of water provides a light, low-impact resistance for muscles and joints. Diving has also been shown to improve blood circulation and concentration capacity, not to mention the positive effects of being outdoors in the sunshine. In short, getting open water certified is well worth taking the plunge for your next wellness adventure.
Direct flights between Hong Kong to Koh Samui are available with Cathay Pacific or Hong Kong Airlines, starting at around $3,200. From Koh Samui, take a 1.5 hour ferry to Koh Tao.
Where to go in Koh Tao
Ocean Sound Dive + Yoga
Both yoga and scuba diving rely on breathwork, so it makes sense to offer the two activities alongside each other at this chilled-out, yoga-focused dive school on the southern side of the island. Located in Chalok Bay, Ocean Sound teaches the PADI Open Water course to divers, as well as a regular lineup of yoga classes, offering 90-minute classes twice daily in everything from vinyasa to restorative. oceansoundkohtao.com  
Roctopus
Located closer to the main area of Sairee Beach, this dive shop revels in a more rock'n'roll image, driven by the staff's intense passion for respecting and protecting the ocean. Roctopus offers the RAID Open Water 20 certification, as well as a range of courses and internships in their eco-diving programme, which teaches students about marine conservation on the reefs around Koh Tao. Perfect for ecowarriors who want to use their underwater skills for good. 
roctopusdive.com