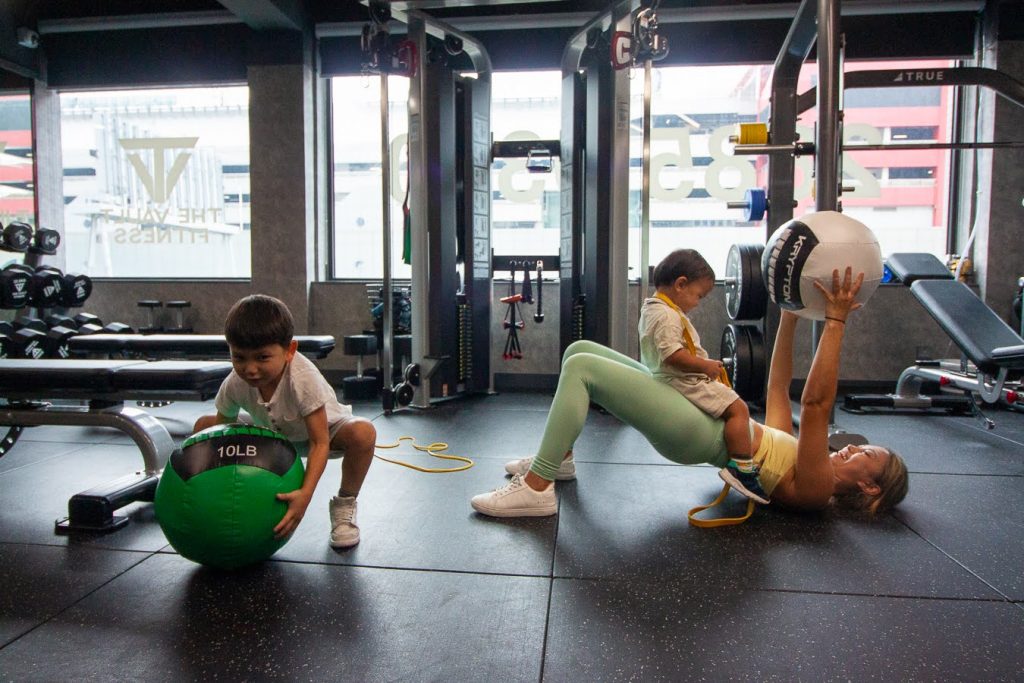 How do you talk to your kids about their body image? For that matter, how do you talk about yours? The way we relate to our own bodies, coupled with what we see on social media, can have a knock-on effect when it comes to our children's self-esteem and healthy body image. According to internal research by Facebook and Instagram, social media platforms negatively impact an estimated one in three teenage girls, and are causing a "teen mental health deep dive."
This just goes to show that in a world where we're constantly exposed to filtered realities, having conversations early on with our kids about how they view themselves is more important than ever before.
Having recovered from disordered eating myself, and as a personal trainer to women, I know just how early the negative self-talk can start and how persistent it can be. Now that I'm raising my own children, I'm trying to encourage a healthier body image in them, by promoting positive self-talk and teaching them not to judge others based on their appearance.
Body image is the way we feel about our bodies. It contributes to our self-esteem from an early age, and is often shaped by what others say. Helping your child to build a healthy body image can mean making them feel confident with how they look, what they can do, and how they grow and move. Here are some of my tips to help your family approach this from a more neutral, conscious and considerate place:
Model Desired Behaviour
Young children are sponges, and they will always do as we do – no matter what we say. They're listening even when we think they aren't! So first, we have to check in with our own relationship with our bodies. If you catch yourself not speaking kindly to yourself, it may be time to start rewiring some of the thought patterns you have. If you're struggling, consider seeking help from a health coach, nutritionist or even a psychologist
to unpack the thought patterns and behaviours you've developed.
Avoid Labels
No food is "good" or "bad" – even junk food! I believe a balanced diet
is one where we can indulge without guilt or shame. Steer clear of using terms like "fat" to describe our own bodies or someone else's. I promote talking kindly about our bodies and giving gratitude for all the things they can do. My children joyfully poke my postpartum belly calling it my "jelly belly", which I say I'm grateful for because it gave me two clever boys!
Teach Kindness & Acceptance
I call out body-shaming when I see it, whether it is one of my children or an adult shaming themselves or someone else for their appearance. Teaching kindness and acceptance for different body types promotes empathy, and helps little ones to better handle and navigate bullying. I teach them that all bodies are good bodies – no matter the size, shape, colour or texture.
More on Liv: How To Keep Kids Connected to Older Family Members During COVID