Charlotte Tsuei, owner of Caelum Greene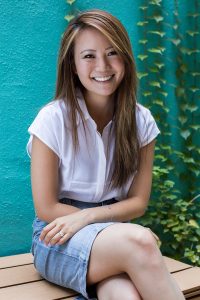 Sum up your food philosophy in a sentence.
My ethos is everything in moderation.
What three items do you always have in your fridge?
I can't ever be without fresh berries, spinach and almond milk.
What do you usually have for breakfast?
Organic oatmeal topped with fruit and a tablespoon of coconut oil.
What are your favourite restaurants when eating out?
I enjoy going to any of the Black Sheep restaurants, and when I'm in the mood for a splurge, I like to go to China Club, Caprice and Otto e Mezzo.
What do you eat on cheat day?
I don't believe in cheat days. I allow myself to eat (in moderation) whatever it is my body feels like.
Where do you go for a healthy lunch?
During the week I regularly visit Grassroots Pantry, Mana, Fresca or Nood. I try to cook at home on weekends.
What do you eat before and after exercising?
I'll usually have some fruit for a quick energy hit right before a workout, and some coconut water or a smoothie after.
Have you ever done a cleanse?
Never. I love to eat, and know I would find it quite difficult.
When were you at your least healthy?
I was probably at my least healthy when I was in my teens. I took my metabolism for granted and didn't pay too much attention to what I was eating or how my diet was affecting my body.
What do you snack on when you're on the move with no time to prepare anything?
Some form of energy bar with dried fruits and nuts.
When was the last time you ate McDonalds?
I am not a fan of McDonalds, but I believe it was after a fun night out in Macau with a group of friends almost four years ago.
Last meal on earth: what would it be?
A dish from any cuisine consisting of prawns, vegetables and brown rice – and it must end with dessert!