Phong Nha-Ke Bang National Park, 500 kilometres south of Hanoi, is a little way off the beaten track and hosts some of the most impressive cave systems in the world. Two of the largest caves in the world sit in this UNESCO world heritage site and just three decades ago they were unknown to anyone outside the immediate area. The largest cave, Son Doong, was only discovered in 2009. And while public access to the caves has been approved in recent years, only certain guided tour groups are permitted. Despite the fact that caving is an adventure sport and can be technical, challenging and quite dangerous, there are options suitable for all skills and experience levels here.
We joined a guided adventure through the limestone caves with Oxalis Adventure Tours, which runs both expedition and adventure caving tours in the area, ranging from one to five days in duration.
The company is the sole tour operator for Son Doong, Tu Lan and Hang En caves. All multi-day trips involve a degree of jungle trekking and camping. The longer tours, such as the five-day expedition to Son Doong, require advanced mountaineering and caving skills. Since we had neither the time (nor the requisite skills) we opted for a two-day, one-night jungle trekking and camping trip to Hang En cave.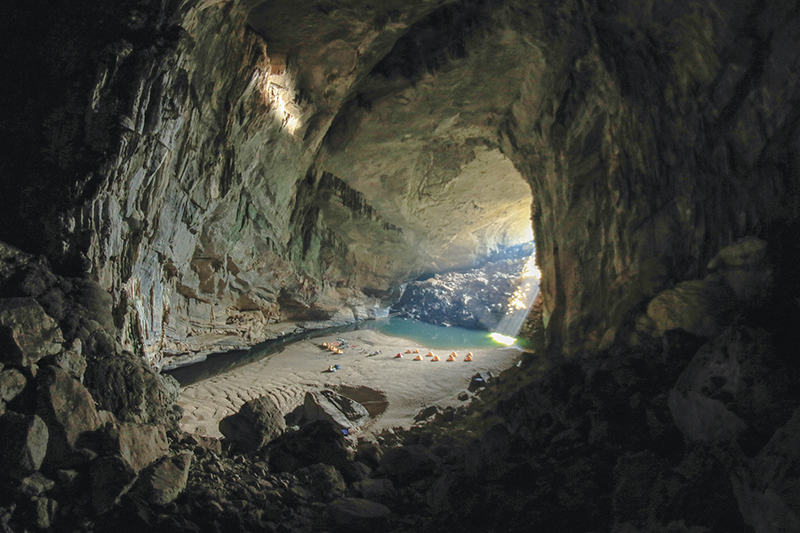 This particular caving tour involved 26 kilometres of hiking (13 each way) and more than 30 river crossings to get to the cave. We were quite lucky that the rivers were low when we were there but depending on the time of year, these can be challenging. Of course, there is also a certain amount of rock scrambling once inside the cave but, on the whole, it was all fairly manageable. There were 14 other travellers on our tour; fun, interesting people with varying degrees of fitness. Everyone seemed to get on fine with the requisite amount of hiking. The team stops for food and pictures regularly and the overall pace is relaxed.
We set off at 9am from Phong Nha town and arrived at the cave just before sunset. The cave can only be accessed by scrambling over a mountain of rocks, which then leads into a colossal cavern that is 100 metres high. Our porters set up the campsite in the main cavern, on the edge of a river that flows through the cave. We got up early the following morning and explored the cave with our expert guide. Just as we were starting our adventure, the sun broke through gaps in the cave entrance and cast an amazing beam of light that lit up the entire chamber. Further into the cave we needed the help of headlamps to explore but was worth the effort. We saw incredible limestone pools and columns that have been created over thousands of years, when stalactites hanging from the cave roof met stalagmite formations building from the cave floor. We followed the river which carves through the cave for two kilometres to the far side where the cave exits to another valley deep in the jungle. The hike out is along the exact same route and we got back to the village by sunset the next day.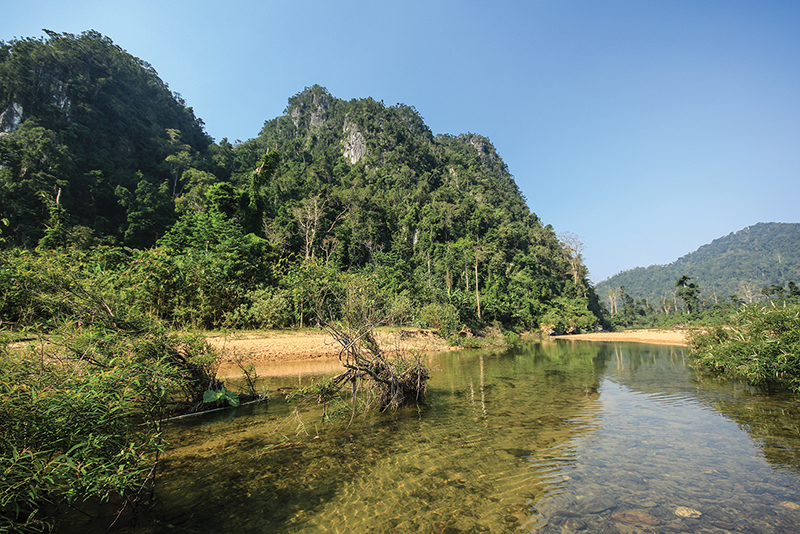 A two day, one night trip to Hang En cave with Oxalis Adventure Tours will cost around HK$2,300. www.oxalis.com.vn.
As an alternative, Phong Nha Ke Bang Tourism Centre (phongnhatourism.com.vn) runs one- to three-day group tours to a number of smaller caves in the region. It also offers river boat and biking trips or tours of the national park if you find yourself with a few extra days knocking around the area.
Where to stay:
You will need somewhere to stay the night before the tour. We stayed at Oxalis's own guesthouse, Oxalis Home, which is convenient as it's the departure point for the trips. The accommodation, in general, is not going to be five-star but if you're the type of person who signs up for a camping trip in a cave, you probably consider hot water luxury enough and you'll be fine.
Jungle Boss Homestay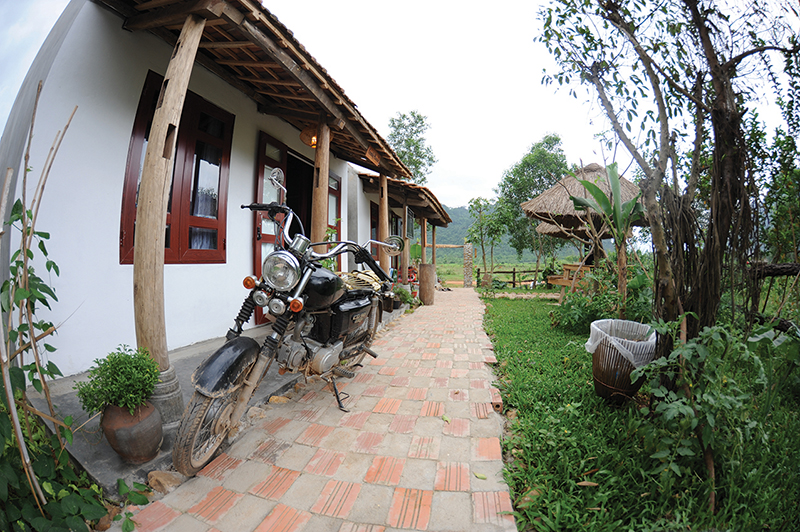 Jungle Boss Homestay's accommodation has been constructed with recycled materials salvaged from the old traditional wooden houses of Phong Nha village. Again, Oxalis will arrange transportation from here to the departure point of the trip. It also provides guests with bicycles, the main form of transportation in the town, to explore the area. Rooms start from HK$300.
Phong Nha Farmstay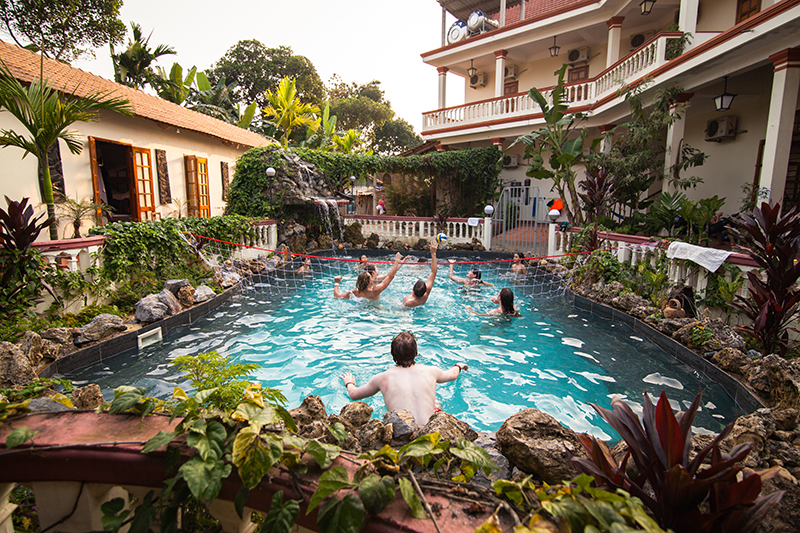 This accommodation is slightly outside of town, but it is on the higher end of accommodation options. Oxalis Tours will collect you from Phong Nha Farmstay on the day of your trip and bring you to the departure point. The hotel has a pool and they run events including outdoor movies and music nights. The management is helpful and friendly and they have some of the best food in town. Rooms start at around HK$350.
Easy Tiger
Easy Tiger is a backpacker's hostel, and for many foreigners it is considered the center of town. Ideal for travelers on a tight budget, it's also a popular meeting point so if you're in town and looking to find other travelers, head here for a drink in the evening. It's cheap too; dorm rooms cost roughly $60 per night.
Getting there:
Phong Nha-Ke Bang is about 500 kilometres south of Hanoi. Vietnam Airlines runs daily flights between Dong Hoi, the nearest airport, and Hanoi (or Ho Chi Minh City). Dong Hoi is about a 45-minute drive from the town. If you're traveling within Vietnam as part of a greater adventure, there are daily trains and busses from all over, details of which you can find on the Phong Nha Tourism or Oxalis websites.
There are very few good places to have dinner in Phong Nha town, although breakfasts were not bad in the hotels. One recommendation is a small family-owned restaurant on a local farm called Moi Moi. They serve whatever is available on the farm that day. Getting there is not straightforward but if you have the time, it's well worth it. Try to arrange transport to the restaurant by boat as the road there is treacherous. We heard stories of boats running ashore at night trying to transport passengers back, so try to arrange your return journey before sunset.
Bring good footwear. The hiking distances aren't too long but there is a fair bit of wading through rivers involved. It's impossible to avoid getting shoes/boots full of water. Avoid waterproof footwear, which traps water inside and can result in an unpleasant bout of trench-foot.
Quick dry/water-resistant trousers are your new best friend on this trip. Rainy season runs between September and November and no tours are offered during this time.