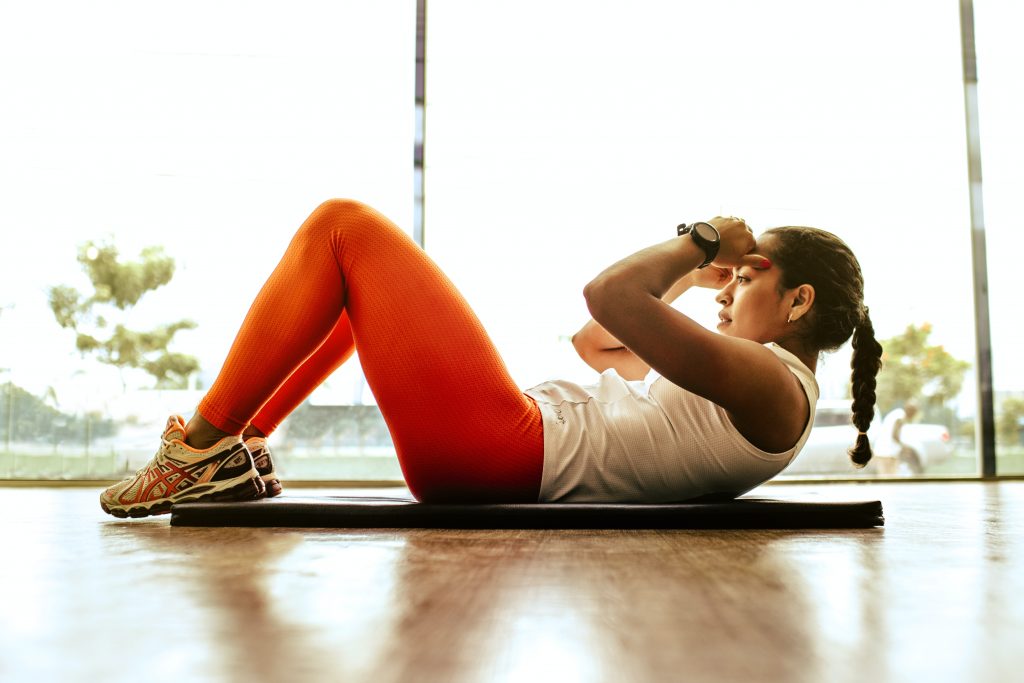 Hong Kong gyms have finally reopened, but sadly are now subject to government restrictions, including mandatory masks while you work out. While we're all for supporting our local fitness industry, for some the proposition of covering their face during a sweat session is just too much to bear.
Luckily, Liv's very own Jo Robinson just completed her two-week home quarantine stint, and in that time became an expert on the home workout landscape! She's rounded up her favourite online workouts that carried her through her 14 days of social isolation, ranging from zero-impact to all-out jumping around the living room. 
It's also worth mentioning that many of the city's gyms are also offering outdoor and online classes as well as their in-house facilities. Pure Fitness and Pure Yoga currently broadcast over 250 classes per week; HIT45 does daily livestream workouts plus small group outdoor sessions; and Hybrid MMA will keep its popular outdoor workouts alongside a packed studio schedule.
1. Cardio Latin Dance Workout from POPSUGAR
Difficulty: 4/5
POPSUGAR workouts are a must-try when you're stuck at home. Nicole Steen is the queen of energetic dance workouts, which can torch up to 300 calories in just 30 minutes. Fun fact: this is POPSUGAR's third most-viewed workout video of all time!
2. Power Cardio Barre Workout from NourishMoveLove
Difficulty rating: 3/5
A deceptively sweaty workout with a great blend of cardio and barre exercises for full-body toning. The lunge-to-leg lift move sneaks up on you, so get ready to feel the burn.
3. Ballet Barre Workout from FitByCoachKel
Difficulty rating: 3/5
A ballet-inspired workout for when you want a low-impact but challenging workout. Great for focussing on engaging, squeezing and lifting those limbs.
4. Feel Good Dance Cardio Workout by POPSUGAR
Difficulty: 4/5
High-energy with some tricky choreography at times, but a great half-hour cardio boost and helps to rack up that step count by a few thousand.
5. Barre Arms & Abs by Barre Centric
Difficulty: 4/5
Another low-impact exercise which will really leave you feeling the burn in those arms. Challenge yourself to do the entire sequence without resting.
6. Dance Cardio & Barre Toning Workout by POPSUGAR
Difficulty: 3/5
One requiring a bit more coordination than the others due to the quick pace, but fun, challenging and sweaty nonetheless! Plus, we burned 250 calories in just 30 minutes!
7. 10-Minute Abs Workout by MadFit
Difficulty: 3/5
A short workout perfect for an active recovery day. Core workouts can easily get cast aside, so no excuses now thanks to this super-short yet testing workout from a former competitive dancer. 
8. Short Sculpting Ballet Workout by MadFit
Difficulty: 4/5
Another MadFit workout, this time with more intensity for a real glutes and thighs workout. Don't be fooled by the short duration – your legs will be feeling this! For some added intensity, play the video twice through.
9. Cardio & Barre by POPSUGAR
Difficulty: 4/5
Dipping in and out of high-intensity training and functional core and toning moves, this one got us feeling it from head to toe, with a serious blend of sweat and strength.
10. 30-Minute Cardio Dance Party by POPSUGAR
Difficulty: 4/5
Can you tell yet that we're fans of POPSUGAR's workouts? It's hard to resist getting in a full-body workout in just 30 minutes, and this one's great for a morning workout to put you in a good mood for the rest of your day.
11. 15-Minute Leg Workout by MadFit
Difficulty: 4/5
One to shape the thighs and burn the booty! Fair warning that those squats into calf raises will come as a nice little shock to the system.
12. 15-Minute Dance HIIT by Jamie Kinkeade
Difficulty: 4/5
If we didn't know the meaning of HIIT before, we do now! In just 15 minutes you'll work your entire body through a non-stop series of fun and dynamic moves. We challenge you to do this twice through for an extra sweat!
13. 20-Minute Power Yoga Flow by Cat Meffan
Difficulty: 3/5
One to squeeze into your day to rejuvenate sore muscles from hunching over a desk or laptop. Energising and calming in equal measures, namaste. 
14. Fun 20-Minute Dance by Jamie Kinkeade
Difficulty: 4/5
We had to try another dance workout from Jamie Kinkeade after stumbling across this page, and aren't we glad we did! Just 20 minutes of shuffles, step taps and shimmies, and we burned 200 calories with a huge endorphin rush to boot!