Hong Kong's superfoods scene is booming, and these local superfood superheroes are bringing cutting-edge healthy goodies to hungry Hongkongers. 
Foodcraft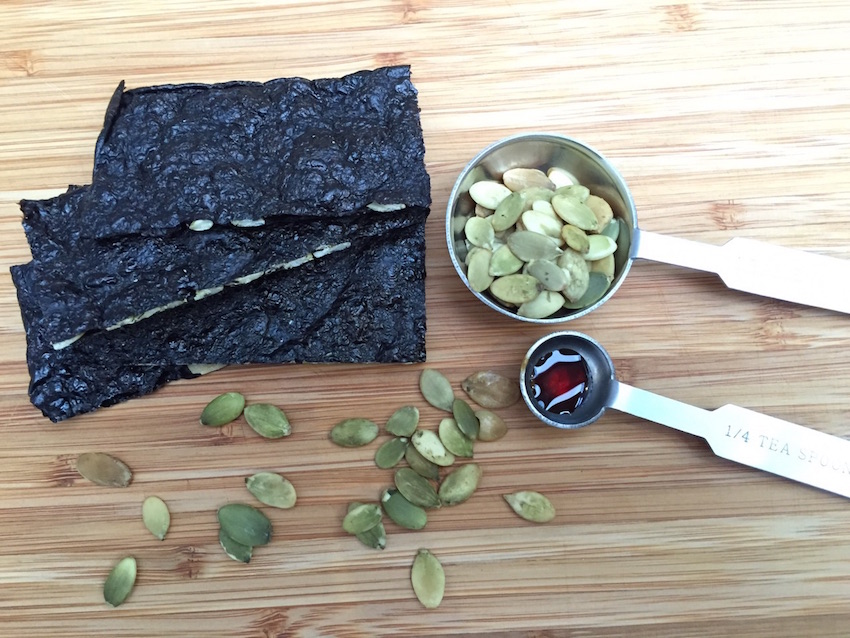 If you're following a paleo diet or have food sensitivities, Foodcraft is a lifesaver. Started by raw chef Shima Shimizu (right), who has been preparing healthy raw foods for more than six years, Foodcraft creates healthy snacks that are variously paleo-friendly, vegan, raw or free from grains, soy or gluten. Favourite snacks among Shimizu's customers include raw coconut yoghurt, rawnowla, nut butter and grain-free cookies. She also teaches customers how to create "free-from" foods at home at Foodcraft's newly opened kitchen-slash-event space in Kennedy Town. In addition to classes and its own brand of healthy snacks, Foodcraft also also distributes products by international healthy food brands. "I want to bring more joy to people, and get them to take ownership of their health. Doctors are for when your health goes out of your control, but I trust that we should all be responsible for our own health", she says.
Flat A, 21/F, Yuiga Factory Building, 62 Victoria Rd., Kennedy Town, 2545-2488. Snacks available online at www.foodcraft.hk.
Raiz the Bar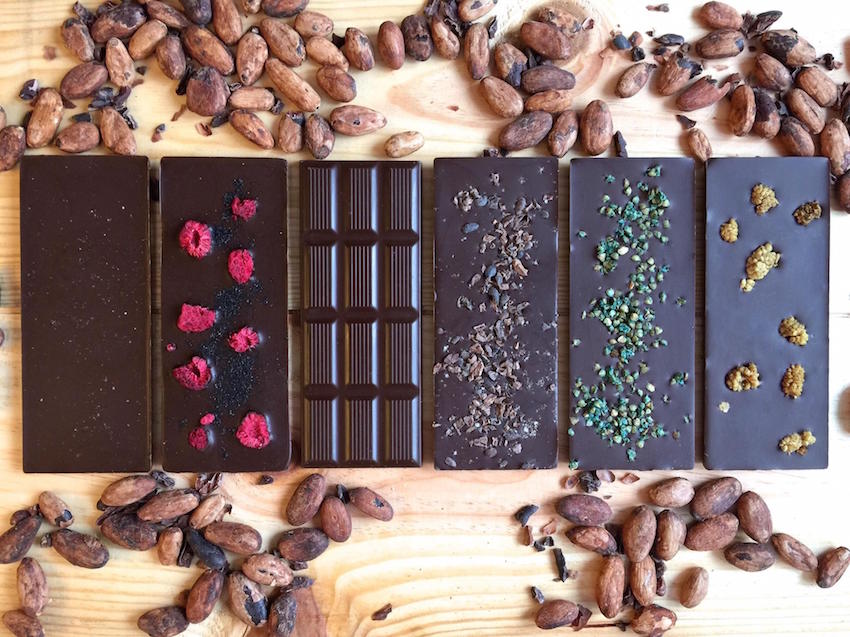 For anyone embarking on a low-sugar lifestyle, chocolate can be the hardest habit to kick. But with Raiz the Bar's organic, cold-processed, low-GI treats, it's time to ditch the Ferrero Rocher once and for all. Founded by raw chef Priscilla Soglio and her sister Rachel Whitfield, Raiz the Bar's small-batch organic treats are about as heavenly as it gets. Many of the ingredients are sourced from sustainable farm co-ops in Indonesia that the sisters have visited personally and where farmers are paid fairly for their products, and the bars are processed right from the bean in Raiz the Bar's factory in Kwun Tong. "We want Hongkongers to know that when they purchase our chocolate they are not only supporting ethical and sustainable growing practices, but they are also supporting makers striving to create the healthiest allergen-free, locally-made chocolate," says Soglio. If it all sounds a bit too good to be actually tasty, rest assured the chocolate is delish, without the gritty texture of other healthy bars. Soglio recommends the "Balance Me", which comes flavoured with fleur de sel and cacao nibs, or the "Passionate Me", flavoured with raspberry rose acai.
Available at health food stores citywide, including Spicebox Organics, Genie Juicery and Mana! Raw. Visit raizthebar.com for more stockists or to buy online.
Quo Kefir Believers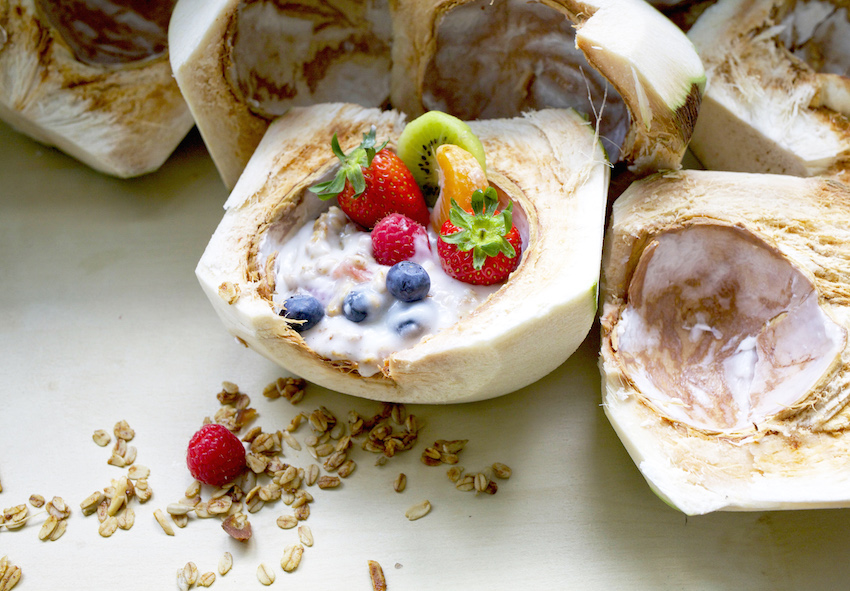 Natural probiotics are the latest big health trend. Believers attribute healthy gut flora to a reduction in allergies, clearer skin and improved digestion, and Quo Kefir Believers seeks to supply health-conscious Hongkongers with the lightly fizzing health drink. The four founders – Melody and Jennifer Fong, and Karen and Vanessa Cheung – got into the kefir craze after Karen's young son was diagnosed with a gluten sensitivity. After experimenting with various healthy foods, they felt the tangible benefits of adding probiotics in the form of kefir to their diets, and so decided to launch Quo in April this year. Right now Quo offers four core products: a fizzy coconut water-based kefir drink, coconut kefir yogurt, gluten-free granola and fresh coconut water. It's definitely a labour of love: the small-batch production process ensures that everything is fresh and preservative-free. "We buy fresh Thai young coconuts each Monday morning, according to the number of orders we receive by Sunday evening. Then we crack, pour, scoop and ferment until Tuesday. Bottle, package and deliver on Wednesdays. Everything is made fresh that week and we never have any leftover stock", say the team. Right now Quo is just covering its costs, but for the founders it's all about health and education. "A healthy mind and body starts in the gut. Without proper gut health, your body will never perform at
its best".
Available online at www.quohk.com.
Love True Food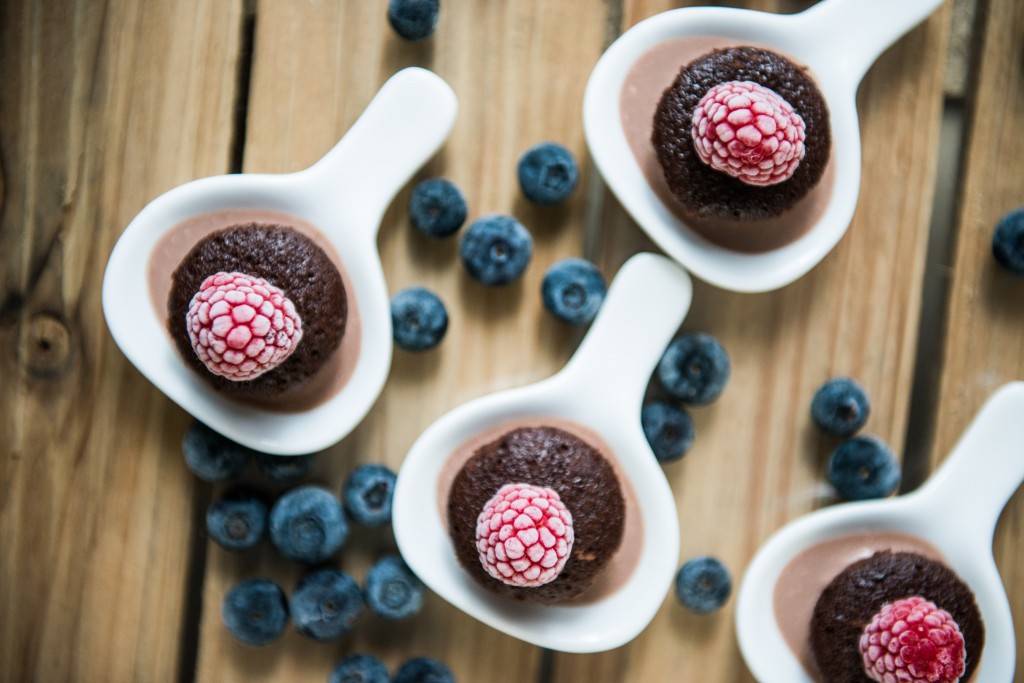 A graduate of the Natural Gourmet Institute, Lakshmi Harilela has been running ayurvedic nutritional consultancy Love True Food for the past eight years, offering customised vegetarian diet plans for clients based on the results of an ayurvedic health assessment. For Harilela, food isn't just fuel: "The reason I got into health food was because I noticed how much food impacts health and well-being, not just the body, but the mind and emotions", she says. Charity work is an important part of the Love True Food ethos; it partners with food charities Feeding Hong Kong and Pathfinders to help eradicate hunger in the city. In addition to nutritional consultations, Love True Food also offers pre-prepared vegan meals that are sold at i-Detox, healthy vegetarian cooking classes, menu consultation, private dinners and catering. "My vision is to make people love what they eat. Food is just not physical; it is the food we feed our mind, emotions and body that really counts".
lovetruefood.com.
Body Awakening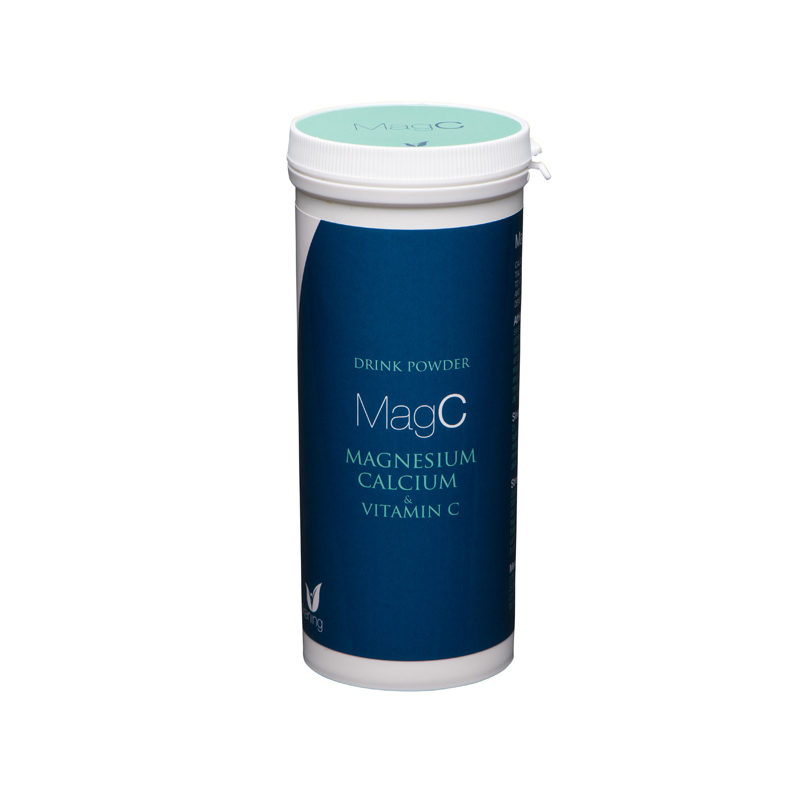 Popping a vitamin pill is no cure-all for Hong Kong's late nights and long lunches, but the food-based supplements by Body Awakening come pretty close. Started in 2012 by husband and wife team Jessica and Zachary Williams (she has a Masters in holistic nutrition and he runs a company distributing medical products to pharmacies and hospitals in the US and Europe), Body Awakening's cleansing kits and supplements are organic, pharmaceutical-grade products that have earned rave reviews from customers. "Really, the only thing we do more than breathe is eat, so of course what we put into our body has the power to heal or wreak havoc on our health", says Jessica. It offers powdered greens to help you get a veggie hit, magnesium supplements to aid muscle recovery and improve sleep quality, probiotics to boost gut health and cleansing kits to help reboot your system. "Our Probiotic+ is one of our best-selling items. It's a powdered high potency probiotic that contains 25 billion healthy bacteria per serving. It's shelf-stable, making it great for people who travel", Jessica adds.
Find the supplements at health stores citywide, including Just Green and The Store, to name just a few. Buy online at www.body-awakening.net.
Jack & Sparrow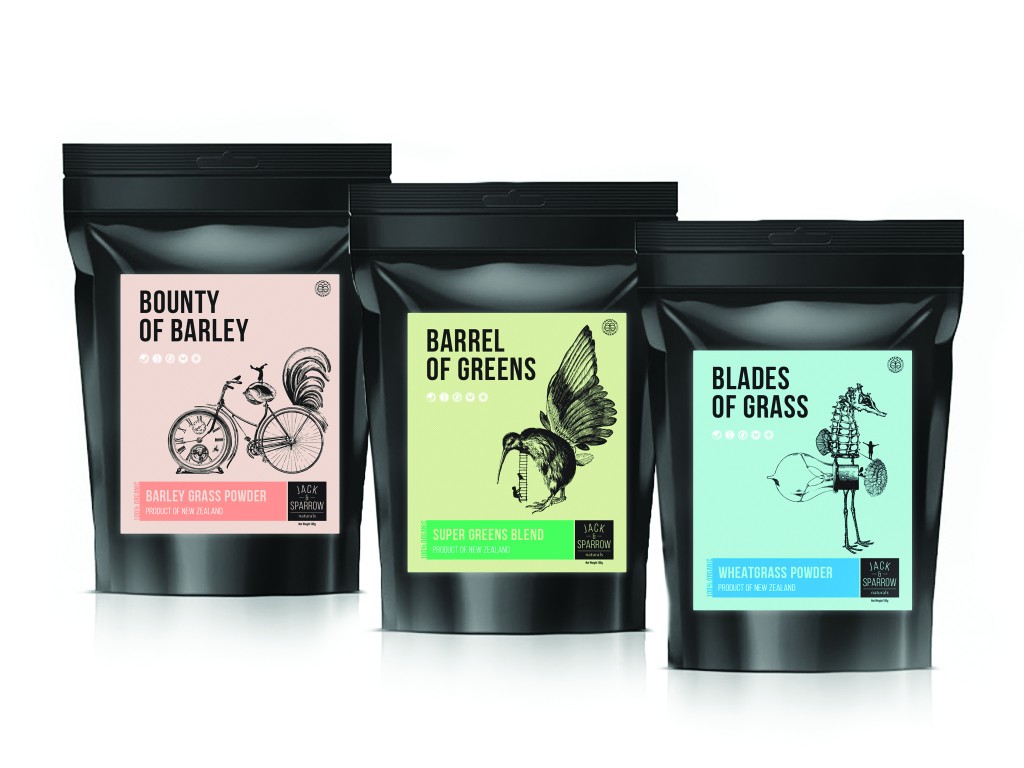 Powdered greens are an increasingly popular way to add some oomph to your diet, particularly for Hongkongers with little time to shop and prepare healthy meals. Enter Jack & Sparrow, a young Hong Kong company that sources its organic powdered blends from New Zealand to ensure that everything is clean, pure and additive-free. Having soft launched in July, right now it offers three blends: Blades of Grass, a pure wheatgrass powder; Bounty of Barley, a barley grass powder; and Barrel of Greens, a blend of spirulina, chlorella, wheatgrass and barley grass. The brand was co-created by nutritionist Megan Jack and graphic designer Marleen Spreeuwenberg, who met in Hong Kong  eight years ago and bonded over a love of healthy eating and great design. "We always brainstormed over a glass of wine about starting a great brand together which combined our love of nutritious food and organic produce. However, we both were too busy with our respective jobs, until we decided early this year that it was now or never", says Spreeuwenberg. With its fun, quirky branding, nutritionist credentials and dedication to quality and traceability at every turn, Jack & Sparrow is planning to expand, and quick. "We go to great lengths to check and guarantee that what our customers receive is only the best organic, pure and safe natural products we can find", adds Spreeuwenberg. Stay tuned for an expanded product line in 2016.
For more information and to find a list of retailers, visit jackandsparrow.com.
Want More?
Get your superfood fix at these great venues:
i-Detox
One of the original purveyors of superfoods in Hong Kong, i-Detox is a one-stop shop for all kinds of healthy snacks and supplements. Think raw cacao, sprouted vegan proteins, ancient grains and kelp, to name just a few. Health supplements, kitchen appliances, organic skincare and household cleaners also available; shop in-store or online.
1/F, V Plus, 68-70 Wellington St., Central, 3904-1072, www.i-detox.com.
Anything But Salads
Tons of superfoods available here: think rawnola, sprouted nut butters, cacao, kale chips, healthy crackers and more.
14 Tai Ping Shan St., Sheung Wan, 6743-5000, anythingbutsalads.com.
Spicebox Organics
Pantry essentials for the healthy home cook, sourced and packaged by the Spicebox team.
Shop 1, Golden Valley Mansion, 137 Caine Rd., Mid-Levels, www.spiceboxorganics.com.
Nood Food
The health food arm of the Pure group, you'll find post-workout smoothies, salads and tasty raw dishes such sugar-free cacao mousse, healthy coconut macarons, raw coconut yogurt and other goodies.
Outlets citywide, including Kinwick Centre, 32 Hollywood Rd., Central, 8199-8189, www.allnood.com.
Green Vitamin
Wheatgrass specialist that sells vegetables and appliances, as well as its own line of healthy snacks, including kale chips, kefir, coconut yogurt, flax crackers and cocoroons. Shop for snacks at health food stores citywide; online shopping also available.
greenvitamin.hk.
Want more awesome wellness news? Subscribe to our newsletter: [wysija_form id="1″]