Don't let the big weights and  big muscles intimidate you: CrossFit is a welcoming environment with scalable workouts that aim to improve overall fitness, mobility and metabolic performance while creating a genuine sense of community. Kate Springer speaks with three Hong Kong-based women about how CrossFit has improved their lives – in ways big and small.
Cindy Waldman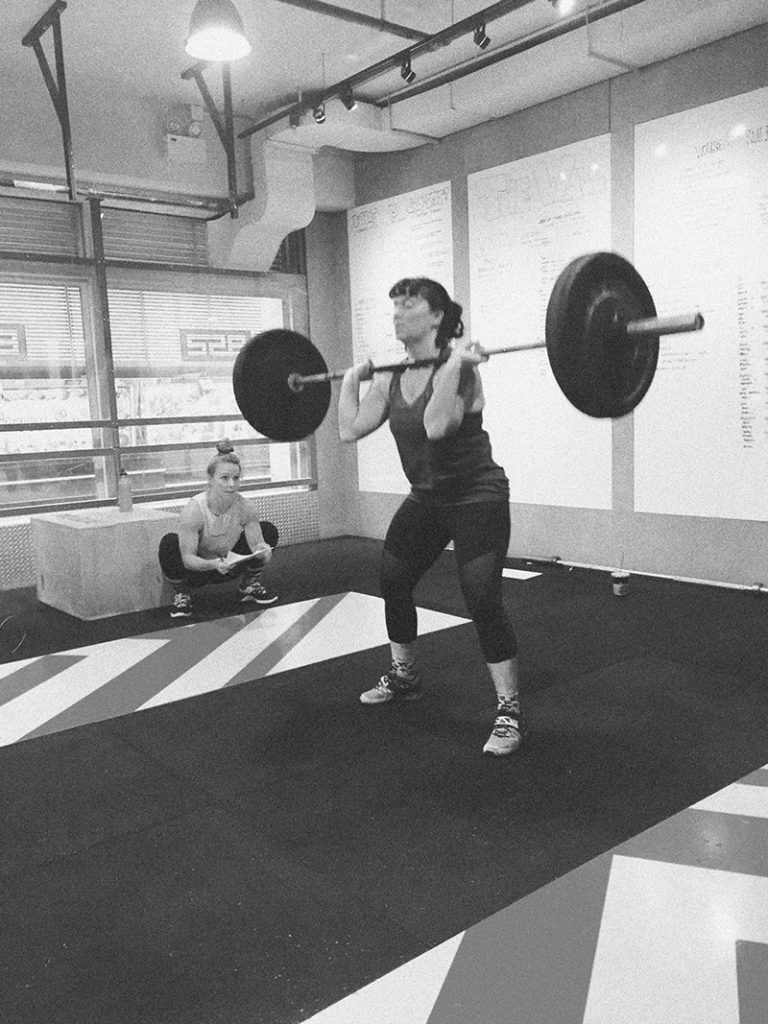 CrossFit 852 veteran Cindy Waldman has been an active CrossFitter since moving to Hong Kong four years ago.
What kinds of workouts were you doing before CrossFit?
I was a competitive gymnast growing up. In the gym, there was this strong sense of camaraderie. There was something there I never found anywhere else. Right before CrossFit, I was doing some spinning classes but wasn't really into it.
How would you describe the CrossFit community?
Through CrossFit, we have met people from all over the world. It breeds people who want a healthy lifestyle. You're never lonely! Some people think it's cult-like. But that sense of community is built on the fact that people like it, and they all want to come back. If you're gone for a week, people are like, "We miss you! Where are you?" The coaches are amazing, too. You really have a relationship with your coaches and they add so much to the community.
What worried you most getting started?
I guess I thought the people with all the big strong muscles would have an attitude, but really they don't at all. Then there was the psychological aspect: do I really want to be that strong? Can I be?
But you're obviously strong now! What happened?
I was with some family and we were sitting on the floor. My aunt, who is only about 10 years older than I am, went to get up off the floor and she found it very difficult. She moaned about getting old and told me it would be difficult for me too. That is when I decided it was just fine to be strong. No way was I going to struggle to get up off the floor. A switch flipped in my head, and it was just like, Okay now I'm ready.
Which achievements are you most excited about?
When I did my very first chin-up, I was so excited. I never imagined I would be doing chin-ups in my 40s, but here I am doing them. I've always struggled with weight but I don't think I do anymore. I have a much more positive body image – who says that? I may not have skinny legs or skinny arms, but I'm quite proud of my strength.
Kaili Chen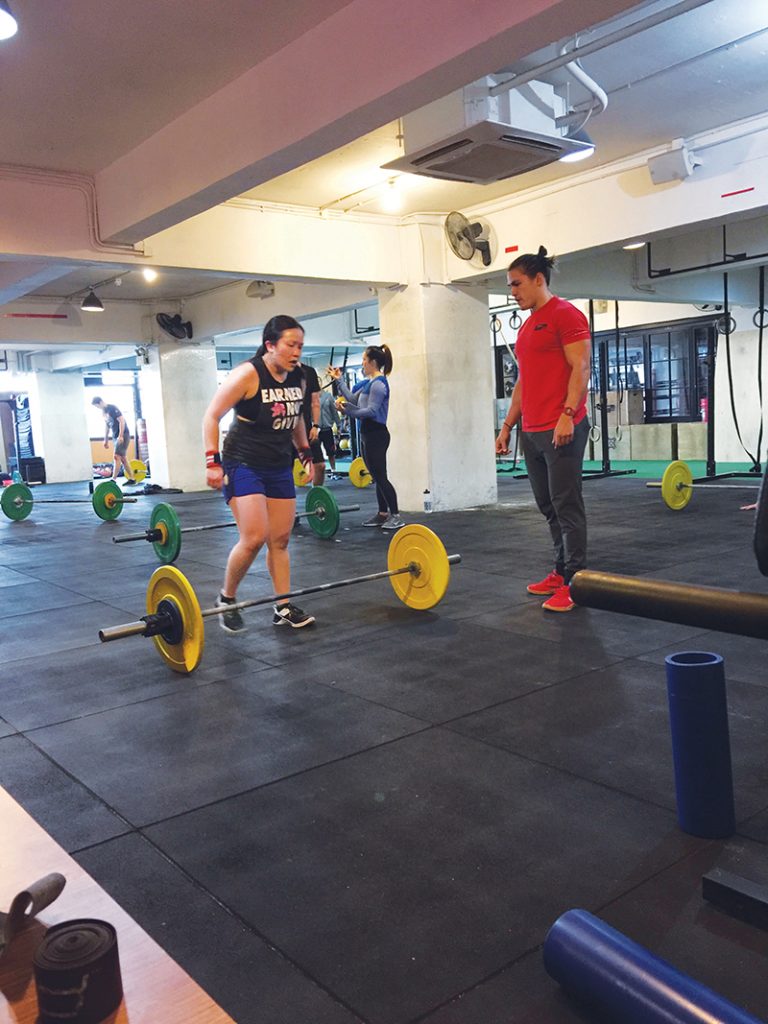 A member at Coastal Fitness, Singapore-born Kaili Chen is a clinical psychologist who got into CrossFit in 2013 while working on her doctorate.
What was your fitness level like before CrossFit?
During my youth, perhaps I was one of the most active within my group of friends. However, when I first got back to Hong Kong from San Francisco [after university], I went straight into a management training position. I would get into the office at 9 in the morning and leave at 4am the next day. That was my life for a year. My lifestyle was in complete disarray – eating irregularly, filling my body with processed foods and not exercising regularly.
At what point did you look for a lifestyle change?
Eventually I started my doctorate degree, and it was challenging because I didn't have much of a routine. Four years in, I had gained a lot of weight, was not looking out for myself, and my stress levels shot through the roof. In my last year of my doctorate program I was working on my thesis when I found CrossFit.
How'd you find it?
I didn't really have the mindset of wanting to reach a particular weight, or waistline. All I knew was that I wasn't fitting into my pants. I had a lot of blubber, and I was tired walking up stairs. A friend of mine asked if I would like to try the On Ramp [intro course]. What I saw when the elevators opened were people lifting weights, dropping them on the ground, and at the end, lying on the floor drenched in sweat. I thought, "Oh dear, what did I get myself into?"
Do you remember that first workout?
Oh, yes. I remember just thinking that it felt, in one aspect, like it was the most demoralizing thing in the world because you can't lift anything. But on the other hand, it was pushing me to new limits. It was a challenge that I was really excited about. The next day, I woke up feeling so sore but I was hooked.
Any milestones you're especially excited about?
I feel like I'm the fittest now than I ever have been in my life. I am back into my pants, so that's a benchmark for me! I have always wanted to hit the 100-kilogram deadlift mark, and I just got up to 105 kilos. It took me a while to get there. But now that I got to 105 kilos, it's like, what's next? I can't wait to learn and consistently push the limits.
Kylie Spiller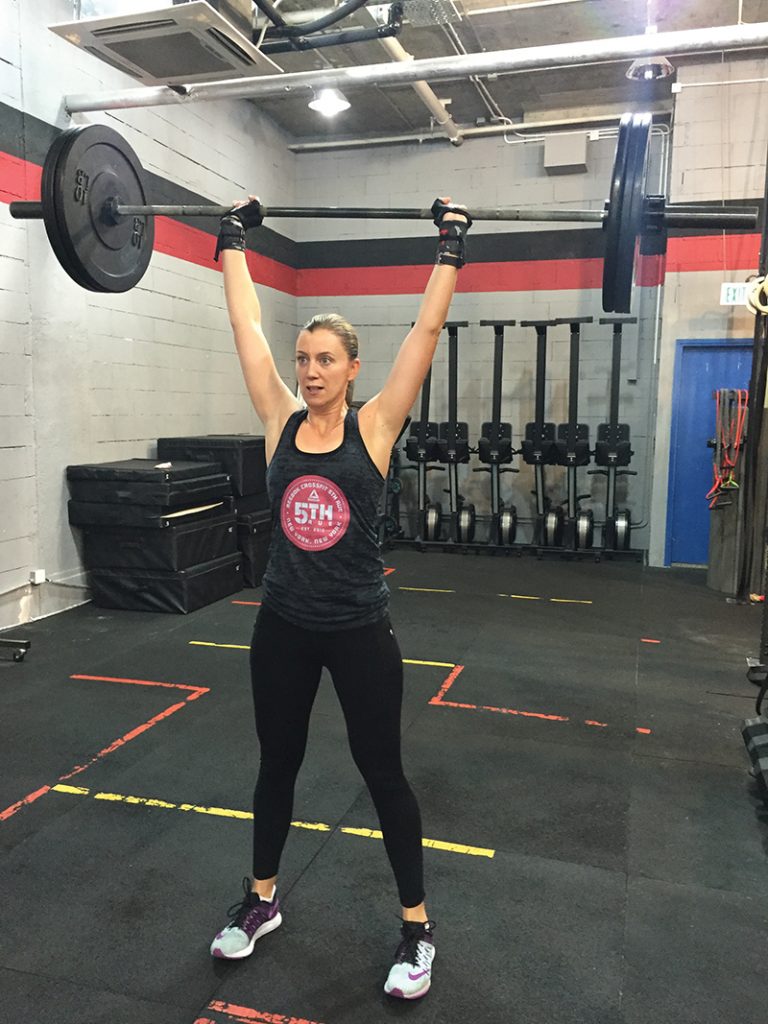 A familiar face at EPIC MMA & Fitness's CrossFit 9 Dragons gym in Tung Chung, Melbourne-native Kylie Spiller took up the fitness program about a year ago.
What did you think of CrossFit before you tried it?
I thought CrossFit was only for super fit, super buff and super athletic people. It was certainly nothing that I ever imagined myself participating in!
What kind of exercise were you doing before?
My fitness regime prior to starting CrossFit involved pushing a pram around the local parks in Tung Chung and a ladies kickboxing class once a week. That's it! For 20 years I went through phases of joining gyms, using cardio equipment and achieving minimal results. When I compare it to what I am doing now, that old regime seems so demotivating to me. No wonder I never enjoyed it!
What was CrossFit like for you at first?
Initially it was difficult. Even though I had completed my On Ramp [intro course], it felt like a whole different world. I spent the first few months hiding in the back, hoping I wouldn't draw any attention to myself by dropping a dumbbell on my foot!
So what keeps you going back?
Every exercise and movement can be scaled to your ability, so even if you're 70 years old, you can still do the workout. Most importantly, no one judges you in the class, even if you are doing the simple abbreviation of the movement. Slowly I made small improvements – this gave me the incentive to come back.
What have you achieved so far?  
Initially it was to get an empty barbell off the floor and above my head! I'm doing things now at 40 for the first time in my life – like lifting a kettlebell, participating in charity runs and even participating in the CrossFit Games Open in March this year.
Where to CrossFit
Reebok CrossFit Asphodel
Back in 2010, Reebok CrossFit Asphodel was the very first box to open up in Hong Kong. What started as a relatively bare-bones club has evolved into a powerful community of strength training specialists. Look for specialty seminars, camps, throw down events, strength and conditioning programs in addition to its usual CrossFit sessions.
GF, Fook Hing Building, 33 Lee Chung St, Chai Wan, 3568 7719, www.crossfitasphodel.com.
Fitness Academy
A group of CrossFit friends turned business partners are behind this box in Quarry Bay. Fitness Academy champions everyday athletes who want to perform better in various sports, improve their metabolic conditioning, or just get in shape. It's an impressive 3,000-square-foot box with high ceilings, rope climbs, outdoor facilities.
Shop D, 901-907 King's Rd., Quarry Bay, 3708-8190, fitnessacademyhk.com.
CrossFit 852
One of the largest CrossFit gyms in Hong Kong, this two-story complex is all about community and high-octane workouts. In addition to CrossFit classes, the skilled coaches offer a diverse range of specialty disciplines, such as power lifting, mobility, gymnastics and more. There's even a kids' CrossFit class here in case you want to make it a family affair.
1/F, Li Dong Building, 9 Li Yuen Street East, Central, 2205-0338, crossfit852.com.
LRCF Fitness Box
Situated between Mong Kok and Olympic, LRCF is currently Kowloon side's only box. Its primary focus is on offering one-on-one conditioning programs that address your needs and help to improve your CrossFit technique. Not sure if CrossFit is your thing? There's also a two-hour training course that will give you a solid foundation.
25 Tong Mi Rd., Mong Kok, 2658-6218, www.lrcffitnessbox.club.
Epic MMA & Fitness
EPIC MMA got its start as a martial arts specialist but now offers  strength training, AntiGravity yoga and of course CrossFit. Epic's high-intensity CrossFit workouts incorporate Olympic lifting, metabolic conditioning, functional movements, and gymnastics. Also owns Tung Chung's 9 Dragons box.
Various locations including 1/F, China Building, 29 Queen's Road Central, www.epicmma.com.
Coastal Fitness
Founded by Hong Kong rugby star Ed Haynes, Coastal Fitness takes a community-driven approach to health and fitness. The gym's Energy System Training program aims to equip you with long-term fitness development through mobility drills, running, squatting, kettlebells, Olympic weightlifting and a battery of tests to ensure continued progress.
3/F, Block C, Sea View Estate, 8 Watson Rd., North Point, 2512-2262, www.coastalfitnesshk.com.
CrossFit Typhoon
An authentic garage-like box, CrossFit Typhoon is tucked away up in Sai Ying Pun. The narrow but energetic gym leads a butt-kicking WOD that's full of squats, pull-ups, jumping, pushing, throwing and sprinting. A focus on functional movement means you'll fortify everyday movements, while building up lean muscle in the process.
38-40 Third St., Sai Ying Pun, 2858-8864, www.crossfittyphoon.com.
CrossFit Cavaliers
CrossFit Cavaliers, Kennedy Town's dedicated CrossFit box, offers high-octane CrossFit, MobFit, conditioning and personal training sessions. It's all about straight-forward yet effective exercises, using equipment such as kettlebells, medicine balls, barbells, rings, bars, rows and even some "Assault AirBikes" for good measure.
533-537 Queen's Road West, Kennedy Town, 2573-1180, crossfitcavaliers.com.
WOD Words
Director and Movement Instructor at CrossFit 852, Teddy Lo explains the CrossFit lingo for newbies.
The Box: A CrossFit gym is known as The Box. That's because in the past, many operated out of shipping container boxes.
GPP: General Physical Preparedness program. The concept is that with a well-rounded workout you'll be better at any sport you try.
On Ramp: Most CrossFit programs require newcomers to complete a multi-hour On Ramp or Introductory program, where they'll learn safety, technique and practice fundamental movements.
WOD: the Workout of the Day. It's usually comprised of two to three elements: the strength, a mobility or stretching element, and the Met Con.
Met Con: Metabolic Conditioning. This part of the program is the tiring, sweaty circuit that leaves everyone on the floor.
AMRAP: As many rounds as paossible, or as many repetitions as possible.
EMOM: Every minute on the minute.
Double Under: Skipping rope so the rope passes under your feet twice every jump.
Girls: Many workouts are named after women. These are typically recurring benchmark workouts so you can track your progress.
Heroes: Some workouts are also named in memory of CrossFitters who have passed away – usually firefighters, and service men and women.