What Do Healthy People Eat?
Gianni Melwani, co-founder, IRIS yoga and wellness festival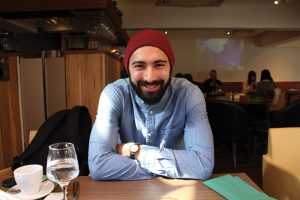 What do you usually have for breakfast?
I usually have either a fried or scrambled egg with lightly melted cheese on brown toast and a bowl of oatmeal or whole grain cereal with raisins. I'll also drink a cup of hot water mixed with sliced ginger, lemon, turmeric and Manuka honey.
What's your go-to for a healthy meal?
A large piece of fresh salmon with either a light garden salad or broccoli with garlic and ginger. Plus tomatoes, mashed potatoes with herbs or brown rice.
What do you eat before and after working out?
A few hours before a football game I keep it light, eating lean protein such chicken or fish and a protein shake mixed with berries and raw cacao. Afterwards I have protein and fibre for muscle recovery.
Any secret health food tips?
Take a teaspoon of coconut oil and Manuka honey, mix it together and eat it like you would an ice cream – it's a great source of energy.
What do you have on cheat day?
Sunday evenings. One of my favourites is pizza and wine at Motorino.
When were you at your least healthy?
My last year of high school and first year of university were my least healthy years. Alcohol played a big role as I wanted to "fit in" and I would eat all kinds of junk food.
Have you ever done a cleanse?
I went to Rishikesh, India for a yoga retreat and was on a Sattvic diet (fruits, dairy products, nuts, seeds, oils, ripe vegetables, legumes, whole grains, and non-meat based proteins) for a week. That, coupled with full days of yoga and meditation practices, left me feeling light, powerful, aware, peaceful and joyful.
When was the last time you ate McDonald's?
About six years ago. Back then, I couldn't say no to those shake shake fries!
Last meal on earth: what would it be?
It would have to be a Japanese meal. Fresh sushi and sashimi, yakitori skewers, a nice hot bowl of tempura udon noodles.
What's your food philosophy?
As long as you take a little bit of time to understand and apply the fundamentals of a balanced healthy diet and lifestyle, eating consciously will become an enjoyable experience.