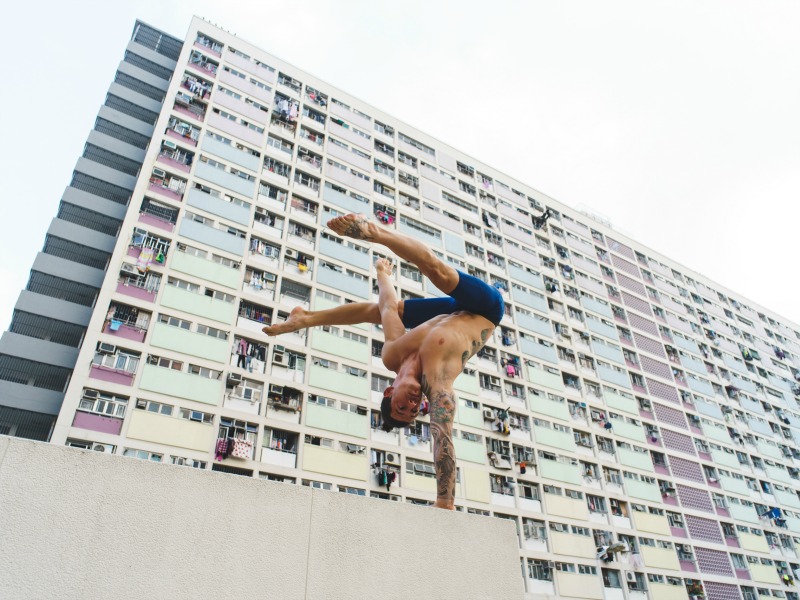 Gymnastics, acrobatics and movement skills are having a moment right now as a challenging but thrilling pastime. Zoe Belhomme finds her balance.
For decades, gymnastics was considered a niche sport for preteens with Olympic dreams. But with our growing awareness of the need for functional movement in our fitness regimes, our attention has naturally turned to gymnastics and acrobatics as part of a wider trend for "movement skills" training. Sure, it requires physical strength, control and lots of training, but it's also immensely liberating, tremendous fun and a real physical challenge.
All across the city, studios and gyms are responding to demand with new and creative class formats, with gymnastics and gymnastic-adjacent classes all on offer – think acroyoga, aerial arts, handstand workshops, parkour and trampoline. Most notably, however, Hong Kong has seen the recent opening of Trybe, a 3,000-square-foot space in Wong Chuk Hang dedicated solely to gymnastics.
"Lots of people are bored of running or lifting weights. They want to see what their bodies are capable of," says John Chan, one of Trybe's professional instructors. A former athlete who competed in gymnastics regionally for more than four years, he adds: "Gymnasts tend not to think about the physical changes to their bodies – growing their skills and getting consistency and form is what really drives them – getting stronger and leaner is just the natural outcome."
Men are increasingly getting involved in movement too, as strength-based disciplines such as tumbling, the pommel horse and asymmetric bars become increasingly commonplace. The rise of Instagram might also have a hand in the sport's growing popularity – who doesn't want to be the super cool dude posting a sunset backflip pic, or the yogi rocking a tricky inversion? It's one thing to have washboard abs and bulging biceps; it's quite another to add explosive power, flexibility and precision to execute an awesome trick. 
Chan continues: "We see a range of abilities at Trybe, from people who've never done gymnastics before – or perhaps did it when they were a child – right through to experienced gymnasts who want to join a social environment to hone their skills. The progression in skill level can be quite rapid for beginners and after just a few weeks of attending classes, somersaults, cartwheels, round-offs and even back somersaults are well within reach."
The mainstream gyms have started to bring in acrobatic elements too. Pure, the dominant fitness force in Hong Kong, has helped drive the trend. Pure's PTs undergo regular movement skills training with world-class gymnastic movement coaches. Previous coaches include Amy Ridge, who coached gymnastics in the UK for more than 10 years; and three-time British champion, Thomas Rawlinson, who has also coached two national champions. Currently heading up the movement programme is Performance Movement Coach Moe Ng, with the addition of Miguel Sant'ana (pictured, above), a master trainer who holds hand-balancing training for Pure staff and workshops to members and non-members alike.
Marco Ferdinandi, Regional Director of Fitness Operations at Pure says, "With gymnastic movement you get strength, flexibility, mobility, coordination, balance, core conditioning, stamina, grace, and above all, loads of fun as the movement certainly brings out your inner child! What we love most is how valuable these basic exercises and skills can be for everyone, not just high-level athletes or hardcore fitness enthusiasts."

The city's amateur gymnasts are certainly loving their newfound physical abilities. Will Sweeny is a keen and experienced tumbler who studies "tricking" – a combination of gymnastics, capoeira and martial arts – at TrickStation in Tsuen Wan, under the tutelage of professional stuntman Rodney Wong. Sweeny says: "Gymnastics gives you a real sense of independent physical achievement. With such a steep learning curve, the satisfaction of reaching your goal and landing a trick you've been working on for months is incredible."
One keen student at Trybe adds, "When I first came to a class I didn't have a clue what I was doing and I had to start from the very beginning with the basic moves and jumps. But I instantly fell in love with gymnastics and now practice every week alongside yoga and HIIT classes. Variety is key when it comes to staying motivated."
And you don't have to stick to the gym anymore – freerunning, or parkour, encourages participants to use the city as their arena, building a strong foundation to execute smooth movements as you leap flip and roll from one urban obstacle to another. Learn the basics, and the city can be your playground.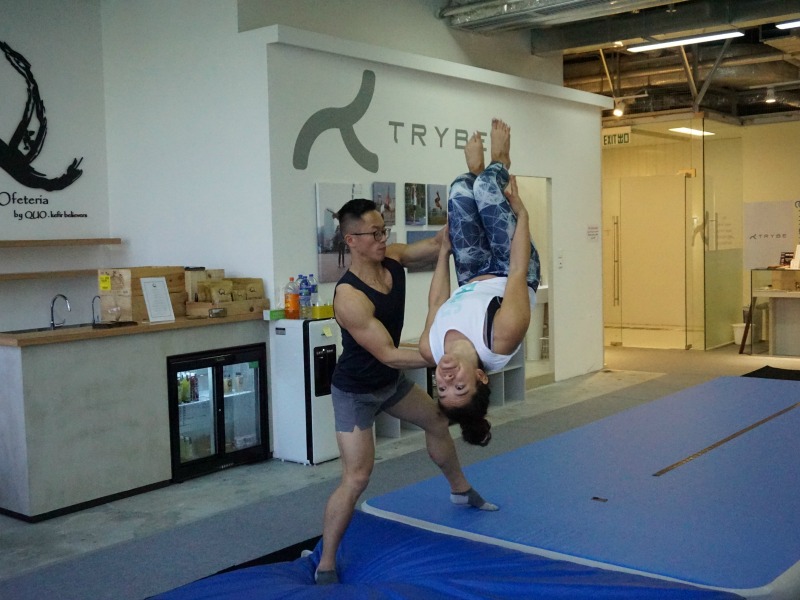 Get Your Gym On
Venues that offer movement classes in Hong Kong.
SharedSpace
A multi-purpose gym with beginners' acrobatics classes, parkour and acro yoga.
31/F The Sharp, 11-13 Sharp Street East, Causeway Bay, 6687-3701, www.sharedspace.hk.
Trick Station
The only studio in the city dedicated to "tricking", fully equipped with harnesses, sprung floors and more.
Room 3Y, 2/F, Block B, Po Yip Building, 62-70 Texaco Rd., Tsuen Wan, 6506-7109, trickstation001.wixsite.com.
Trybe
Hong Kong's first fully equipped gymnastics gym.
One Island South, 2 Heung Yip Rd, Wong Chuk Hang, 3427-9017, www.trybehk.com.
Yoga BamBam
Offers acro yoga and aerial yoga.
28 Pound Lane, Sheung Wan, www.yogabambam.com.
Pure Fitness
All Pure's outlets have a dedicated Movement area. Also offers movement skills PT sessions and group classes. www.pure-fitness.com.
The Hong Kong Parkour Association
Offers beginners classes and open sessions each week. Follow them on Facebook to learn about upcoming classes. www.parkour.hk.