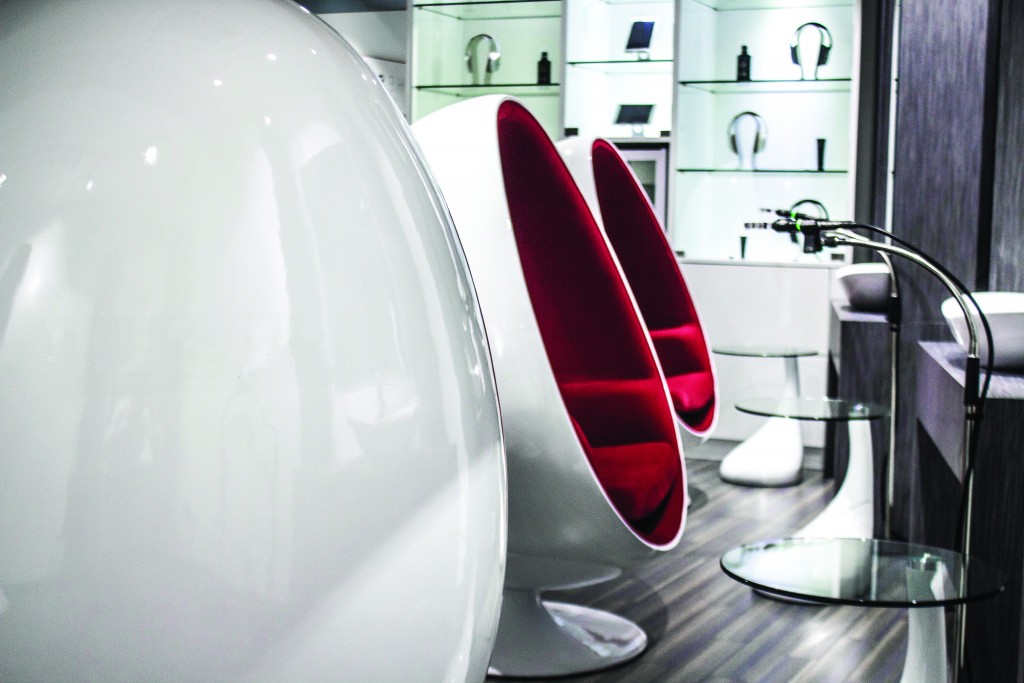 The buzz: Launched just two months ago, The Smile Bar is a tooth-whitening centre that uses Swedish products to gently whiten teeth. The gel used is just six percent hydrogen peroxide, compared to some 40 percent used by many dental clinics, meaning that there's no stinging, sensitivity or weakening of the tooth enamel. The team there recommends first-timers go for a 40- or 60-minute session for best results, with 20-minute sessions better suited for top-ups.
The procedure: We were led to a mirror where we used a row of plastic teeth to measure the level of discolouration on our gnashers. The staff were careful to manage expectations, as results from the treatment vary. Then we were led to a plush red-lined egg chair, where we were handed a mouthguard filled with the whitening agent. We were given glasses to wear and a bright blue light was positioned right up against our teeth. Then we were left to relax, with a staff member checking up on us periodically. After the treatment our teeth were much more evenly coloured and we had gone up two shades – a very satisfying result for just 20 minutes. 
Best bit: The awesomely plush egg chairs that you kick back in while you wait for the treatment to take effect. The staff hand you a pair of stylish Bose headphones for added chillaxing.
Worst bit: The Nano Seal tooth protector, which prevents staining in the 72 hours after the treatment, is an add-on service for $250. It such a vital step that it would be nice if it came included as part of the treatment.
Would you go back? We can see ourselves returning for a quick session before a big event.
The Cost: $588 for 20 minutes.
Location: 1/F, Hang Wai Commercial Building, 231-233 Queen's Road East, Wan Chai, 2620,0615, www.the-smile-bar.com.
Readers' Deal!
For the month of October, first-time visitors to The Smile Bar can try a 20-minute tooth-whitening session, plus nano-seal, for $548. (orig. ​$838); a 2 x 20-minute tooth-whitening session, plus nano-seal, for $908. (orig. $1,238); or a 3 x 20-minute tooth-whitening session, plus nano-seal, for $1,248. (orig. $1,638). Just mention Liv Magazine when making your booking.