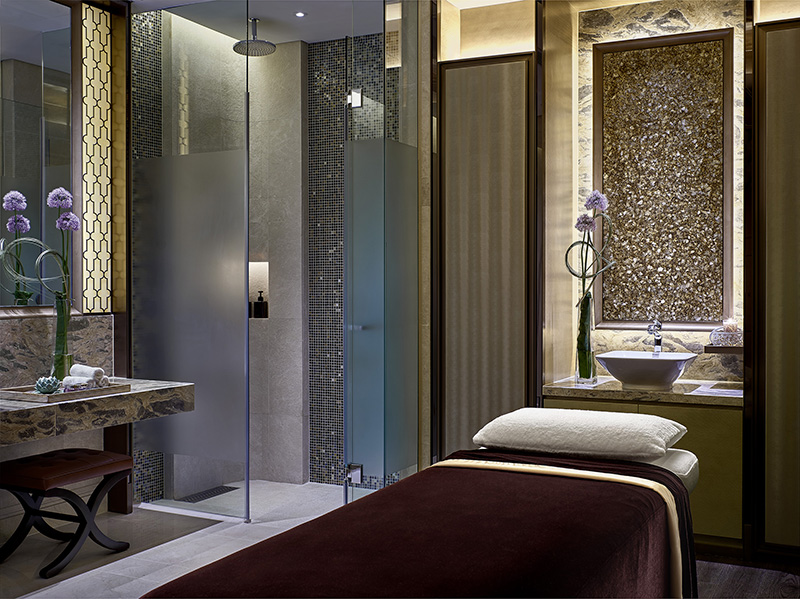 THE BUZZ: Mody Road's Royal Garden Hotel has long been a fixture on TST's culinary map, but a new, three-story addition to the 35-year-old hotel comes in the form of the Sky Club, a brand spanking new spa, gym and wellness centre.
THE SPA: The classy retro feel of the Royal Garden is faithfully replicated in the Sky Club, with mosaic tiles, warm sandstone and gold accents. It feels as though it's always been part of the hotel. The rooms are large and come with their own shower and bathroom, and the changing area has a sauna and steam room for your enjoyment pre- and post-treatment. If you join as a health club member you also get access to the gorgeous outdoor pool that overlooks the harbour.
THE PROCEDURE: The menu is pretty straightforward, with a simple line of facials, massages and scrubs. We went for a body scrub and massage combo, which used Angsana spa products to impart a lovely lemongrass scent. The masseuse gave us the option for an aromatherapy massage, or a more medicinal Chinese massage to ease out kinks and knots. We went for the Chinese massage and weren't disappointed by the deep pressure strokes, which sent us into a deep state of relaxation. The room was a tad cold, but the therapist took care to add towels to keep us snug.
WHAT ELSE? Heading there on a weekday? Make it a full "treat day" with a business lunch at Sabatini, the hotel's famed Italian restaurant. It also offers wellness centre memberships, which grant you access to the rooftop pool
PRICE: $800 for the 60-minute massage, and $600 for the 30-minute scrub.
17/F, 69 Mody Rd., Tsim Sha Tsui East, 2721-5215, www.rghk.com.hk.
Readers' Deal!
Get a 15-minute neck and shoulder massage when you book any 60-minute facial or massage treatment. Just mention Liv Magazine when you make your booking.