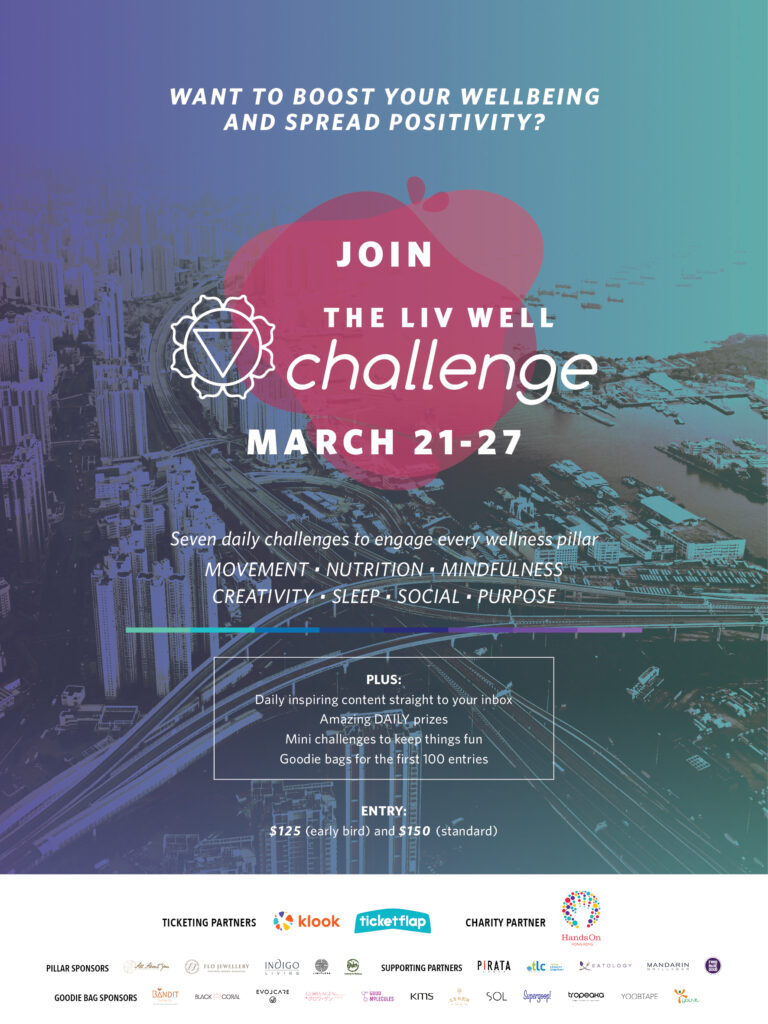 Thank you for signing up to the Liv Well Challenge. We are excited to have you onboard!
In addition to goodie bags for the first 100 signups, all registered participants are entitled to of exclusive offers, perks and discounts, courtesy of our partners! We will send you an email with all the offers listed out on March 20; please check your email for updates.
Here's how the Liv Well Challenge works:
Starting from 7pm on March 20 (the day before the challenge officially begins), we will send out an email detailing the following day's challenge. Every day focuses on a different pillar of wellness: Movement, Nutrition, Mindfulness, Creativity, Sleep, Social and Purpose.
In addition to the main challenge, there will also be two additional mini challenges and a webinar hosted by our Challenge partner, as well as uplifting content related to that day's wellness pillar.
Participants stand to win a prize each day, courtesy of our challenge partners. At the end of the week, our favourite feeds will also be eligible for grand prizes!
The Challenges
Each challenge will be simple, straightforward and fun! they are designed to be completed by anyone and can be scaled according to your skill level.
Entries will be judged by the Liv Media team based on their creativity, insightfulness, photographic composition and inspirational approach.
How to submit your challenge
Via instagram static post
Upload a photo and caption using the hashtag #LivWellChallenge, tagging @liv.magazine and that day's Challenge Partner.
Via instagram stories
Create a #LivWellChallenge Highlights folder and save all your stories there. Be sure to use the #LivWellChallenge hashtag, and tag @liv.magazine and the relevant Challenge Partner.
Via Facebook
Upload a photo and caption to your newsfeed, making sure to set the post to public so we can see it. Use the hashtag #LivWellChallenge and tag Liv Magazine's Facebook page, and the page of that day's Challenge Partner.
Supporting the Challenge
We want to spread the good vibes as far as possible! Here are three things you can do to help us raise as much as possible for the Love 21 Foundation:
Tell your friends that you've signed up for the Liv Well Challenge, and get them to join you!

Roll deep! Get a group and do the challenge together. You can share tips and ideas over group chat.
Frequently asked questions
I'm not that fit. Will I be able to do these challenges?
Yes! All the challenges are designed to be fun and accessible for everyone.
I don't want to upload my challenge to social media. Can I still take part?
Of course! You may upload your information to our Google Form instead.
I don't live in Hong Kong. Can I still join in?
We welcome everyone to join in the challenge. However, only participants residing in Hong Kong can redeem welcome packs and win prizes.
Can I get a group together to do the challenge?
Of course, we'd love that!
Terms & Conditions
In order to be eligible for welcome packs and prizes, entrants must enter the contest by purchasing event entry on ticketflap.com or klook.com, and be residing in Hong Kong. 
All fees are non-refundable.
If lost or damaged, replacement welcome packs will not be issued.
Participants take part in the challenge at their own risk. Please use common sense and know your limits when completing these challenges. Liv Media Limited accepts no responsibility for any injury, impairment or death arising from individuals following the challenge.
Liv Media Limited is not responsible for any comments, posts, messages or other communications made by any user or third party.
Please consult a doctor before embarking on any kind of exercise programme.
This program is designed to be fun and uplifting and has not been designed by mental health professionals. If you are experiencing unmanageable stress, burnout or depression, please consult a mental health professional.
Entries will be judged by Liv Media Limited and the Challenge Partners on a combination of quality of photography and insightfulness of content. In case of disputes, the decision of Liv Media Limited is final.
Liv Media Limited reserves the right to appropriately reshare your images on our social media platforms on posts related to the Liv Well Challenge. 
By signing up to the Liv Well Challenge, you agree to be added to Liv Media's mailing list. Liv Media will never share your data with third parties without your prior consent. You can unsubscribe at any time.